SEMINAR SERIES IN FRENCH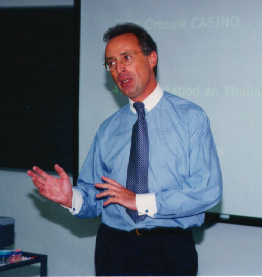 Mr Andre Mercier, Chief Executive Officer of the retail group Big C/Casino Thailand, spoke to SOM students on 21 March on the retail market worldwide and in Thailand. This event ended the seminar series in French which was coordinated by Prof. Daniel SAVIN as part of SOM Bilingual Program curriculum. Previous speakers during the January term 2000 were: Mr. M. Jean-Paul MAITRIAS, Country Manager of DECATHLON PRODUCTION Thailand; Mr. M. Philippe BARREAU, Managing Director of DEXTRA Group Thailand; and Dr Jingjai Hanchanlash, First Senior Vice President of LOXLEY PUBLIC COMPANY LIMITED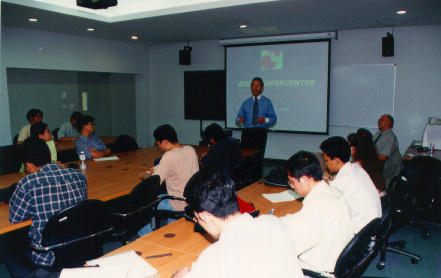 CERTIFICATE PROGRAM IN CLEANER PRODUCTION
A Memorandum of Understanding (MoU) was recently signed by AIT, AITAA and UNEP EAP.AP to conduct a ten-week interdisciplinary certificate program in Cleaner Production (CP). It will be offered on 4 September to 10 November by the Schools of Advanced Technologies (SAT), Management (SOM) and Environment, Resources and Development (SERD). Cleaner Production is the continuous application of an integrated preventive environmental and business strategy to procure resources, process and produce products or provide services at a higher efficiency, increased profitability, and at reduced risks to the environment. The program will feature various CP concepts and techniques.
UNEP EAP.AP will provide US$100,000 to AIT and AITAA to implement the tasks of identifying internal and external resource persons and courses, delivering the course, selecting participants and so on. The participants are expected to attend any three of the following courses: Principles of Cleaner production (SERD), Eco-design and manufacturing (SAT), Corporate Environmental Management (SOM) and Environmental Economics (SERD). This Certificate Program is expected to further strengthen AIT's Master's program in Cleaner Production.
NEW PRODUCT DEVELOPMENT
On Tuesday, 4 April at 1:30 p.m. Dr.-Ing. Eckehard Fozzy Moritz, SAT faculty, will conduct a seminar on Product Development IN South East Asia FOR South East Asia: Design of a Human-Powered Transportation Device for the Bangkok Metropolitan Area. The seminar will also introduce Dr. Per H. Nielsen, SERD faculty and an Expert in Life-Cycle Assessment of Products.
The seminar will address the problem of how industrialization efforts in the South-East Asian region have mainly focused on building up competencies in production and related management and computer skills, with little attention given to new product development. It is time to initiate more activities in indigenous product development. Only thus can dependence on the industrialized countries decrease and appropriate response to the actual needs of the region be ensured. The problem will be discussed from different perspectives, including possible solutions. An example is a project conducted by product development students of Dr. Moritz, who conceptualized and designed a human-powered scooter to alleviate traffic problems in Bangkok by offering a suitable alternative to motorized traffic for short distance trips and, in combination with public transport, commuting. This prototype will be developed into a marketable 'made in Thailand' device, at the same time building up further competencies in new product development at AIT.