WHO'S WHO IN THE ACADEMIC SENATE
At its first meeting on 23 February 2000, the Academic Senate, which serves as an advisory group to the Management on all academic matters (as stipulated in the Bye-Laws of the Board of Trustees), elected Prof. Gajendra Singh of the Agricultural and Aquatic Systems Engineering Program, SERD, as Chair, and Prof. Tawatchai Tingsanchali of the Water Engineering and Management Program, SCE, as Vice Chair.


Prof. Singh joined AIT in June 1975 as an Assistant Professor of Agricultural Engineering, becoming Associate Professor in January 1978 and Full Professor in April 1984. From 1977 to 1984, he served as Chairman of the then Division of Agricultural and Food Engineering. In November 1984, he went to Rutgers University, USA to serve as a faculty member until July 1986. On his return to AIT, he was appointed as Vice President for Academic Affairs and held this position until September 1988. During 1994 to 1997, he was Deputy Director General (Engineering) of the Indian Council of Agricultural Research (ICAR), New Delhi.
Prof Singh was elected as the first President of the Asian Association for Agricultural Engineering (AAAE) founded in December 1990 and was re-elected for a second term. He is a member of the Board of Trustees of the American Society of Agricultural Engineers and Management Committee of the Club of Bolgna. He served as a member of the Executive Board of the International Commission of Agricultural Engineering during 1995-98. Prof. Singh was awarded the 1990 American Society of Agricultural Engineer's Kishida International Award for outstanding contributions toward food and fiber production, and education; the 1991 Emil Mrak International Award by the University of California, USA; and the 1994-95 Gold Medal by the Indian Society of Agricultural Engineers.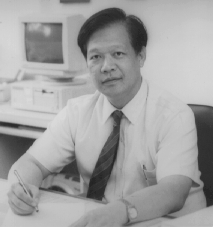 Prof. Tawatchai, an AIT alumnus, obtained his M. Eng., 1970 and D. Eng,1974 in Hydraulics Engineering. His technical areas of specialization are waterways and river engineering, flood control and mitigation, and hydraulics of river flow and sediment transport. He was awarded by the National Research Council of Thailand in 1980 for his outstanding research project, 'Hydrodynamic Model of the Chao Phrya River System'. In 1983, he joined the University of Karlsruhe, West Germany, on a one-year research fellowship from the Alexander Von Humboldt Stiftung, and in 1986, he was awarded a UNESCO prize for his outstanding research paper on 'Depth Average Calculation of Suspended Sediment Transport in Rivers', presented at the 3rd International Symposium on River Sedimentation, USA. He was most recently nominated and elected by the American Society of Civil Engineers as 'Fellow of ASCE', the highest category of membership in this prestigious body.
MEMBERSHIP OF COMMITTEES
1. Academic Development and Review Committee (ADRC)
Prof. Tawatchai Tingsanchali (Chair)
Prof. Vilas Salokhe (SERD)
Prof. Ram Shrestha (SERD)
Ir Erik Bohez (SAT)
Dr. Kimmo Makelainen (SAT)
Dr. Mohan Raj Manavazhi (SCE)
Prof. Ashim Das Gupta (SCE)
Dr. Fredric Swierczek (SOM)
Dr.Gerard Tocquer (SOM)

2. Doctoral Progress Review Group (DPRG)
Prof. A.T. M. Nurul Amin (Chair)
Dr. Preeda Parkpian (SERD)
Dr. Elias Retulainen (SERD)
Dr. Anulark Pinnoi (SAT)
Prof. Phan Minh Dung (SAT)
Dr. Tsunemi Watanabe (SCE)
Dr. Pennung Warnitchai (SCE)
Dr Fredric Swierczek (SOM)
Prof. Neelakhantan Ramachandran (SOM)

FACULTY APPOINTMENTS TO THE COMMITTEES OF THE BOARD
1. Policy and Planning Committee
Prof. A. B Sharma
Prof. Tawatchai Tingsanchali

2. Honorary Degrees Committee
Prof. A S Balasubramaniam
Prof. Vilas Wuwongse

3. Faculty Relations Committee
Prof. Dennes Bergado
Mr. Terry Clayton
Dr. Norihiro Izumi
Dr. Nagendra Nagarur