Visiting AIT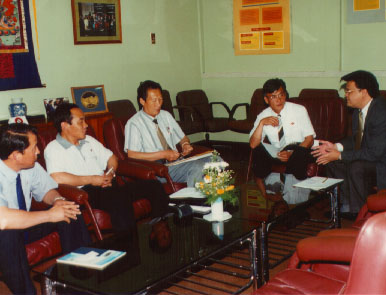 A delegation from North Korea visited AIT on 22-23 June. They met Prof. Mario T. Tabucanon (right), AIT Provost, here seen discussing with the group. The members of the delegation are Mr. Pak Byong Hu (left), Head of Research Soil Program, Director of Soil Research Institute, Academy of Agricultural Science (AAS); Mr. Jon Sok Jo (third from left), Senior Research and Head of Agronomy Program, AAS; Mr. O Kyong Chol, Senior Researcher in Crop Breeding and Seed Production and Crop Genetic Resources, AAS; and Mr. Li Il Sep (second from right), Senior Research in Agricultural Information and Head of External Relation Section.
The purpose of the visit is to familiarize the delegation from North Korea about AIT. The delegation is particularly interested in acquiring knowledge about land management practices and strategies for improving soil fertility in upland areas. During their visit to AIT, the delegation has expressed their interest in sending the Korean officials to participate in the Land Use Panning, Crop Modeling, and other related short-courses training offered at AIT.
On June 26, a delegation from Ho Chi Minh City University of Technology visited AIT. The purpose of their visit is to discuss collaboration between Ho Chi Minh City University of Technology and AIT.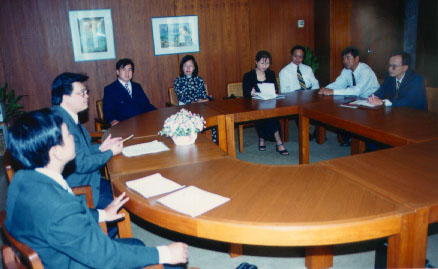 The delegation from Ho Chi Minh City University of Technology led by Dr. Ho Thanh Phong (left), Vice Rector and an AIT alumnus. The other members are as follows:
Dr. Tran Thi Hong, Deputy Head, International Relations Office
Dr. Nguyen Thi Nhu Anh, Deputy Head, Office of Academic Training Affairs
Mr. Nguyen Quoc Hoe, Deputy Head, Office of Planning & Financial Affairs
Dr. Nguyen Thanh Nam, Deputy Head, Faculty of Mechanical Engineering
Dr. Hoang Minh Nam, Deputy Head, Faculty of Chemical Engineering
Mr. Nguyen Van Nho, Deputy Head, Faculty of Electrical Engineering
Dr. Bui Cong Thanh, Deputy Head, Faculty of Civil Engineering
Dr. Nguyen Viet Ky, Deputy Head, Faculty of Geology & Petroleum
Mr. Phan Dinh Mai, Deputy Head, Information Technology
Dr. Pham Thi Cu, Lecturer, Faculty of Electrical Engineering
Ms. Nguyen Thi Phong Ton, Librarian of the University