Education Officials from Finland visit AIT
Visiting AIT on 28 August were officials from Helsinki Polytechnic, Finland, namely, Prof. Heikki Saarelainen, Director of the Institute of Technology, and Prof. Markku Jantunen, Head of the Mechanical Engineering Department. The purpose of the visit was to discuss possible academic collaborations in Machine Automation and Design, Electronics and Medical Technology.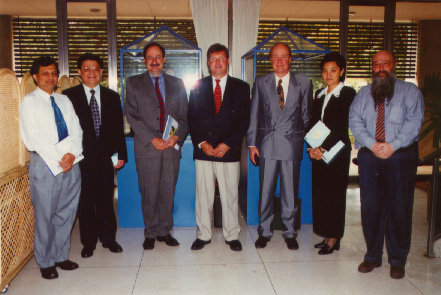 From left are Dr. Nitin Afzulpurkar, a faculty member of the ISE Program; Prof. Mario Tabucanon, Provost; Prof. Jean-Louis Armand, AIT President; Prof. Saarelainen; Prof. Jantunen; Ms. Tongta Temboonkiat, Assistant to the President; and Ir. Erik Bohez, a faculty member of the ISE Program.
On the same day, 82 students and teachers from Chulachomklao Military Academy, Royal Thai Army, visited the Regional Computer Center and the Asian Center for Research on Remote Sensing, STAR Program. They were briefed on RCC activities and various applications of remote sensing and GIS in Thailand.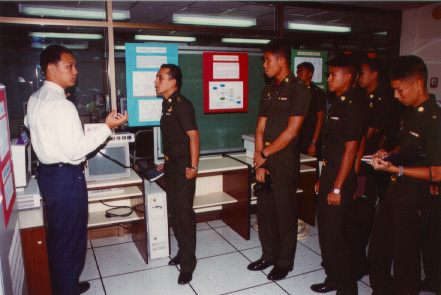 Photo shows Mr. Watcharapong Srinonghang, left, RCC Programmer, briefing the group on RCC activities.