AWARDS FOR SCE FACULTY AND STUDENT
DR. PANNAPA HERABAT, honored by the American Society of Engineering Education


Dr. Pannapa Herabat, a faculty member of the School of Civil Engineering,
and co-authors Adjo Amekudzi, Kristen Sanford Bernhardt and Sue McNeil
were selected for the Best PIC I (Professional Interest Councils) Paper
Award by the American Society for Engineering Education (ASEE). The announcement
was made at the 2000 ASEE Annual Conference and Exposition. Dr. Pannapa
and her colleagues co-authored the paper, 'Educating Students to
Manage Civil Infrastructure Systems'.
The paper addresses the gap in civil engineering education by integrating
the traditional civil engineering knowledge base with an understanding
of deterioration science, economics, finance, decision and management theory,
maintenance management and public policy. The authors began with
a single course at Carnegie Mellon University and modified the original
material to fit the needs of other institutions and their regions.
Mr William Schmidt, PIC Vice President, commended the paper in these
words:
'Your paper was reviewed and recommended by the program chair for the
Civil Engineering division. It was then reviewed prior to and during the
conference by the ASEE Professional Interest Councils (PICs) as well as
other members of the Board of Directors. Congratulations for this professional
accomplishment. We encourage you to attend the 2001 Awards Banquet in St.
Louis where the Board of Directors will formally commend you.'
PROF. SUPHAT VONGVISESSOMJAI RECEIVES NATIONAL DISTINGUISHED RESEARCHER
AWARD FOR THE YEAR 2000
Prof. Suphat Vongvisessomjai, a senior faculty member of the Water Engineering
and Management Program, School of Civil Engineering, and an AIT alumnus
(M.Eng. '68; D.Eng. '72), was honored with the National Distinguished
Researcher Award for the Year 2000 in the field of Engineering and Industrial
Research. Prof. Suphat is the fourth AIT faculty member to receive this
award. Six other awardees were honored by the National Research Council
of Thailand.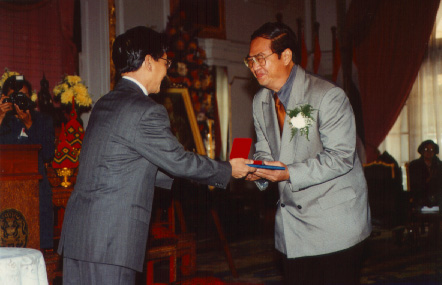 Photo shows H.E. Mr. Chuan Leekpai, left, Prime Minister of
Thailand, presenting the award to Prof. Suphat at a presentation ceremony
held on 27 September at Government House.
YOU GUAN LIN, SCE DOCTORAL STUDENT, wins 'GOOD QUALITY PAPER' award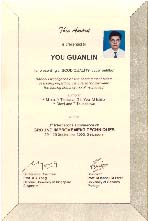 Mr. You Guan Lin, a Soil Engineering Doctoral student in the School of
Civil Engineering, recently received the 'Good Quality' paper award at
the Third International Conference on Ground Improvement Techniques, which
was held in Singapore from the 25 to 26 September. His paper was entitled,
'Model Investigation on the Bearing Mechanism of Footing Regarding the
Interaction Between the Footing and a Group of Micropiles.' Mr. You Guan
Lin is now on his seventh term of studies under the advisorship of Dr.
K. Miura, in the Geotechnical Engineering program.
The award was conferred by Prof. K. Y. Yong of the National University
of Singapore and the paper was reviewed by Prof. M. Isabel M. Pinto from
the University of Coimbra, Portugal. Mr. Guan Lin co-authored the paper
with Dr. K. Miura, Y. Tsukada, M. Ishito, Y. Otani and T. Tsubokawa.
Mr. Guan Lin obtained his Master's degree in Mining Engineering from
Wuhan University of Science and Technology, China, in 1990.