Japanese iron and steel exporters
meet at AIT
Prof. Jean-Louis Armand, AIT President, welcomed sponsors of the 25th seminar of the Japan Iron and Steel Exporters Association that was held at AIT on 17-18 October. This was the association's first seminar outside Japan. Almost 100 delegates, including 21 from Japan besides a large number from Indonesia, Malaysia, Vietnam and Thailand, were in attendance. The seminar discussed the current status of steel use in various countries, advances made in developing steel products for construction and infrastructure development and the optimization of design. The welcome address was delivered by Prof. Mario Tabucanon, Provost, and the activity was coordinated by Dr. C. P. Bohra of the Continuing Education Center (CEC).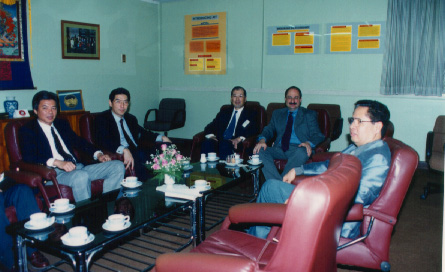 From left: Mr. Masahiro Nagata, Group Manager, Building Materials Dept. of Nippon Steel; Mr. Shigeto Yasuura, Group Manager of the Sales Administration and Planning Division of Nippon Steel; Mr. Ryuji Higashi, Executive Officer of Kobe Steel and Chairman of JISEA; Prof. Armand; and Dr. Nicanor Austriaco, CEC Director.