Prof. Chongrak Heads Mission to Sri Lanka
On behalf of AIT President Prof. Jean-Louis Armand and the Institute, Prof. Chongrak Polprasert, Dean of the School of Environment, Resources and Development, presented a signed MOU to Prof. J.W. Wickremasinghe, Vice-Chancellor, University of Sri Jayewardenepura. Prof. Chongrak led a mission to Sri Lanka on 3-6 September.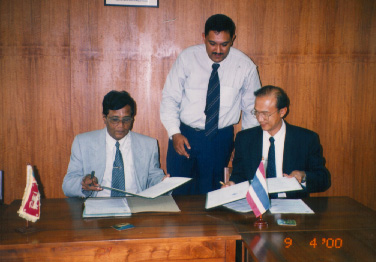 Picture shows Prof. Chongrak and J.W. Wickremasinghe, exchanging the MOU. Looking on is Mr. Sanjeev Jayasinghe, Senior Development Officer.
This MOU is a result of an initial meeting between Prof. Armand and the Vice-Chancellor in January 2000 and the
follow up discussions that Mr. Sanjeev Jayasinghe had with the Vice-Chancellor and senior faculty in March 2000 (along with
Prof. H. Paul, Dean of the School of Management - SOM), followed by another discussion in July 2000. The initial meetings and the consequent MOU have thus far brought five university staff who joined the Master's program (3 SOM, 2 in Computer Science - CS) in the September 2000 term. Funding
is provided by the Sri Lanka ADB Project.
Prof. Chongrak also had meetings with:
the Director, ADB Science and Technology Personnel Development Project
the Vice-Chancellor and Deans, Open University of Sri Lanka
the Additional Secretary, Ministry of Science and Technology
the Vice-Chancellor and Deans, University of Colombo
and the Sales Manager of Ceycom Global Communications Ltd.
Details of the above meetings can be obtained from Mr. Jayasinghe who arranged/coordinated the mission.