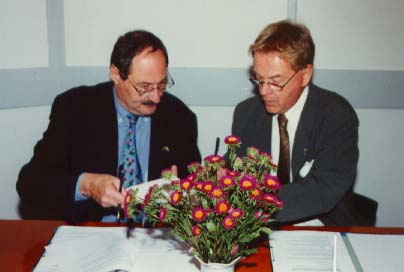 H.E. Mr. Jan Axel Nordlander, right, Swedish Ambassador, with AIT President, Prof. Jean-Louis Armand, at the agreement signing ceremony.
Swedish Support to AIT
Scholarships valued at SEK 12 million (THB 52,000,000) were presented by the Swedish International Development Cooperation Agency (Sida) to AIT, as part of a support agreement valued at over SEK 22 million (THB 95,000,000) that was signed on Thursday, 12 October, at the Swedish Embassy in Bangkok.
The scholarships will support students from Cambodia, Laos and Vietnam, joining AIT's regular Master's program or a specially designed flexible Master's program, during the period 2000-2003. The flexible Master's program will enable students to pursue their studies while carrying out professional duties in their home countries. It is also expected to offer more study opportunities to women in the region.
The agreement also extended the Sida-AIT Agreement of 7 February 1997 to 2000, providing support to the Aqua Outreach Program (which is involved in capacity building of the national and regional institutions in Cambodia, Laos, Vietnam and north-east Thailand) and the Electric Power System Management Program. Scholarship support was also given for continuing Sida scholars.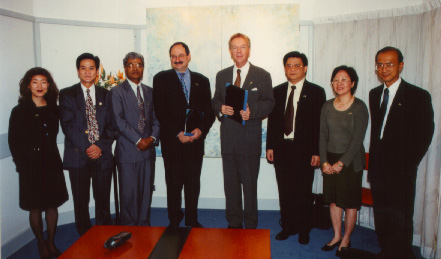 From left: Ms. Sang Nyman of the Swedish Embassy; Prof. Worsak Kanok-Nukulchai, Dean of the School of Civil Engineering; Prof. Himangshu Paul, Dean of the School of Management; AIT President, Prof. Jean-Louis Armand; H.E. Mr. Jan Axel Nordlander,
Swedish Ambassador; Prof. Mario Tabucanon, AIT Provost; Ms. Chantana Rungtapnapa, Commercial Officer, Swedish Embassy; and Prof. Chongrak Polprasert, Dean of the School of Environment, Resources and Development.