AIT signs MOU with German university
AIT President, Prof. Jean-Louis Armand, and Prof. Dr.-Ing. Heinrich Kern, Technische Universitaet Ilmenau (ITU) Rektor, and Prof. Dr. Joachim Weyand, ITU Prorektor fur Bildung, signed a Memorandum of Understanding on 18 December 2001, to establish a three-year cooperation program in scientific fields, especially advanced technologies, through the exchange of students and academic staff as well as through joint distributed education activities.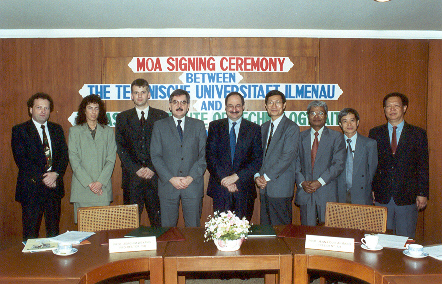 The MoU provides for the establishment of a Master degree course entitled, 'BAIE: Business Administration and Industrial Engineering,' to be delivered through distributed education. It will also enable the admission of ITU students into the following Schools and Programs at AIT: SAT(CSIM, ISE, STAR); SCE (SEC, WEM); SERD (AASE, PT, UEEM); and SOM (MOT), and the admission of AIT students into the following ITU Faculties and Programs: Electrical Engineering and Information Technology Faculty (Electrical Engineering Program); Computer Science and Automation (Practical Informatics, Media Informatics); Mechanical Engineering (Mechanical Engineering, Mechatronics, Material Sciences); Mathematics and Natural Sciences (Mathematics, Technical Physics); and Economic Sciences (Business Informatics, Industrial Engineering, Media Technology).
AIT and ITU faculty members will cooperate in joint conferences and scientific events and in the exchange of research expertise.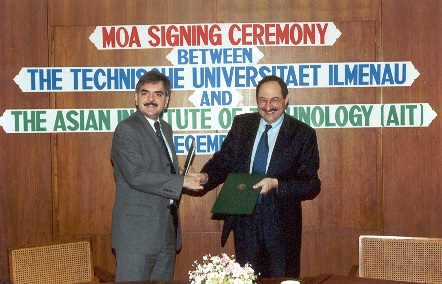 Photo shows Prof. Jean-Louis Armand, AIT President, and Prof. Dr. Joachim Weyand, Pro Rector of ITU, shaking hands after signing the MOU