Team Building Workshop for AIT staff
On 17-19 December, staff members from various AIT offices and units (Admissions and Scholarships; Registry; AIT Conference Center; Dean of Student and Community Affairs; Housing; Physical Plant; Promotional Support Services; Sports, Safety and Security; Student Union) and staff members of SERD, participated in a team building workshop on 'Creativity for AIT with AIG Process' conducted by Mr. Prasarn Marukpitak.
The workshop was organized by Prof. Gothom Arya, Registrar.
It started with a lecture on Positive Attitude and AIG Process and was followed by two workshops: Surveying AIT's Present Conditions and Pictures of Hope, vision and quiz presentation. In the afternoon session, the workshop included presentations and syntheses on the topic, 'Working As A Team', a presentation on behavior and behavioral goal-setting, and evaluation.
Scenes from the Workshop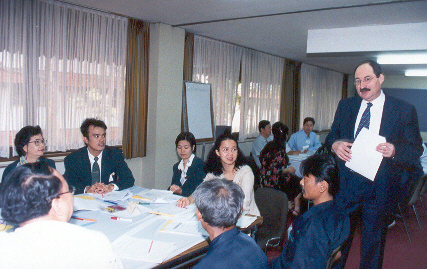 AIT President, Prof. Jean-Louis Armand, visited some of the workshop sessions.

Prof. Armand, and Mr. Prasarn Marukpitak,watching an AIT staff from Physical Plant rendering his group's synthesized drawing.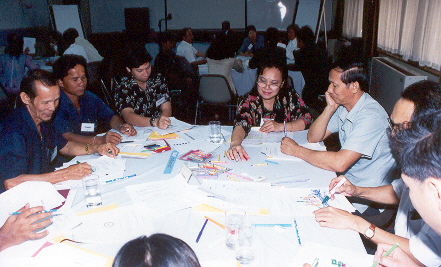 Some staff members working on their drawings representing 'AIT's Present Conditions and Pictures of Hope'.