Fundraising for educational institutes is no longer restricted to the
US, but it is a global phenomenon. Increasingly, the top management at
universities is spending more time and effort at fund raising. This was
stated by Ms Krista Slade, Executive Director, Council for Advancement
and Support of Education (CASE)
during a talk delivered at the Asian Institute of Technology
(AIT).
Speaking about "The role of the academic leader in fundraising", Ms
Slade remarked that university deans in top institutes spend close to
one third to half of their time in fundraising activities. Similarly
some University Chancellors spend about 40 per cent of their time in
fundraising activities.
She stated that the function of 'advancement' of an educational
institute includes alumni relations, communications, marketing,
fundraising, advancement services and advancement management.
"Advancement is about 3R's, and they include Reputation, Relationships,
and Resources', she said. An academic leader is not just a academician
but also a chief alumni relations officer, a chief communications
officer, a chief marketing officer as well as a chief fundraiser for
the institution.
Providing International perspective on philanthropy, she stated that
the United States continues to top the list for charitable giving,
followed by Israel and Canada. The list of top ten includes Uganda,
Tanzania, Kenya and Argentina. She quoted an example from 1953 when the
Singapore Cabaret Dancers' Association organized a five night charity
dance to illustrate that fundraising should not be regarded as a North
American tradition.
Earlier AIT President Said Irandoust welcomed Ms Slade at AIT. Prof.
Worsak Kanok-Nukulchai, Vice President (Resource Development) thanked
Ms Slade for elaborating on the concept of fundraising in an academic
context.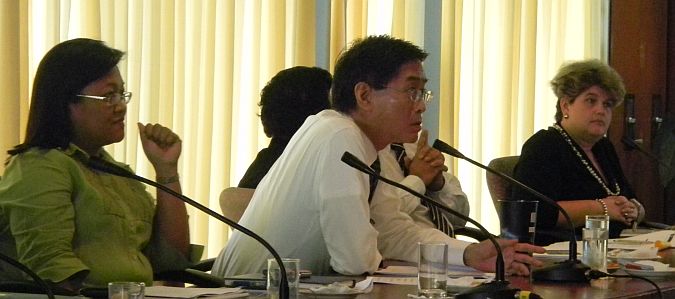 Ms. Krista Slade (extreme right) of CASE
delivering a talk on fundraising at the AIT.