An 
alumna
of
the Asian Institute
of
 Technology (
AIT
), May Sa
be
Phyu, is among the 10 select
women
chosen for the 2015
Secretary
of
State's
International
Women
of
Courage
Award
. She will 
be
award
ed by Deputy
Secretary
 Heather Higginbot
to
m at 13:00 hours EST time on 5 March 2015. May Sabe Phyu, who hails from Myanmar, was a recipient of the Japanese government scholarship to pursue her Master's degree at AIT. She graduated with a Master's in Gender Studies in May 2011, and was one of the two students who represented AIT in thanking the Ambassador of Japan to Thailand, H.E. Mr. Seiji Kojima, during a felicitation
ceremony organized by the Ambassador at his residence. News about her receiving the scholarship and participating in the felicitation ceremony can be read at the AIT website at these links:
http://goo.gl/0ZpNbL
http://goo.gl/0xC8sO
A co-founder of the Kachin Peace Network and Director of the Gender Equality Network, May Sabe Phyu is also actively associated with with other activists and government ministers to formulate a Prevention of Violence Against Women Law for consideration by the Parliament in Myanmar this year.
Other award recipients include a Captain from the Afghan Air Force, a journalist from Bangladesh, a nurse from Guinea, an editor from Kosovo, an external relations director from Syria, and founders of various non government organizations.
An official press release issued by the US Department of State says: "Following the award ceremony and meetings with U.S. government officials and non-governmental organization counterparts in Washington, D.C., the honorees will travel individually to cities across the United States to participate in professional meetings and events, and engage
with the American people through an International Visitor Leadership Program. They will visit Atlanta, Chicago, Des Moines, Indianapolis, Kansas City, Los Angeles, Pensacola, Pittsburgh, and San Diego. The women will reconvene in New York to participate in the United Nations' Commission on the Status of Women, reflect on their visit, and discuss
ways to work together to improve the lives of women and girls around the world."
The Secretary of State's Award was established in 2007, and it "honors women around the globe who have exemplified exceptional courage and leadership in advocating for human rights, women's equality, and social progress, often at great personal risk." This is the only Department of State award that pays tribute to emerging women leaders worldwide.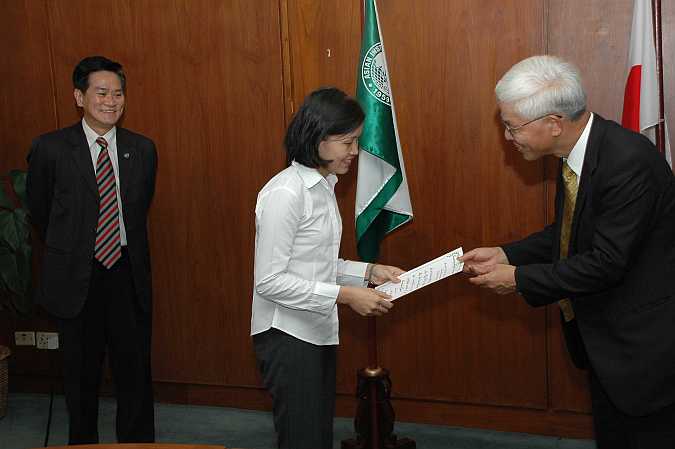 File photo from 12 October 2009: Ms. May
Sabe Phyu (center) receiving a commendation certificate from H.E. Mr.
Kyoji Komachi, Ambassador of Japan to Thailand. Also seen in the
photograph is AIT President Prof. Worsak Kanok-Nukulchai (extreme
left).