About the speaker:
Prof. Karl G. Linden grew up in New York City and attended high school at the Bronx High School of Science.  He went to Cornell University in the School of Agriculture and Life Sciences and eventually graduated with a BS in Biological and Environmental Engineering.  He worked with Dr. William J. Jewell at Cornell on undergraduate research related to anaerobic digestion of municipal solid waste.  After spending a year traveling in Central America, He attended the University of California at Davis for his masters degree in Environmental Engineering where he worked with Jeannie Darby and George Tchobanoglous.  He continued on at UC Davis for his PhD with Jeannie Darby, and graduated in 1997.  Professor Linden taught for two years at the University of North Carolina at Charlotte, for 9 years at Duke University in Durham, NC and joined the faculty at the University of Colorado Boulder in 2008. He currently serves as an Associate Editor of the Journal of the American Water Works Association, is President of the International UV Association, and holds the Mortenson Professorship in Sustainable Development.
Date: 10 March 2016
Time: 14.00-15.00 hours
Room: E222, School of Environment, Resources and Development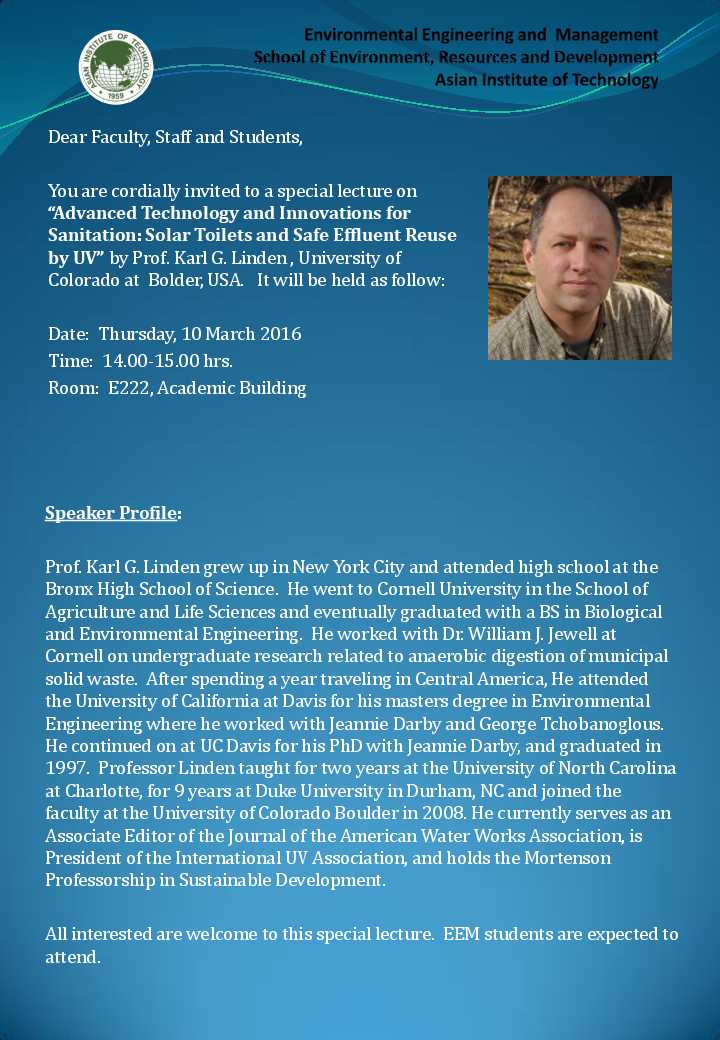 More details can be downloaded from this poster.