Best in Seven Disciplines, Obtains Perfect Scores in Five
As a non-full-fledged University, Asian Institute of Technology (AIT) entered in only 10 out of the total 36 disciplines in the latest round of Thailand Research Fund (TRF) Ratings based on research impact in 2012-14. As a new entrant, AIT obtained a perfect score (TRF Rating 5) in five disciplines, the highest among all 28 participating universities, ahead of Chulalongkorn University (4 disciplines), King Mongkut University of Technology, Thonburi (4 disciplines ) and Mahidol University (3 disciplines).
AIT President, Professor Worsak Kanok-Nukulchai was on stage to receive the TRF's Grand Award for securing the most perfect scores (TRF Rating 5) at the Ceremony organized by TRF on 1 March 2016. "This is a unique achievement reaffirming our position as a leading research Institute of the region." Prof Worsak said.
Overall, AIT were rated highest among all participating universities in seven disciplines — Civil Engineering, Industrial Systems Engineering, Information and Communication Technologies (ICT), Energy, and Environmental Engineering and Management (all five disciplines receiving a TRF Rating of 5); and Regional and Rural Development Planning (TRF Rating 4.3), and Aquaculture and Aquatic Resources Management (TRF Rating 4.0).
Presiding over the ceremony to officially release the TRF Ratings, Dr. Suthipan Chitpimolmas, President of TRF pledged to provide "Research Development Fund" to all top-rated disciplines with TRF Ratings in the 4.5-5.0 range. An official press release by TRF can be found at this link, where AIT's top honor was highlighted in the sub-headline
http://goo.gl/FCy2T9
It is interesting to note that as postgraduate-only Institute, AIT is not eligible to participate in the three major World Rankings of Universities — Academic Ranking of World Universities (ARWU), Quacquarelli Symonds (QS), and Times Higher Education (THE) Rankings. However, QS has included AIT in its "World University Rankings by Subjects" and it was ranked 151-200 of the world in two subject areas: "Civil and Structural Engineering" and "Environmental Science". In addition, in "Electrical and Electronics," AIT was ranked 251-300 in the world, and in "Computer Science & Information System," it was ranked 301-350.As an institution, AIT was included for the first time in the new World University Ranking by the EU-supported U-Multirank System. As highly anticipated, AIT was ranked first in the world in the "International Orientation" category.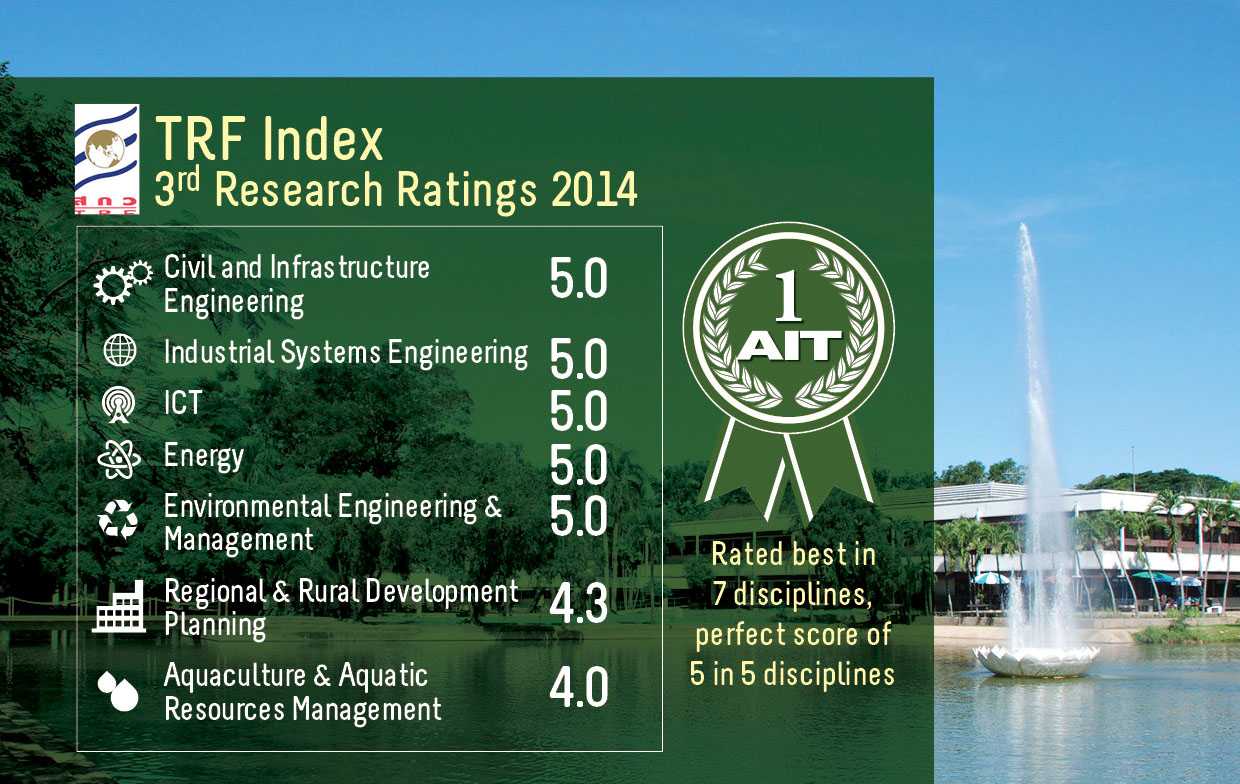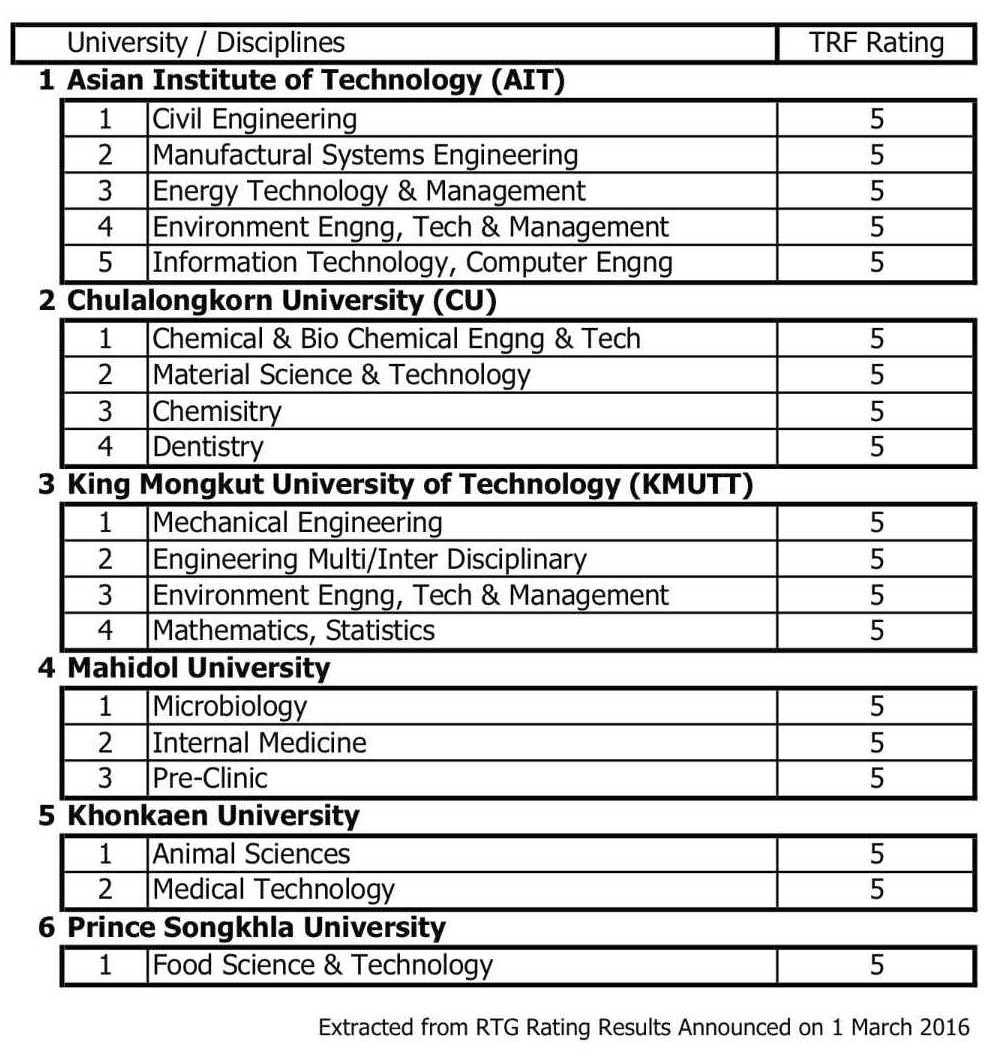 Table depicting the TRF Rating of various
universities.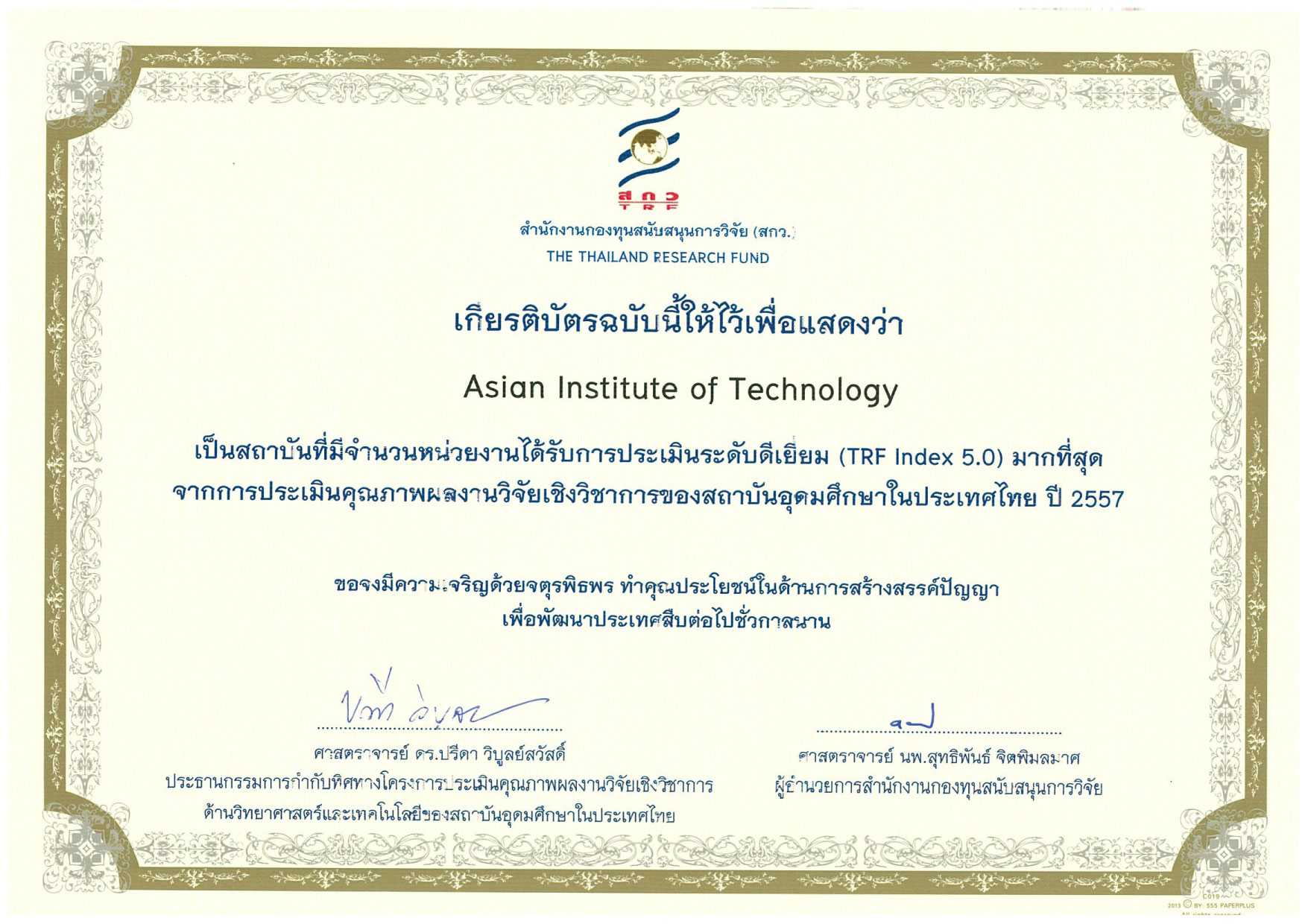 Scanned copy of the Certificate Awarded by
TRF's Grand Award to AIT for securing the most perfect score.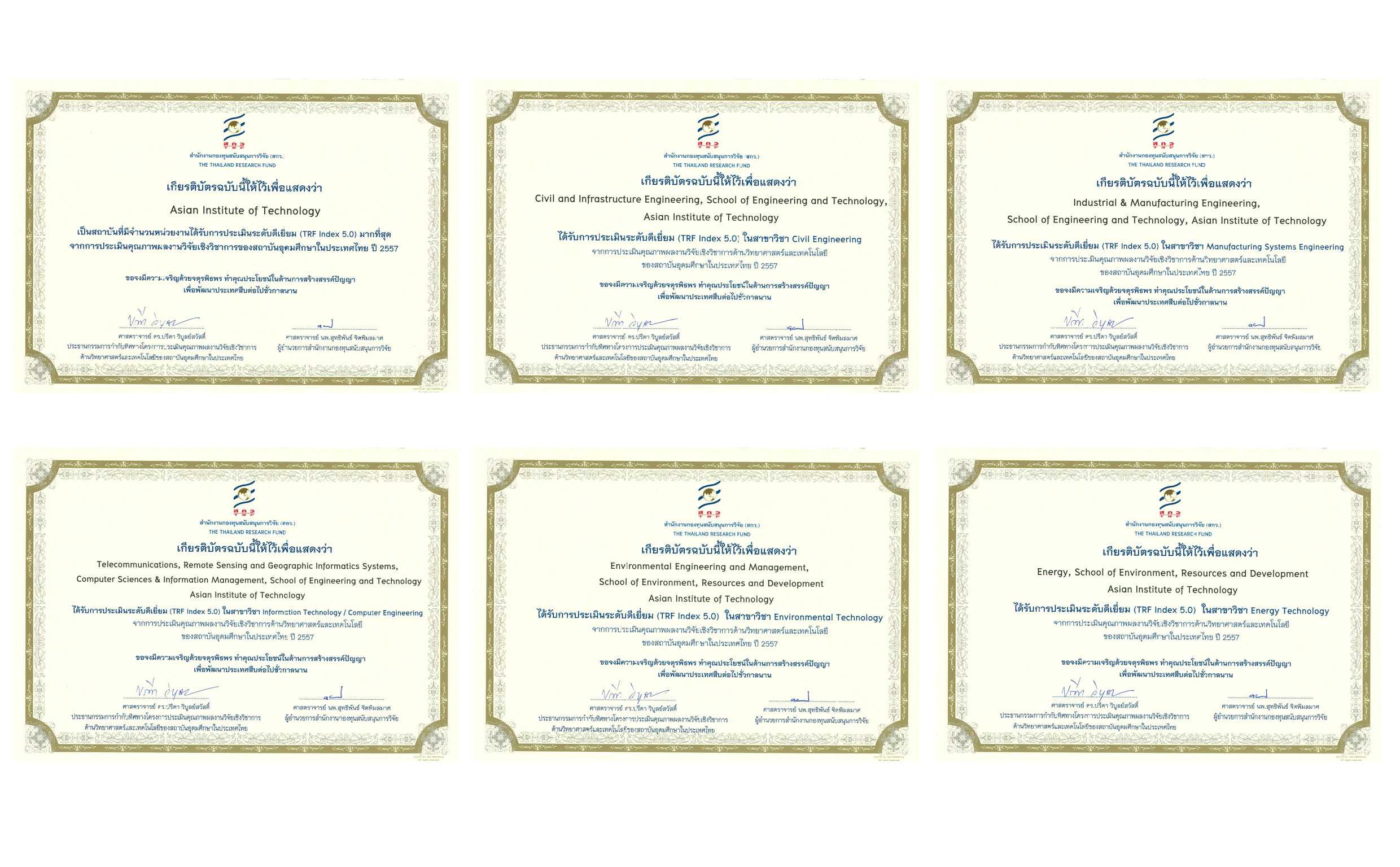 Scanned copy of all six certificates awarded by TRF to
AIT.