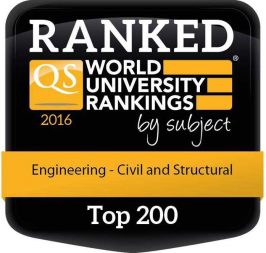 The Asian Institute of Technology (AIT) has been ranked among the best universities in the world in three disciplines, according to the QS Top Universities 2016 Rankings by subject released on 21 March 2016. Further, AIT's faculty has also been ranked 240 in the field of Engineering and Technology.
QS has ranked AIT among the top 151-200 universities in the world in
the field of Civil and Structural Engineering. In the field of
Environmental Sciences, AIT is ranked among the global top 201-250,
while in Computer Science and Information Systems, it is ranked among
the top 351-400 universities in the world.
"The rankings reaffirm our global standing, and they reinforce our
status as a premier international institute based in Thailand," AIT
President Prof. Worsak Kanok-Nukulchai said responding to the release
of the latest round of QS rankings.
Besides emerging at tops in three subjects across the globe, AIT is
also ranked among the top five universities in Thailand in 14 out of
the 36 subjects that were evaluated by QS. "AIT's performance is
remarkable considering the fact that it has even been ranked in
subjects where it does not have a dedicated field of study, but only
offers them as minor courses. This is a solid indicator of the
interdisciplinary nature of its education and research," Prof. Worsak
added.
The QS Ranking by Subject (2016) is based on four indicators —
academic reputation, employer reputation, citations per paper and
H-index citations.
While ranking AIT, QS stated that "AIT has a unique international
character, with 70 per cent  of its 2,000 plus student population
hailing from outside the host country, from all corners of Asia and the
rest of the world." In 2015, AIT was adjudged the world's top-ranked
international university by the EU-funded U-Multirank 2015
institutional ranking, it added.
More details are available at this link:
http://www.topuniversities.com/universities/asian-institute-technology-thailand#subject