One-hundred-and sixty-seven undergraduate students, including a large
contingent of 107 Chinese students currently studying in Thailand, were
welcomed at the verdant campus of the Asian Institute of Technology
(AIT) in Pathumthani province.
 
"AIT's internationality is unique, and it cannot be found anywhere
else," Prof. Kazuo Yamamoto, AIT's Vice President for Resource
Development (VPRD) told the visiting students. Prof. Yamamoto, who has
recently been ranked as the '6th Top Global Thought Leader' in Water
Industry by the Water & Wastewater International Magazine, spoke
about the benefits that students gain while studying at AIT.
 
Also addressing the gathering was special guest speaker Mr. Trai
Suntivish, 25, a recent Master's alum (2014) from Construction
Engineering and Infrastructure Management. Mr. Trai now heads a
construction development team at the headquarters of Thailand's PTT
Public Company Limited. He credited his AIT education for enabling him
to gain entry to the company, which has highly exacting standards for
all new employee recruits, he explained.
 
Mr. Trai mentioned that in his class of 15 students he was the only
Thai national. "I learnt about different cultures, and picked up
Chinese language while playing basketball, and Khmer, Myanmar and
Bahasa Indonesia during my group work," he added.
 
Informing about AIT's latest achievements in national and global
rankings was Shawn Kelly, Acting Head, External Relations and
Communications Office (ERCO), who highlighted how AIT was rated the
global best in internationality, according to U-Multirank "Our academic
programs are ranked among the top 151-200 of the world in 'Civil &
Structural Engineering' and 'Environmental Science,' he added,
referring to the QS 2015 ranking of universities by subject. 

 
Mr. Kelly also informed that a seven AIT disciplines were rated
highest in Thailand for their overall research impact, according to
Thailand Research Fund (TRF), which announced its latest findings on
March 1. Five AIT disciplines received perfect scores of five, the most
perfect scores of any university in Thailand, he said. Ms. Wannapa
Pliansri of ERCO spoke about the various scholarships and fellowships
available at AIT.
 
Open House participants later visited AIT's three Schools — School of
Engineering and Technology (SET); School of Environment, Resources and
Development (SERD); and School of Management (SOM), where they
interacted with faculty and staff members. Interested candidates also
took the English language entry test conducted by AIT's Language
Center.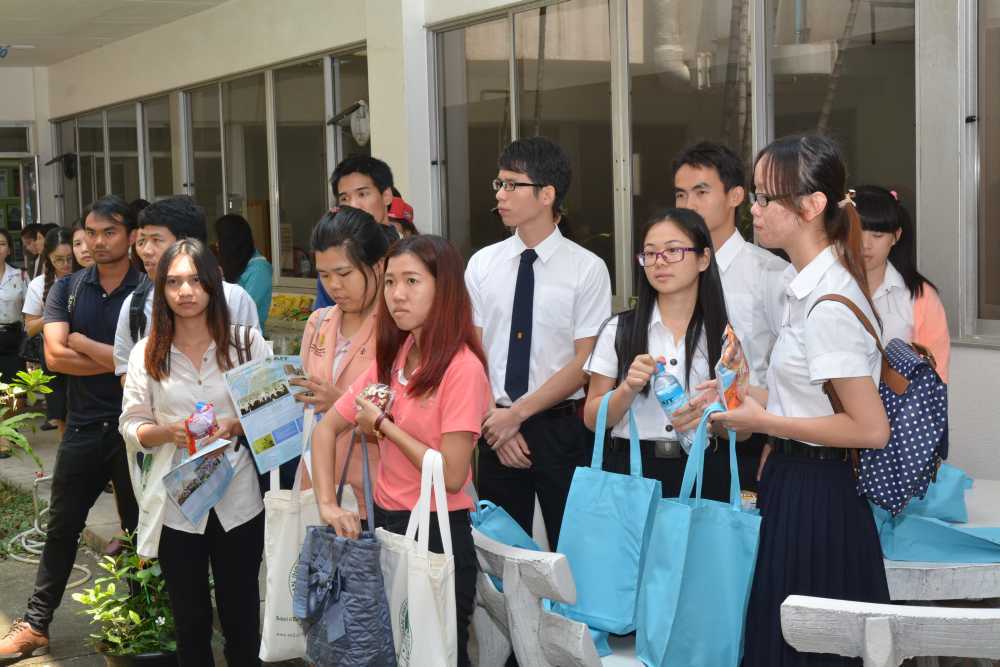 Photo galleries from Open House are available at these links:
Facebook: https://goo.gl/NjvWvA
Google+:  https://goo.gl/ju8H5M
Pinterest: https://goo.gl/3Rq5GJ