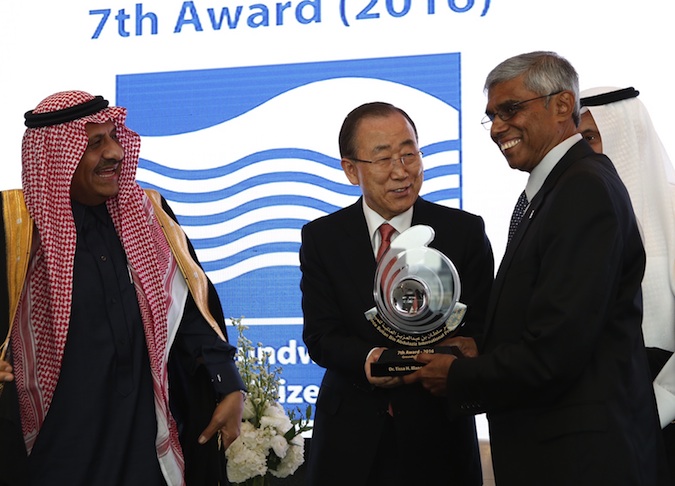 Prominent AIT Alumnus and Member of AIT's Institute-Level Advisory Board (ILAB), Prof. Tissa H Illangasekare was honored with the 7th Prince Sultan Bin Abdulaziz International Prize for Water (PSIPW) at an award ceremony organized at the United Nations Headquarters on 2 November 2016. Presided by the UN Secretary General HE Ban Ki-moon and HRH Prince Khaled Bin Sultan, the event was witnessed by 150 top diplomats and UN officials.
Prof. Tissa, who is the AMAX Endowed Chairman of the Environmental
Sciences and Engineering department and professor of Civil Engineering
at the Colorado School of Mines, graduated with a Master's in Water
Resources Engineering from AIT in 1974. Sharing details about the
award, Prof. Tissa thanked AIT and Dr. Subin Pinkayan, Chairman, AIT
Board of Trustees for "introducing him to hydrology."
Speaking at the award ceremony at the UN, Secretary-General Ban
Ki-moon hoped that the award "will motivate more research and raise
awareness of this issue around the world." Water sanitation requires
investment, partnership, international attention, and cooperation among
different scientific communities and nations, the Secretary-General
added.
Every two years, PSIPW offers five awards to scientists, researchers
and inventors around the world for pioneering work that addresses the
problem of water scarcity in creative and effective ways.
Prof. Tissa was awarded for his work in the prediction of the
long-term fate of pollutants in groundwater systems. His innovation can
help reverse the process of contamination of groundwater systems with
hazardous wastes by reliably predicting the movement of toxins and
devising ways to mitigate their environmental risk.
Dr. Illangasekare said: "As a professional and a citizen, we have the
responsibility and moral obligation to help sustain this critical
resource we share. Prestigious prizes like this will motivate creative
people to pursue research to develop innovations and solve the pressing
problems with the Earth's water."
Award winners included Dr. Rita Colwell of University of Maryland at
College Park and Dr. Shafiqul Islam of Tufts University, (Creativity
Prize); Dr. Gary Parker of University of Illinois Urbana-Champaign
(Surface Water Prize); Dr. Tissa H. Illangasekare of Colorado School of
Mines (Groundwater Prize); Dr. Rong Wang and Dr. Anthony G. Fane of
Nanyang Technological University, Singapore (Alternative Water Research
Prize); and Dr. Daniel P. Loucks of Cornell University (Water
Management and Protection Prize).