Paying her maiden visit to the Asian Institute of Technology (AIT), Ambassador of Finland to Thailand H.E. Mrs. Satu Suikkari-Kleven sought to revitalize the relationship between the two, stating that AIT's work and Finland's priorities are in sync with each other.
"We have an excellent tradition of cooperation between Finland and AIT, and we are now looking at innovative ideas for renewed cooperation," she remarked during her visit to AIT on 12 October 2017. Expressing her happiness that AIT had signed three agreements with Finnish entities in 2016, Ambassador Suikkari-Kleven added that the Embassy could facilitate matchmaking between AIT and organizations in Finland.
"The Embassy of Finland concentrates on three areas: providing support to Finnish citizens and consular services, reporting on developments, and promoting Finnish business, knowledge, and expertise," the Ambassador said. Within the arena of promoting Finnish expertise, she identified cooperation in education, teacher training, clean technologies, and waste-to-energy initiatives as key focus areas.
The Ambassador also invited AIT to participate in a special seminar being organized at Educa2017 titled "Change is possible through Finnish innovations in pedagogy."
She was accompanied on her visit by Ms. Katarina Tapio, First Secretary and Deputy Head of Mission, and Mrs. Susanna Eltvik, Education Advisor to the Embassy of Finland.
AIT President Prof. Worsak Kanok-Nukulchai welcomed the delegation and briefed them about AIT's history, mission, and vision. In addition to President Worsak, AIT was represented by Vice Presidents Prof. Sivanappan Kumar and Prof. Kazuo Yamamoto; Prof. Rajendra Shrestha, Dean, School of Environment, Resources, and Development (SERD); Dr. Matthew N. Dailey, Head, Department of Information and Communication Technologies, School of Engineering and Technology (SET); Dr. Shobhakar Dhakal, Department Head, Energy, Environment, and Climate Change, SERD; Dr. Attaphongse Taparugssanagorn of Telecommunications, SET; and Mr. Shawn Kelly, Director, Office of External Relations.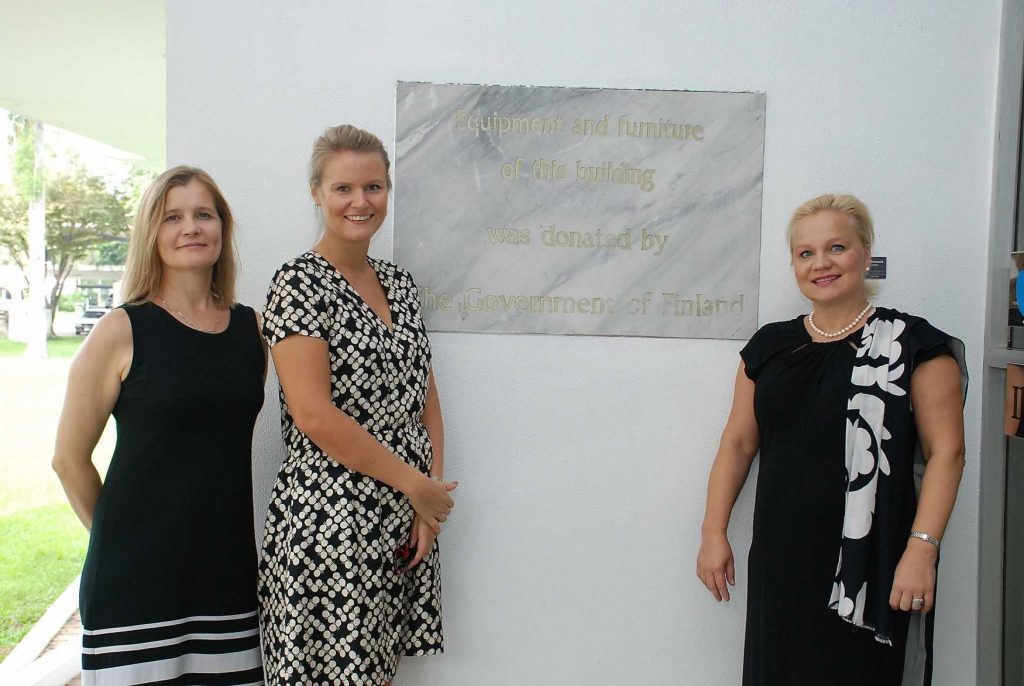 From left: Ms. Katarina Tapio, Mrs. Susanna Eltvik, and Ambassador Suikkari-Kleven at the Telecommunications Building donated by the Government of Finland to AIT.