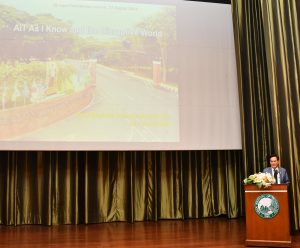 For a person who was in the first batch that literally set foot on the Pathum Thani campus of the Asian Institute of Technology, it has been a long journey. Reminiscing the past, speaking about the present, and looking ahead at the future was Prof. Worsak Kanok-Nukulchai who delivered his last lecture on the occasion of the Appreciation Day for AIT President and his team, organized on 27 August 2018.
Inaugurating the event was the Chairperson of the Board of Trustees, Dr. Subin Pinkayan, who complimented Prof. Worsak for his leadership and for systematically tackling administrative, financial and infrastructure issues. Prof. Worsak ushered in a renaissance, Dr. Subin said, as he commended him for his outstanding contributions and all-round excellence.
Joining him was the Chairperson of the AIT Executive Committee, Dr. Sahas Bunditkul, who shared photographs of Prof. Worsak from his college days. In his address titled "Prof. Worsak as I knew in the last 51 years," Dr. Sahas narrated stories on how Prof. Worsak had excelled as a student. Special messages were telecast on behalf of two former presidents, Prof. Alastair North and Prof. Roger G.H. Downer. Felicitation messages were also read by Prof. Pennung Warnitchai on behalf of faculty members, Mr. Wanchai Sophonsakulrat on behalf of staff members, Pauk Kyaing Sahm as Students' Union President, and Ms. Maria Fe Nuestro Ferriols as President of AIT Alumni Association. Ms. Maria also read out messages on behalf of alumni from various parts of the world. Dr. Naveed Anwar, Executive Director of AIT Solutions, presented the citation on behalf of Computers and Structures Inc (CSI).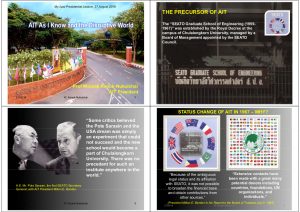 Delivering his last lecture titled "AIT as I know and the disruptive world," Prof. Worsak traced the history of AIT from its founding days, as he spoke about institutional transformations. From the SEATO Graduate School of Engineering to AIT, and from being a regional platform for development to becoming a neutral platform for international cooperation, AIT has experienced significant transitions. While AIT has successfully warded off the challenges caused by the flood of 2011, and the administrative and governance issues emerging in 2012, Prof. Worsak presented a futuristic scenario on various disruptive changes that now threaten the edifice of educational institutions all over the world.
In his lecture, Prof. Worsak spoke of six global megatrends — increase in population, increasing urbanization, climate change, global connectivity, wealth inequality, and ageing society. He also narrated on how humanity had experienced the agricultural revolution, industrial revolution, digital revolution and it is now witnessing the 'artificial intelligence' revolution. The six notable D's include digitation, deception, disruption, dematerialization, demonetization and democratization are , Prof. Worsak added.
Global megatrends, continuous technological change, and increasing human longevity are key factors that would decide the model of the university of the future, Prof. Worsak reasoned. The role of higher education needs to be reconsidered and even reinvented, Prof. Worsak said, as he proposed the creation of holistic undergraduate programs, that are followed by professional graduate programs. Students may be anchored to their parent universities, as they continue to engage in lifelong learning while remained tethered to their alma mater. People will also stop going to universities merely to acquire degrees, but to inculcate universal basic competencies, he said. All this implies that "Business as usual is dead, and University as usual is dying," Prof. Worsak concluded.
Photo Albums