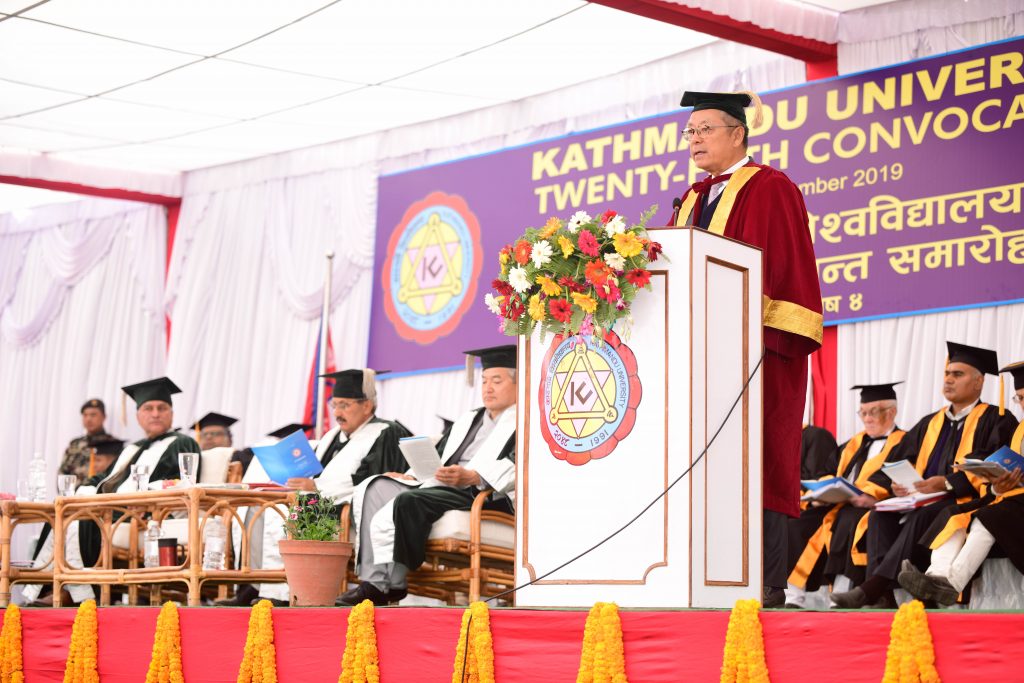 On 20 December 2019, Dr. Eden Y Woon, AIT President gave an address to a crowd of more than six thousand including fifteen hundred graduates, and parents, relatives, faculty, staff members and friends of Kathmandu University (KU) at its 25th Convocation Ceremony in Kathmandu, Nepal. During his Convocation Speech, Dr. Woon emphasized that the world has now become much more challenging, and that such challenges will impact the younger generations, including the graduates at the ceremony. He laid out technology, environment, social issues, and geopolitics as four areas which will create more and more challenges. His speech then focused on giving some advice to the graduates on the useful traits necessary for success in this challenging world. Dr. Woon also took this opportunity to highlight AIT's motto of Social Impact with Innovation. He also emphasized that AIT is, now more than ever, focusing on injecting more global, innovative, and entrepreneurial experience for the students, as AIT views such experience is vital for the education of the future.
The Convocation Ceremony was chaired by Honorable Minister of Education, Science and Technology, Mr. Giriraj Mani Pokhrel.
After the Convocation Ceremony, Dr. Woon had a courtesy meeting with Rt. Honorable Prime Minister of Nepal, Mr. K.P. Sharma Oli at the Prime Minister's residence where Honorable Foreign Minister Mr. Pradeep Gyawali, and Honorable Information and Communication Minister and Spokesperson of Government of Nepal Mr. Gokul Banskota were also present. Dr. Woon was accompanied by Vice Chancellor of KU - Prof.  Dr. Ram Kantha Makaju, Chairman of the Board of Trustees of KU - Dr. Daman Nath Shungana, Founder Vice Chancellor of KU - Prof. Dr. Suresh Raj Sharma, Prof. Dr. Bim Prasad Shrestha of KU, and General Secretary of AITAA Nepal Chapter - Dr. Chandika Bhatta.
Kathmandu University (KU) is an autonomous, not-for-profit, self-funding public institution established in December 1991. Its mission is to provide quality education for leadership, and its vision is to become a world-class university devoted to bringing knowledge and technology to the service of mankind. The Collaboration between AIT and KU started 2 decades ago. AIT and KU have recently signed a Memorandum of Agreement for International Unified Bachelor and Master's Degree Program to be started from August 2020.