By Babita Sharma
China has always been a country of interest to me, so when we got the list of institutes for the Fall exchange program, I immediately applied for Tsinghua University. I was also very lucky to receive the first scholarship from 'Laws group Charity Student Exchange Scholarship' which paid for half of my expenses during the exchange program.
I arrived in Beijing at 5.30 in the morning after 5 hours of flight, ready to begin my adventure in China. The memory of saying goodbye to AIT was still fresh and it made me long for its comfort of familiarity but the excitement of experiencing a new place steeled my nerves. China was really overwhelming at first. A strange place with a different language and strict ban on western social media sites. The people, food and way of life was very different to what I was used to. It was a bit difficult to adjust but as I got used to it, it became more comfortable and it gradually grew on me. There is a beauty in diversity and being exposed to this unique Chinese culture while coming from a different one certainly helped me grow and gain new experiences.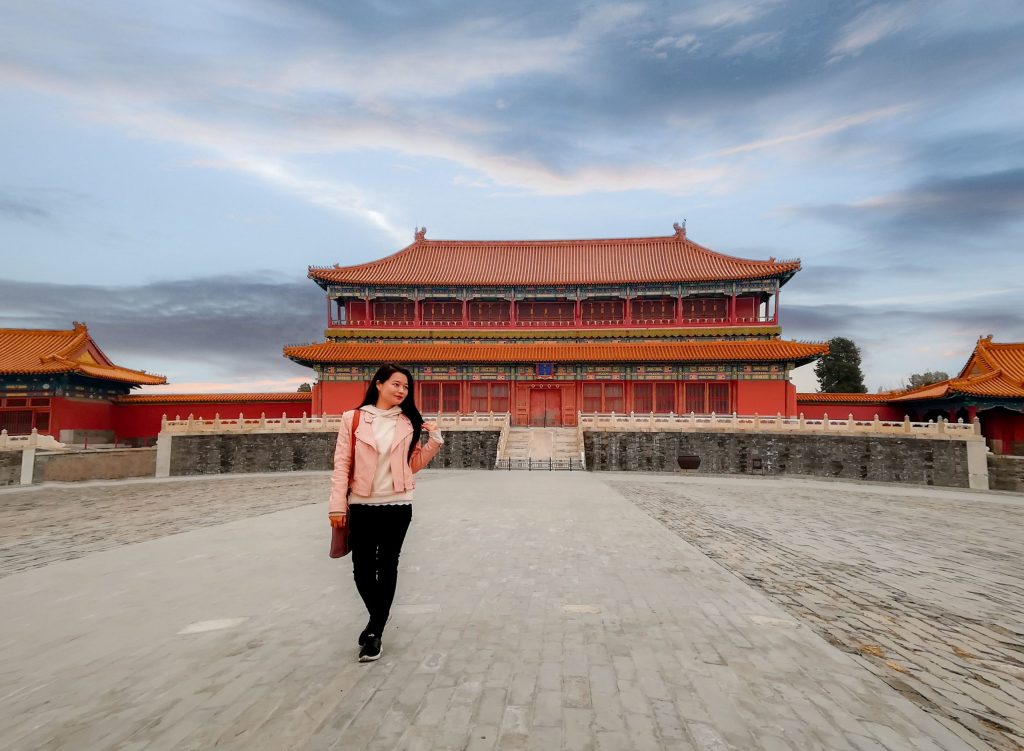 Once I landed in China, I was very lucky to be picked up by a mutual friend who was kind enough to free his time to help me find an apartment. He helped me through all the formalities and gave me a briefing on the Chinese cuisines that I could try and the places I could visit. As for my living arrangement, I lived in an apartment which I shared with two Chinese students, who helped me get up to speed with the Chinese culture and language from their perspective.
I still remember the day when I first stepped foot in AIT as I was truly amazed by the greenery and sense of calmness inside the campus. Tsinghua was a surprise in its own way too. Tsinghua has a very impressive campus with tall buildings in harmony with nature, lakes and pavilions. The entire University was built in the form of a huge park. The place became even more beautiful during the autumn season with red and yellow leaves covering the entire campus. The thing that amazed me the most was the existence of more than one museum within the University. When they told us that they would be taking us for a museum tour after the orientation, I hadn't even imagined that it would be all inside the campus.
The academic life in Tsinghua can be quite intense. The classes require mandatory attendance with lots of assignments and projects. It was tough at times but was totally worth it. I could say studying in AIT helped with this part. I enjoyed attending these classes as there were many brilliant students from all over the world. I learned a lot from those amazing people who have achieved so much. I also got the opportunity to attend "talk" programs which featured distinguished people such as, Noble prize winner Michael Spence, Venture capitalist Jim Breyer and many more.
For our first outing as a class group, I joined my fellow international students to visit the aptly named 798 art district. There we were treated to wonderful works of paintings and sculptures. To make the day even more exciting, a scavenger hunt game with riddles was organized, and the winners would be rewarded with delicious mooncakes. I am proud to say that those mooncakes made their way to my stomach.
Living in Beijing, gave me the opportunity to know the city from inside out. I visited most of the attractions as well as the underrated parts of Beijing and it was amazing. The Forbidden city, Summer Palace, Temple of heaven and Beihai park were some of the places that immerses people into the rich history and culture of China. These attractions flaunt the ancient Chinese architecture preserved within the modern city of Beijing. The Great Wall is another wonder of China that I had always wanted to see. It is more magnificent and amazing up close than we see in pictures and videos. It is true when people say that you've never really been to China if you haven't climbed the Great Wall.
China has developed incredibly in the last decades. It is basically a cashless society now and you can go around anywhere carrying only your phone. Honestly, I was quite shocked in the beginning when a small roadside vendor who was selling apples, asked me to pay through his QR code. Feeling a bit stupid, I gave him money as I didn't know how to pay in such a way. He was confused at first, but he took the money. I later learned that payments could be easily made using WeChat or Alipay which we can connect to our bank accounts. I installed WeChat only because other messaging apps do not work in China. But later I was truly impressed by the versatility of this application. I used WeChat for literally everything from messaging friends to buying train tickets and paying from the app. After returning, I miss the possibility of going around with nothing but my phone and scanning a QR code for everything from adding new friends in contacts to purchasing almost anything.
This exchange was really a special experience for me. I travelled, studied, tried new food and most importantly made amazing friends. I am so glad that I didn't miss this opportunity. Not a week went by without something interesting happening or a surprising encounter. I learned a lot about the Chinese culture, the cuisine, the people, their language and their way of life. The Chinese economy is growing rapidly and is in the forefront of many technological advancements. So, I believe that it is a huge benefit to understand the country and their market.
P.s. It's quite sad that I couldn't enjoy one of the best perks of being a foreigner in China: the celebrity like status. Random people would just come to us and request to take pictures with my European friends. They would assume I'm Chinese and hand me their phones and ask me in Chinese to take their pictures. Nobody wanted to take pictures with me because sadly to them I was just another Chinese.