By Santaute Venslaviene
Currently, I am studying at Vilnius Gediminas Technical University in Lithuania, in the Faculty of Business Management. I am a PhD student in the Financial Engineering Department. I write to tell you about my three-month Erasmus exchange experience at the Asian Institute of Technology (AIT) in Thailand. I heard about the opportunity to study at AIT in early November 2019. Thailand motivated me to go overseas for some very simple reasons. Along with my family, I have always dreamt to live differently than I am accustomed to – and get to know other cultures by running away from the Lithuanian winter! Asia seemed like a great opportunity because we have never been there. Moreover, AIT itself is a high-level international university with highly-educated professors from different countries. Lectures are all held in English.
So, all put together, we made a decision very quickly in January of this year to go forward on our big three-month adventure. In Thailand, we lived a completely different life than in Lithuania – the mix of cultures was huge, the nature was incredible, the colours were bright, and the number of people was incomprehensible. I found the cuisine to be fascinating, with different flavours, aromas, and abundance of spices. The fruit was perfect! Overall, the food was very cheap and delicious, so we hardly cooked at home. Though we experienced many impressions every day, we would still be surprised by things on a regular basis. I have never seen so many contrasts. It is quite difficult to describe, since without being there you will not understand everything. Our expectations paid off handsomely.
We lived on the AIT campus, in a family dorm apartment. In addition to the university buildings, there were grocery stores, cafes, hairdressers, massage parlours, a bakery, a bookstore, a medical clinic, a post office, a private school, a gym and spaces for outdoor sports, such as tennis, badminton, football, basketball and even a swimming pool. Having everything in one place, it was not even necessary to leave the institute's main territory. Even though on campus distances were not great, most of the time the students rode bicycles everywhere. The whole campus is surrounded by tropical nature and there is a canal with fish, a large fountain, many green trees, fruit trees, and many species of birds.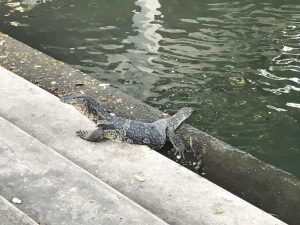 AIT is also inseparable from the large monitor lizards that live on campus. In fact, they are the residents who have stayed there the longest! These big lizards roam around the campus freely and can grow to about 2 meters long. Although they are not dangerous to humans if you don't bother them, they were the biggest challenge for us, as we came across them almost daily.
In terms of studies, AIT lecturers were very competent, spoke English fluently, and usually came from countries other than Thailand. The staff and administration at AIT were also very friendly and always ready to help with any issue. I studied at the School of Management (SOM). The lectures were very interesting and a course I took on quantitative decision methods was presented in an attractive way. SOM had a branch office outside the campus in the central business district of Bangkok on the 15th floor of a skyscraper. I had my lectures there. The view through the window was breathtaking, surrounded only by gleaming towers. I did not have many courses for my studies, so I had more "free" time for literature analysis and information gathering for my research. I also had various meetings with professors and students, and participated in regular discussions and seminars.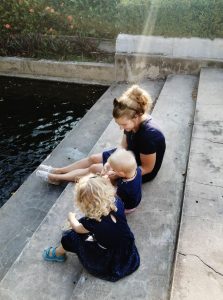 Within the three-month period, I was also able to get to know many of Thailand's cities. We saw a variety of animals, plants, very beautiful beaches, beautiful mountains and spectacular cities. We travelled with two small children (three and one years old), so we often received a lot of attention from both tourists and locals. Thai people are very family-oriented and friendly. As we seemed to stand out enough from the environment to them, many Thais wanted to talk with our children and us, and take pictures together. At first, it was difficult to understand situations where strangers approach, greet, and even take children by their hands, but later we got used to such an open culture.
In conclusion, I am very happy that we had the courage to seize this opportunity and face the challenge to study and live abroad. Although we did not run away from the Lithuanian winter completely, as it was snowing when we came back, we definitely broadened our horizons, learned many new things, and met plenty of interesting people. I think my communication with AIT professors and fellow students will last a very long time. It was an absolutely invaluable experience that will remain in the memory of my whole family.