The Asian Institute of Technology (AIT) has signed a 5-year strategic cooperation agreement with Vietnam's Van Lang University (VLU) to develop and implement programs for enhancing its human resources and postgraduate academic programs.
Signing the memorandum of understanding (MOU) on 22 July 2020 via a Virtual Ceremony connecting the two institutions in Ho Chi Minh City and Bangkok, AIT President Eden Woon remarked on the historical achievements of AIT Center in Vietnam (AITCV) to produce so many top Vietnamese alumni from continuing education programs and degree programs with AIT in Thailand. Based on this history, AITCV is looking forward to a new chapter of new relationships with Vietnam institutions.
President Woon expressed his pleasure to develop the new partnership with Van Lang University and highlighted the expected benefits of the cooperation. AIT is eager to contribute to VLU's growth and development, he said, by carrying forward with the envisioned activities under the MOU. "This agreement marks our desire for a new, deeper and broader relationship with Vietnam," President Woon said.
The president thanked the governments of Vietnam and Thailand, Van Lang University and Dr. Phung Van Dong, Director, AITCV. He also offered his thanks for the attendance at the ceremony of a number of former AIT staff, notable Vietnamese alumni and dignitaries, including Dr. Nguyen Xuan Truong, Director of Southern Education Development Center, Office of Ministry of Education and Training, Vietnam and Mr. Le Thanh Hao, President of the AIT Alumni Association in Vietnam.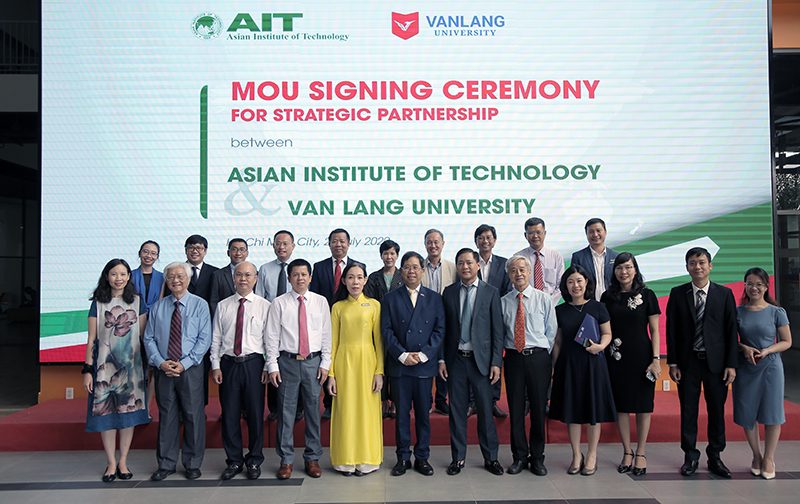 Addressing the ceremony, Dr. Nguyen Cao Tri, Chairman of the Van Lang University's Council said: "Van Lang University's Board of Trustees highly appreciates this strategic partnership with the Asian Institute of Technology. The cooperation between AIT and VLU will concentrate on PhD programs in Business, Environmental Sciences, and Technology, including but not limited to expert exchanging schemes, cooperative research and especially the Master's degree program in Data Science and AI Technology. We are truly eager to offer Vietnamese students the best opportunities possible to approach the accredited programs at AIT."
The Chairman stressed that the partnership would add momentum to existing ties by Van Lang University faculty members who graduated from AIT, such as the current VLU Rector Assoc. Prof. Dr. Tran Thi My Dieu. He added his thanks to Vietnam's Ministry of Education and Training, the Consulate General of Thailand to Ho Chi Minh City, the AIT Alumni Association, AITCV and AIT Thailand, all of whom made the project a reality. "The initiative will contribute to the enduring partnership in education between Vietnam and Thailand," Chairman Nguyen Cao Tri concluded.
Special guest Mr. Apirat Sugondhabirom, Consul-General of Thailand to Ho Chi Minh City, congratulated the two universities for the agreement to strengthen cooperation in human resource development and research capacity, which are indispensable in the post COVID-19 era, he stressed. "It is always my pleasure to witness that AIT Thailand and AITCV are growing a stronger and stronger network with other qualified universities in Vietnam, such as Van Lang University. The Royal Thai Consulate-General and the Thai public and private sector in Vietnam wish to reaffirm their readiness to support the work of AIT Thailand and AITCV in Vietnam for the mutual benefit of Thailand and Vietnam and the region as a whole," Mr. Apirat said.
By bringing together intellectually curious students, staff and professors from AIT and VLU, this new strategic partnership will enable comprehensive opportunities for academic education, research, consultancy and training activities, AITCV Director Dr. Dong said. "We will realize the cooperation agreement through multi-stage PhD programs for VLU lecturers, some Unified programs and implementation of the Master's degree program in Data Science and AI. I am excited about AITCV's future in Vietnam!"