INTERNATIONAL STUDENT EXCHANGE EXPERIENCE
By Pierre Fabre, France
Exchange Student for Energy Program, AIT
Last January, I was boarding the plane in France that would take me on a new journey both in my personal and academic life. Prior to the proposal of my school EADA Business School Barcelona, Spain to leave on exchange at the Asian Institute of Technology, my knowledge of Asia was close to none.
I had only seen images of nature and food there but that was really it. I was stepping into the unknown. Seven months later, I can strongly affirm that this opportunity was both the most enriching and fulfilling experience of my entire life.
Since the first days that I settled in Thailand, I could already feel that the atmosphere was completely different than what I knew elsewhere in the world. The way life followed its course felt very peaceful. People were calm and didn't seem to be in a rush, and there was a genuine positive energy coming out from this place.
My first impressions were then confirmed when I started classes on the AIT campus. Students felt very disciplined regarding the lessons and the campus only encouraged this behavior. With wide-open fields dedicated to cycling and other sporting activities, students have the perfect tools at their disposal to succeed.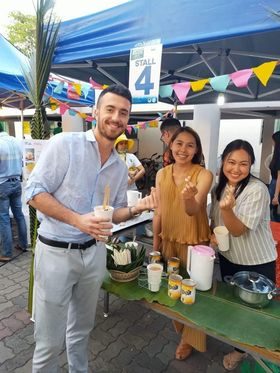 The sustainable commitment of AIT towards nature is well respected, from the green fields to nature clubs to low energy consumption practiced in the library. Moreover, this opportunity led me to meet and connect with people from various countries in Asia - nationalities that I never met before in my life.  Therefore, I had the pleasure to discover some of the cultures of people from India, Myanmar, Japan, Malaysia, Laos, Vietnam, Korea, Cambodia, Nepal, and so on. Some events took place before the COVID-19 pandemic struck, which led me to discover these cultures in even more detail. A sort of on campus talent show was organized by the students and it was very amusing to see all these people show their singing and dancing talents freely in front of their peers.
Another way that I discovered and connected with people was through sport. Every day and night people rushed to the closest badminton and football fields to play and socialize. I even had the chance to eat some typical food from some of my neighbors in the dorms, which helped us to stay connected during those weird coronavirus times. Since people respected all of the rules in place regarding social distancing, we were still able to commute around campus instead of being locked inside. And that felt tremendous, in comparison to my friends in other countries who could not leave their apartments without a special permission.
The staff of AIT were always very helpful with any kind of issue that I faced, especially regarding my visa extension, which opened the doors to travelling towards the end of my journey and led me to discover the natural wonders in the south of Thailand.
Overall, my time in Thailand was great! I had the chance to meet new people, discover new cultures, and try new food more than I would have been able to if I was simply travelling around the country.
I will keep this adventure in my mind forever, as it really helped me grow and become a better and more self-aware individual. Now I'm back in France working, and thinking about the next time I will return to this amazing Land of Smiles.