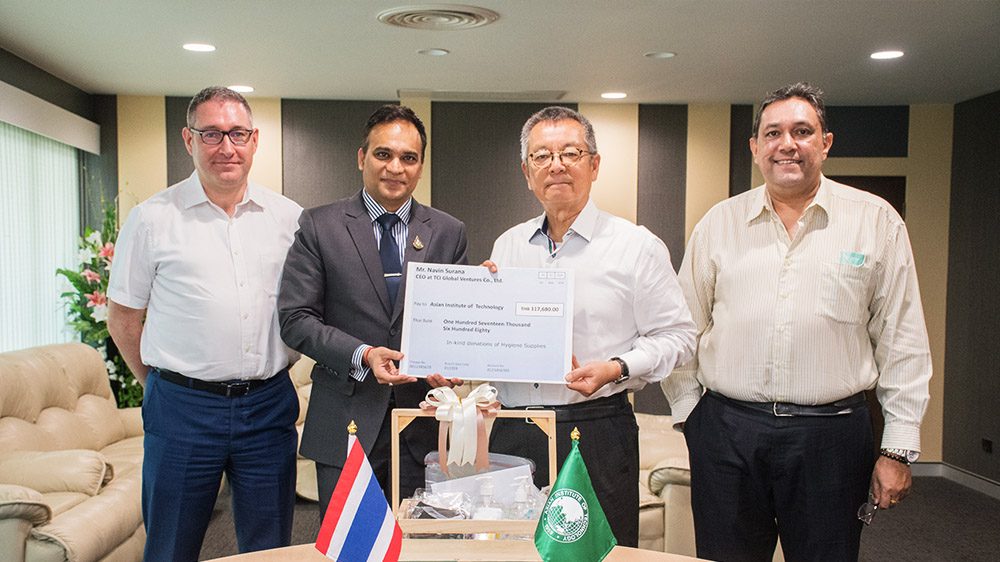 Mr. Navin Surana (MOT'94), AIT Alumnus, and Chief Executive Officer, TCI Global Ventures Co., Ltd. presented large amount of hygiene supplies to Dr. Eden Y Woon, AIT President. The signing agreement was held on 25 November 2020 at AIT campus. The in-kind donations consisting of hand sanitisers, face masks, and face shield will be distributed to School of Management, AIT International School and AIT community.
Mr. Navin mentioned that he would like to give back to his alma mater and the society especially in the rural area where people cannot afford the protective equipment during the pandemic.
Dr. Woon expressed his appreciation and sincere thanks to Mr. Navin. He mentioned that AIT always requires the preventative equipment for COVID. These generous donations will benefit not only for AIT staff, faculty and students but also for new students who come from overseas and will be in the Organization Quarantine (OQ) at AIT campus. The donation is especially a necessity for the OQ staff who are working in the high-risk environment. These donations are much appreciated for the Institute.