By Kanda Yaemboonruang
Logic, critical thinking and systematic planning are skills that a pair of father and son entrepreneurs acquired while studying at the AIT School of Management and have contributed to the transformation of their family business "Join & Coin Corporation". These key attributes have allowed their firm to grow faster and stronger, to reach further, and to operate sustainably through any form of disruption.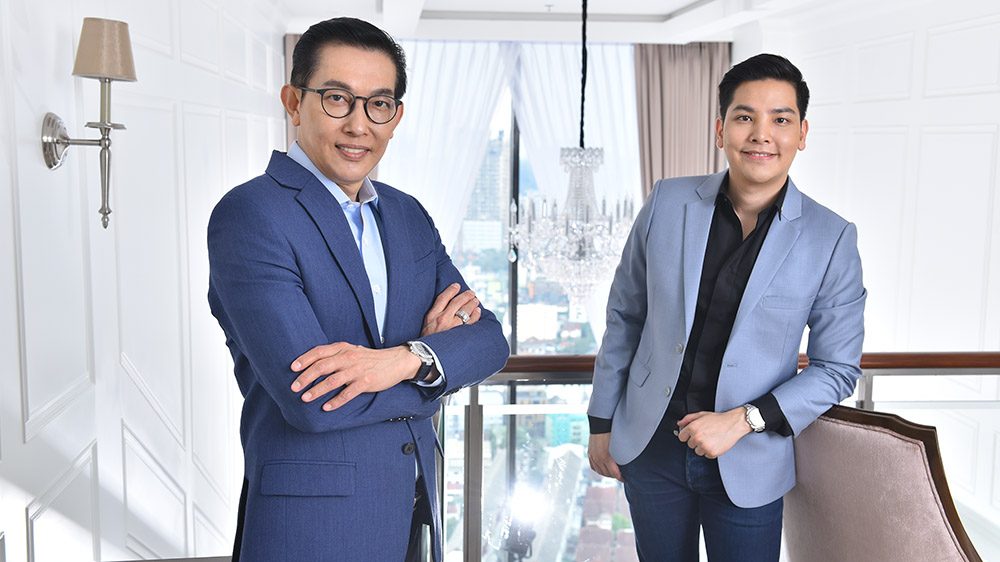 Dr. Somchai Hatchaleelaha, an alumnus who earned an Executive MBA (EMBA) in 2004 and Doctor of Business Administration (DBA) in 2016, revealed that he encouraged his son, Mr. Tad Hatchaleelaha, to join the DBA program after having obtained a master's degree from Germany. That was the beginning of the DBA father-son duo that is now steering the company forward towards a pathway of success.
"I believe if my son and I need to run the business together and make it work, we need to share the same principles and similar thinking skills. This will allow us to work together," Dr. Somchai said, adding that AIT taught him to solve problems using business logic, which improved his critical and systematic thinking skills –  the main approaches he applied to transform his company (J&C Corp) from pure multi-level marketing (MLM) to one that combines MLM with modern trade, expanding to include new lines after only its 5th year of operation.
"I was 45 when I was studying for an EMBA. At that time, my business had a lot of problems, and I knew that I must find a way to solve them. Being in the EMBA program, I had an idea to combine MLM with modern trade. And that became my thesis proposal. I used my thesis to transform J&C Corp, and we became the first MLM and modern-trade company in Thailand. After I finished my EMBA, I decided to join the DBA program at SOM. I was able to use my PhD dissertation to increase the company members to 3 million," Dr. Somchai explained.
Mr. Tad, Hatchaleelaha Junior, followed in his dad's footsteps and joined the DBA program. As a second generation senior executive at the firm, he is now co-leading the company with the aim to achieve even more business growth amid the era of digital disruption.
"Now I am working on my PhD research. I am focusing on the new business model – 'Silver Entrepreneur.' It is an economic idea focusing on the aging society we find today. I got this idea when I was in Germany. I found that seniors there are not very independent, and in Thailand we see the same or even worse situation. It inspired me to think about this new business model which can help older persons to become Silver Entrepreneurs when they are retired," Mr. Tad said.
Mr. Tad explored everything about his family's company from a close look at the data. He found that over 50% of the company's members are approaching the retiring age, so he wanted to help them prepare for their retirement by transforming their homes to be local retail distribution channels. He believes the Silver Entrepreneur Program will allow seniors to become more financially independent and keep them engaged and connected in their retirement years. After completing his DBA Course work, Mr. Tad was able to launch this innovative business model called J&C imart with 150 outlets national-wide. Thailand's Ministry of Commerce awarded Silver Entrepreneur as "Best Retail Franchise of the Year 2020."
"My father is right. I have learned a lot from the institute. AIT is enabling me to see the customer pain points, to integrate knowledge and experience and to identify and fix those problems. We can now see the path forward to even more success, while making sure that we improve the quality of life of the people," Mr. Tad said.