Following the signing of Memorandum of Understanding with Van Lang University (VLU), Vietnam in July, AIT and VLU launched a Professional Master's Program in Data Science at a virtual signing ceremony on 19 November 2020.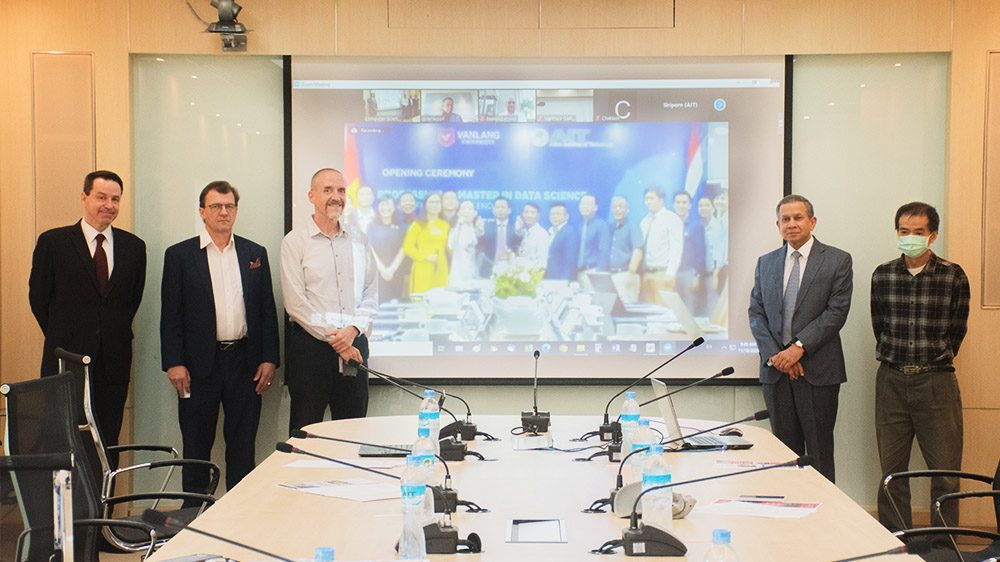 The official signing event at AIT was attended remotely by AIT President Dr. Eden Woon; Prof. Deepak Sharma, Vice President for Academic Affairs; Dr. Naveed Anwar, Vice President for Knowledge Transfer; Prof. Dieter Trau, Dean, School of  Engineering and Technology; Prof. Matthew Dailey, Head of Department, ICT; Prof. Phan Minh Dung, ICT; Department; Shawn Kelly, Office of International Affairs and Indra Kumari, Office of International Affairs.
The event in Vietnam took place in the AIT Center Vietnam, and was led by Dr. Phung Van Dong, AITCV Director. Assoc. Prof. Dr. Tran Thi My Dieu, VLU President, signed o behalf of VLU. Assoc. Prof. Dr. Le Thi Kim Oanh, Dean of Faculty of Technology, and other senior faculty members attended the ceremony in Hanoi.
According to Prof. Dailey, the program aims to equip the VLU students to become qualified in the principles and practices of Data Science and A.I. The first batch of students will enter the program in December 2020 and study via the hybrid mode of instruction.