By Shawn Kelly and Kanda Yaemboonruang
At the 134th AIT Graduation Ceremony on 18 December 2020, University of Strathclyde Principal and Vice Chancellor Prof. Sir Jim McDonald became the first Commencement Speaker in AIT's sixty-one year history to address a graduation ceremony remotely through a prepared video message.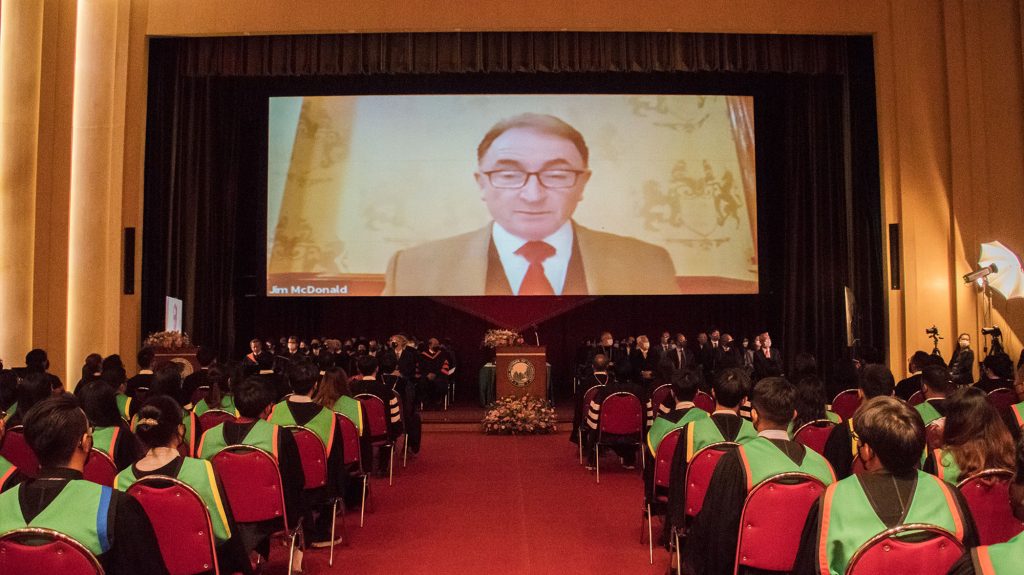 "It went flawlessly. It felt just as though he was present in the Robert B. Banks Auditorium, such was the intimacy of the celebration," AIT President Eden Woon said, expressing his thanks for Principal McDonald's inspiring speech, which emphasized hope for the new graduates navigating the challenging time of the global health crisis.
Due to the ongoing pandemic and necessary social distancing protocols, AIT limited the in-person attendance of families of the graduates and invited only representatives of the AIT Board of Trustees to witness the occasion.
The ambassadors of Malaysia, Nepal, Pakistan and Sri Lanka attended the Commencement Ceremony, as did eight senior level diplomats representing the embassies of India, Bangladesh, Laos, Japan, South Korea, Cambodia, Indonesia and France. The ceremony was live streamed, allowing families and friends of the graduates in Thailand and worldwide to share in the occasion by watching online.
"This is a great day for all of you. I know that you are very proud of yourself. I know your parents are proud of you, and AIT is proud of you. Because this was not an easy journey. It is not an easy journey in AIT, under normal circumstances, and it is definitely not an easy journey during a pandemic year. So, be proud of yourself, go out, out of the gate of AIT, and contribute to society. Think of us and we will be thinking of you. Congratulations," AIT President Dr. Eden Woon told a spirited group of AIT's newest alumni right after the ceremony. 
Standing on the shoulders of giants
Addressing the 139 master's and doctoral graduates representing 16 countries, Principal McDonald noted the many established historical links between the University of Strathclyde in Scotland and the Asian Institute of Technology, including his personal friendship with AIT President Dr. Eden Woon.
 "An AIT degree is a passport to your future," Principal McDonald said, praising the institute for its excellent reputation in engineering, environment and management. "It has equipped you with knowledge, values and the capabilities to make a difference whatever field you choose to work."
Reminding the new graduates of the Institute's established legacy and the accomplishments of its alumni, Principal McDonald quoted English scientist Sir Isaac Newton, who once said, "If I have seen further it is by standing on the shoulders of giants."
"As you join the AIT alumni family, please remember that you are also standing on the shoulders of giants. And this will allow you to see further, go further and build upon the proud history of AIT and those that have gone before you," Principal McDonald said.
"AIT Class of 2020 will be seen as a vintage year'
After recognizing the detrimental impact of Covid-19 on the global community, Principal McDonald turned his attention to some positives that could empower young graduates. The crisis has accelerated the digital transformation and the drive to achieve a zero-carbon emission economy by 2050, he said. "It demonstrated the power of innovation, collaboration – internationally – and having a shared vision to tackle global challenges."
Principal McDonald said 2021 promises hope for new vaccines and he called on the graduates to move forward and shape the future differently in the next phase of the 21st century. Graduates of AIT are beginning their professional careers at a time when their energy, ideals and ambitions will be critically important for "Building Back Better" as a key part of a new green industrial revolution, he predicted.
The famous American inventor Thomas Edison once said, "genius is 100% inspiration and 99% perspiration," Principal McDonald reminded, as he requested the new grads to apply their knowledge for the benefit of others, to respect equality and diversity and to value freedom of expression and thought.
"Your generation will be the catalyst for change and will lead the charge to address the challenges of climate change, social inequality, public health and technological advancement," he said. "I have no doubt that the AIT Class of 2020 will be seen as a vintage year."
 Newest alums share their achievements
Without a doubt, the path to the academic finishing line and success at AIT is not paved with roses. All AIT graduates can attest to this. There have been tears of both joy and disappointment at all stages of their academic life, working on theses or dissertations or pulling all-nighters to complete group assignments. Through all of these, despite the academic rigor, valuable moments and experiences emerge. It is these moments that make the graduation ceremony so meaningful and memorable, and definitely one of the happiest times in the life of any graduate.
Mr. Norawit Suwaanakarn, a Thai master's graduate from the Climate Change and Sustainable Development program at the School of Environment, Resources and Development, described AIT as a truly international community with a multicultural environment, something he said would be hard to find elsewhere in Thailand.
"My classmates came from many countries and regions. The professors are world class, and some faculty researchers are even on the list of the world's top 2% scientists. These are very important because the reliability of AIT academics and the reputation of AIT faculty supported my educational goals and are recognized by companies both inside and outside of Thailand. Moreover, I really love and will miss the atmosphere in the classes. I was never afraid to ask questions; everyone enjoyed sharing their knowledge. Professors welcomed inquiries and whenever I had problems or needed suggestions, my advisors were always available to help me."
"Although AIT was not my first choice, being an MBA student at AIT was an amazing and wonderful journey. Now I can say that it was the right decision." Mr. Akshay S. Hegde, an Indian graduate from the School of Management took us back a few years to the time when he first joined AIT.
Mr. Hegda originally planned to earn his master's degree at a top university in India, but it did not go as planned. So he decided to leave his home and study abroad, and AIT was the only choice at that time.  Mr. Hegde said he learned more about international business and different cultures than he would have back home, and was able to do a lot of networking here. And after all his academic requirements were fulfilled, he immediately received an offer to work as a business analyst at Ban Pu, one of the biggest energy companies in Thailand.
"AIT always makes you feel at home no matter how long you have been away from your home country," said Dr. Rizwana Subhani, a Bangladeshi Ph.D. graduate. "I first came here in 2011. At that time, there was a big flood in Thailand, and this year when I graduated the world was hit by the coronavirus," she said with a smile.
"It was not easy for me. I paused my studies for three years and eventually came back to finish my doctorate. My journey would never have had such a happy ending without AIT. Moreover, I had the opportunity to meet many people who came from different countries, and also the opportunity for jobs and career growth," Dr. Subhani said.
Mr. Kittin Doungnote, a Thai master's graduate from the Sustainable Energy Transition program who is working as a math tutor, said AIT has changed his life. "I was not well-disciplined, but after I joined AIT as a master's student, the environment here on campus and friends helped me to be a better person. I concentrated on my studies, and the library is my favorite place. Every page of my thesis represented every ounce of my energy. I cried and got tired, but I kept fighting. Now, I am so proud of myself." He added: "AIT taught me to step over my limit, and I am now ready for any life obstacle. It makes me dare to think about pursuing a Ph.D. in the future."
"Completing my master's degree here, it was easy for me to make the decision to pursue my Ph.D. at AIT as well," said Ms. Inggyin Lwin, a Myanmar master's graduate and now a new doctoral candidate in the Food Engineering and Bioprocess Technology department. She added that the most important factor that made her decide to continue at AIT was her advisor.
"My advisor is very helpful and innovative, and she is an expert in the industry. My research topic is connecting with the current situation of industry. In terms of knowledge, my professors provided me with the things that I would like to know. But my positive experiences were not only academic -- the campus life at AIT is also very good. As a foreign national, I always felt at home and enjoyed the multicultural environment. The campus setting is very green, which is different from other universities. The community is diverse but united," Ms. Lwin said.