By Kanda Yaemboonruang
Mechatronics specialists at the Asian Institute of Technology (AIT) are working on a new project on 'Sensor Signal Processing and Control Unit for Laser Guided Vehicle' that manufactures a control box which can be installed on any type of manual forklifts to convert them into autonomous, driverless forklifts.
It's a new mechatronics technology developed by Thai researchers to help Thai industries upgrade their gears more easily, and reduce the expenditure on purchasing automatic forklifts. The project is expected to be completed within one year and will be ready for release to the market in early 2022.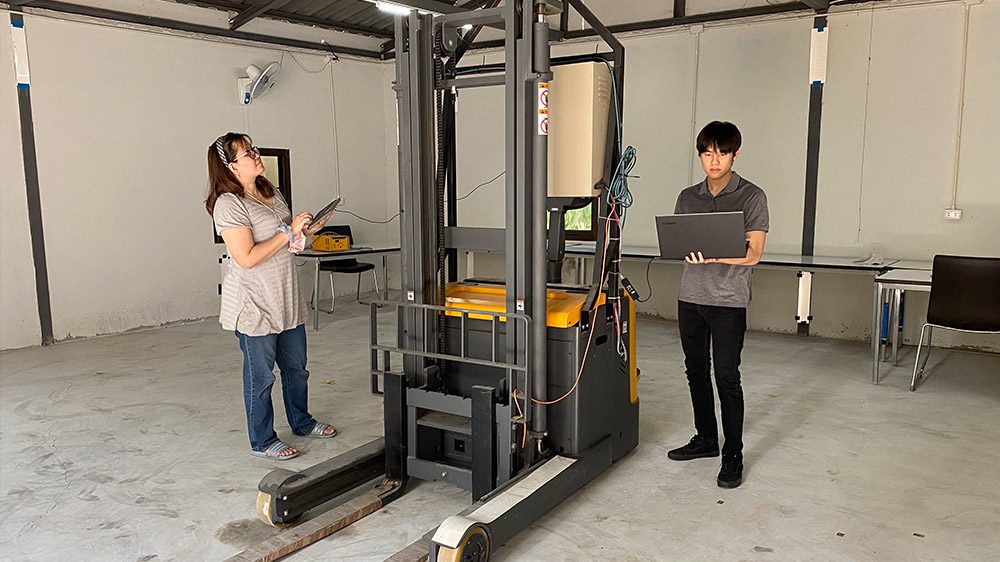 This project is a continuation from the 'Thai Driverless Forklift' project, which was completed in 2020. It received funding from the National Science and Technology Development Agency (NSTDA) and Planet T&S Co., Ltd.
All parts used for the Thai Driverless Forklift project were made in Thailand, which yielded a lower fabrication cost. Although the final cost of the project is half of that of imported forklifts, it still costs 1.5 million Thai baht, which is considered high for the Thai market.
Therefore, researchers decided to start the second phase in 2021 focusing on creating the 'Sensor Signal Processing and Control Unit for Laser Guided Vehicle'.
The main purpose is to offer an optimized solution through the installment of the control unit under development to upgrade the existing units into unmanned guided vehicles. With no imported parts used, the market price will be in the range of a few hundred thousand baht, the researchers say.
Professor Manukid Panichkun from the mechatronics program at the AIT School of Engineering and Technology said, "The strength of driverless forklifts is their ability to move freely throughout factories. Prior to this, most factories employ an Automated Guided Vehicle also known as AGV which needs tracks made by magnets, colored lines, or metal traces to operate, but with this latest technology factories can keep the cost of investment low. In addition to that, it is a good opportunity to upskill their personnel by changing them from drivers to operators who control and monitor the forklifts in the control room. They can control multiple driverless vehicles at the same time."
Reported in Thai media