By Kanda Yaemboonruang
Mr. Sanjeev Shakya started wildlife photography when he first arrived at the AIT campus in October 2020. This hobby is not only a way to develop his artistic creativity but it unlocks his joy of being closer to nature and spending time observing animals and plants.
It has only been four months on campus but he already has a beautiful collection of photos of birds, squirrels, and water monitor lizards in their naturally magnificent postures and beautiful movements.
"It is quite challenging to take pictures of wildlife. I used to wait for two hours in the mornings from 6-8 am just to take one good bird photograph. I learned to be patient. It is not easy to get beautiful animal images because they move all the time and you cannot control them. I spent a lot of time trying to understand their movements and routines. After that, I got some good wildlife photos and I share them with people," Mr. Shakya said. "AIT is a paradise for birds."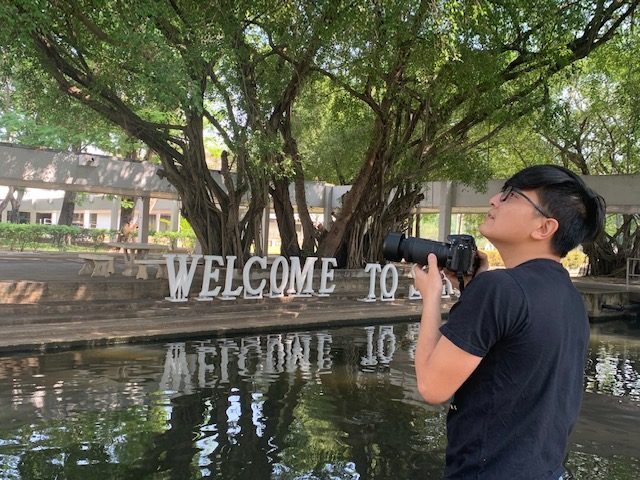 Apart from his own social media, the "AIT Wildlife Watch" is another main Facebook group to which he always shares his wildlife pictures. "There are more than 500 members who like wildlife and share images of all the animals they have seen and captured on camera around the campus. You can see many beautiful, professional, funny, and some incredible photographs. You will see that for AIT students and staff living in dorms, the animals are a big part of their neighborhood. I also have new knowledge of bird species from friends in this group," he said.
His most favorite animals are squirrels because they are adorable, move fast and always look for food. "I started photography six years ago focusing on landscape photography, but now I really enjoy animal photography. The way we get the photos is different, but the techniques such as leading lines, framing, rule of third and infinite point are the same. Another important thing that you need to consider is about the shutter speed. It can be 1:500 or 1:3000 or 1:8000 and it depends on the level of activity. This is a something new thing that I have learned from taking photos on campus," Mr. Sanjeev explained.
"The best camera is the one that is in your hands. This means you do not need to use a DSLR or an expensive camera. The smartphone in your hand can also be a good camera. Just go outside, capture things you like and be happy behind the lens."