By Kanda Yaemboonruang
AIT Marine Plastics Abatement students got hands-on experience for 'turning trash into cash' from a lecture-cum-workshop conducted by a high-profile environmentalist and Director of Precious Plastic Bangkok, Dominic Puwasawat Chakrabongse, on February 16, 2021.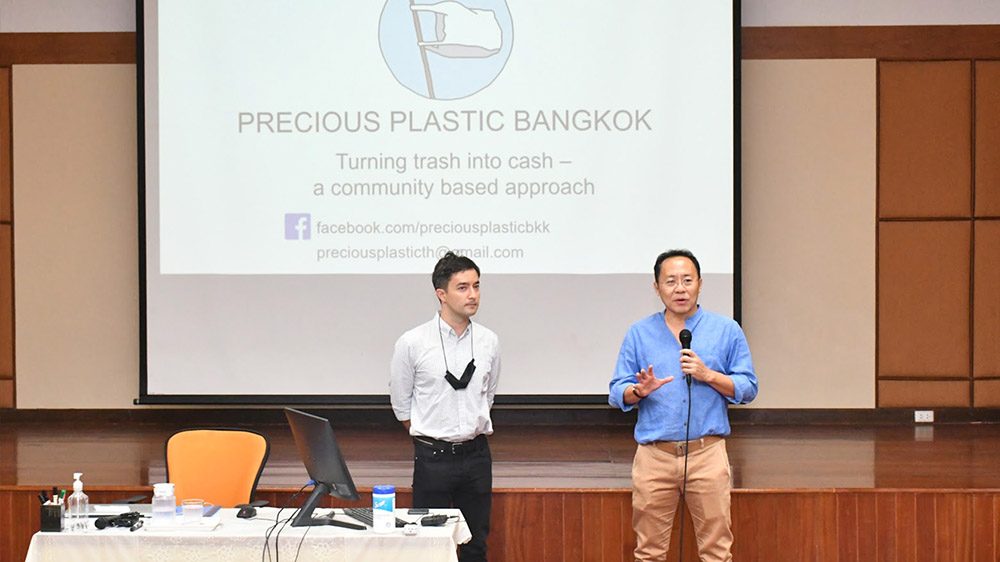 The workshop entitled "Turning Trash into Cash – A Community-Based Approach" was offered as part of the Plastic to Material Technology course in the Marine Plastics Abatement Program (MPA) of the School of Environment, Resources and Development (SERD). During the workshop, AIT students learned about upcycling technology and creative ways to transform plastic waste into valuable craft products.
The workshop started with an introduction of Precious Plastic Bangkok followed by a hands-on session on how to turn trash into cash. The process consists of 3 different steps, employing two different machines, which Dominic had brought with him. First, the students learned how to sort and separate plastic trash. Then, they used the first machine, the shredder, to deform the plastic waste. Then as the last step, they used the extruder which melts the plastic and produces strings of plastic which can then be used to form various craft items. The designs range from a simple stack of plastic strings to intricate weaves. The end products can be used as containers, flowerpots, glass coasters and many more. The workshop ended with a Q&A session which saw a lot of interesting questions and new ideas related to plastic waste upcycling and marketing of such products.
The main raw material for this upcycling process is the high-density polyethylene (HTPE) used to make plastic bottle caps, a type of plastic that does not burn even at the temperature of 180 degrees Celsius. This makes HTPE suitable for the upcycling process that involves melting and reshaping. 100% of the HTPE material used for the workshop was from over 30-drop off locations across Bangkok. In 2020 alone, Precious Plastic Bangkok received more than 5,700 kilograms of plastic waste material, of which 5,200 kilograms accounted for plastic waste material from roughly 3.5 million plastic bottle caps. Since 2019, Precious Plastic Bangkok has already collected approximately 7 tons of plastic waste.
"Since we started Precious Plastic Bangkok, we have seen an enormous amount of progress in reducing the amount of single use plastics that Thailand is creating. Unfortunately, a lot of these efforts were reduced when COVID-19 hits. In the last year we've seen plastic consumption and plastic production massively increase. We have seen medical waste, for example, across Southeast Asia increase by 500% over the last year. We have also seen Bangkok's own plastic waste creation increase at almost 60% year on year. So, it is an enormous problem that hasn't gone away and a lot of the positive progress that was being made by Thailand to reduce the amount of single use plastic has actually been taken away in a last year," Dominic explained.
Professor Dr. Thammarat Koottatep, Coordinator of MPA, said the HTPE plastic is useless for recyclable waste collecting and buying businesses, because it is cheaper than the other types of plastic. That is why a lot of HTPE always ends up in landfills. Precious Plastic Bangkok is collecting this HTPE waste before it ends up in landfills and turns it into a valuable material to make craft products.
"This workshop is allowing students to learn from Dominic who dedicates himself to reducing plastic waste. He can be a role model for the young generation, and his work expands the concept of waste processing," Prof. Dr. Thammarat said.
Dominic Chakrabongse completed a degree in Environmental Policy from the London School of Economics. When he came back to Thailand, he decided to dedicate his time to helping Thailand go green. His project is not only creating new products from plastic waste, but he and his team are also providing tools and lessons to people. They have been invited by schools, colleges and universities to educate and train students to be the next generation of environmentalists.