By Kanda Yaemboonruang
This Spring Semester, AIT welcomed over a hundred new students from various countries and regions of the globe such as Southeast Asia, Africa, Europe, United Stated and South Asia. All attended the Online Orientation on 11 January 2021. Some shared their experiences of learning online firsthand, and their inspirations and aspirations for their education at AIT.
Ms. Marie Duffaut, France, an MBA student at the School of Management
"I only enjoyed studying from home for 2 weeks," Ms. Marie Duffaut said about her experience of "studying from home" in her home country. It was a short period because her visa was approved by the Thai Embassy almost immediately after the semester had started. She arrived in Thailand a couple of weeks ago and started her quarantine at the AIT OQ (Organizational Quarantine), continuing her online learning in her quarantine room.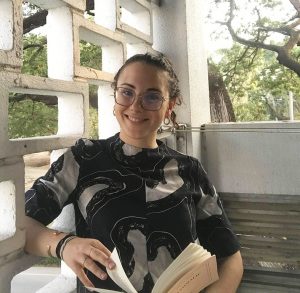 "I am really impressed by the organization and kindness of the AIT OQ staff. It really helps in this very complicated crisis, and I am very grateful for that," Marie said, explaining her first impression when she arrived. She also shared with The Gazette why she would like to complete her MBA at AIT. "The main reason why I want to study at AIT is that I really wanted to live abroad for a few months and discover a new culture, and a new way of doing business. I am really passionate about discovering different people, and I am convinced we can learn a lot from others. I joined the online orientation from France, and it was quite exciting getting an overview of AIT, with its multicultural community and its values."
Mr. Francis Walugembe, Uganda, a Marine Plastics Abatement (MPA) student at the School of Environment, Resources and Development
Mr. Francis Walugembe is a new student of MPA. He is now staying home in Kampala, the capital of Uganda, a country in East Africa. He said that AIT's online instruction is certainly helpful. He has been attending and participating in online seminars through our virtual learning platform. "I have interacted with my academic advisor, the program secretary and the Admissions Unit on several issues, including lecture schedules and the e-learning platform," Mr. Francis said.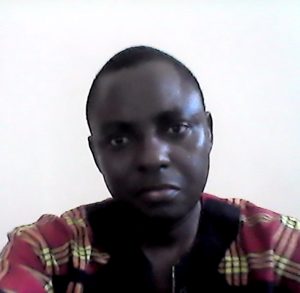 Now Mr. Francis is in the final stages of his travel plans. He already has all his travel documents ready and is awaiting approval of his visa. He has a wish to make it to the campus in the first week of February and complete his quarantine at the AIT OQ. He added, "I actually submitted my application for AIT OQ, booking for a place as it's a requirement and precautionary measure against Covid-19 for students from overseas. It's a relief for new students who would otherwise have to look for alternative places for the 14-day quarantine. I thank the AIT administration for having this arrangement, which also enhances interaction amongst the AIT community members particularly those of us reporting for the first time in Thailand."
Ms. Wanchanok Sunthorn, Thailand, a Doctoral student in Data Science and A.I. at the School of Engineering and Technology
The reputation in science and technology, the green environment on campus, diverse community and modern curricula were the driving forces that convinced Ms. Wanchanok Sunthorn to pursue her highest level of education at AIT. Although she is Thai and living in Thailand, her situation is the same as her classmates. She is sitting in front of the computer and studying online.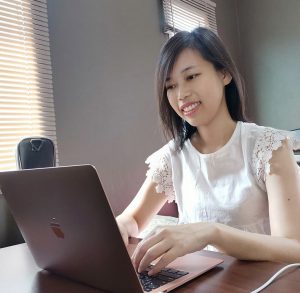 "I am confident with AIT because the institute has prepared a learning management system and others which provide learning resources, for example recorded videos that I allow me to learn anywhere, anytime. Moreover, faculty members make sure that the online teaching and learning environment does not leave anyone out. I feel I am more active. I like two-way communication during online classes that allow students to say 'hello' in their languages. It's lovely," Ms. Wanchanok, shared.
Mr. Jaynos R. Cortes, Philippines, a Doctoral student in Aquaculture and Aquatic Resources Management at the School of Environment, Resources and Development
"I joined the AIT Online Orientation from my home in the Philippines. It was so apparent that the activity was well-planned and organized. All vital information that new students need to know was explained clearly and with emphasis on what we must and must not do while at AIT. The speakers were able to let the students feel welcome and really part of the AIT community," Mr. Jaynos R. Cortes, said, offering his impressions of his official first day of being an AIT student. He never misses any classes and always enjoys the online learning.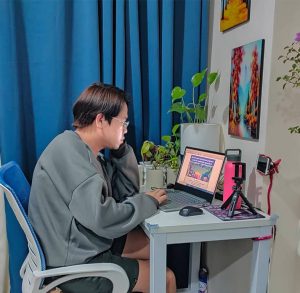 "As of now, although everything is going smoothly, I would really like to come to Thailand very soon because of the nature of my program. There are a lot of laboratory activities that can only be done at AIT," Mr. Jaynos said. He is one among many overseas students who plan to fly to Thailand soon, and he is counting the days until he can finally live on AIT campus and fully join the AIT community in person.