A new agreement established with America's Colorado State University (CSU) – AIT's oldest and most impactful international university partner – will enable the launch of specialized collaborative degree programs in engineering for the coming Fall Semester 2021.
CSU's Walter Scott Jr. College of Engineering and the AIT School of Engineering and Technology signed an International Memorandum of Understanding on March 3 to offer Dual Degree Master's programs in Civil Engineering with a focus on Water Engineering and Management and Geotechnical and Earth Resources Engineering.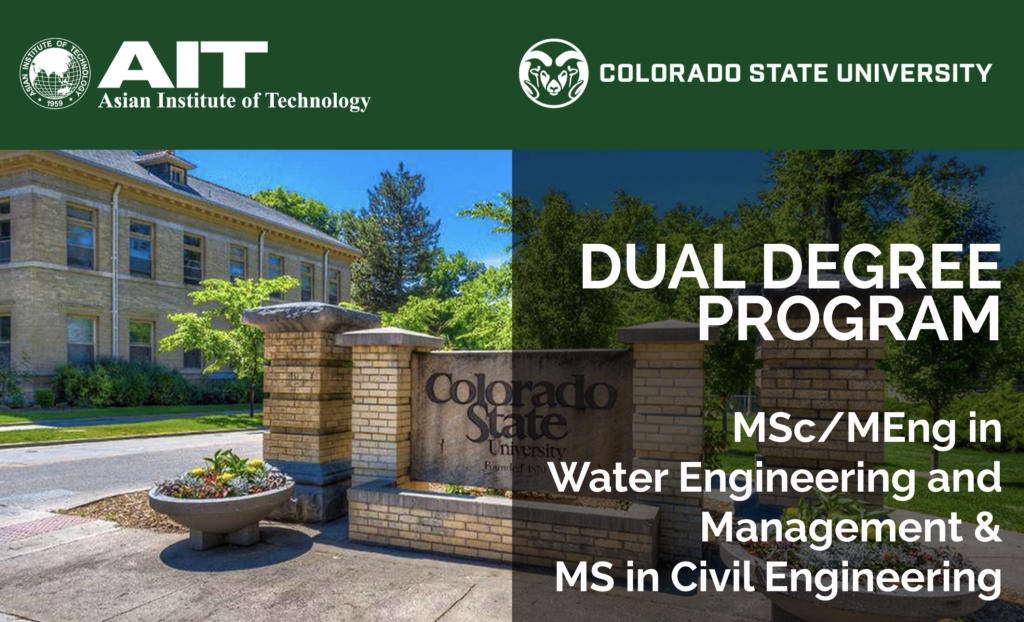 The agreement will pave the way for students to enter the 1+1 degree programs at AIT in Bangkok, Thailand and exit at CSU in Fort Collins, Colorado after two years with two Master's degrees. Once these two programs are complete, both partners aim to explore additional collaborative degree programs in other engineering fields.
AIT scholarships will be awarded during the first year of study at AIT whereas CSU will provide either Graduate Research Assistantships (GRA) or Teaching Assistantships (TA) during the second year in Colorado to outstanding applicants, based on the academic credentials of the students.
Under this unique program, students will be jointly supervised by faculty members from both AIT and CSU for their thesis. They can also avail of the renowned laboratories and computation facilities of both institutions in Thailand and the United States.
The collaborative academic initiative is the latest chapter in the over sixty-year story of mutually beneficial relations between the two institutions.
CSU played an instrumental role in AIT's founding in the late 1950s and success in the '60s and later decades, providing key faculty and vital early leadership for the institute's development. In a nod to this special relationship, Colorado State University President Joyce McConnell was the guest of honor and keynote speaker at AIT's 60th Anniversary celebration on Oct. 24, 2019.
Today, CSU is one of the leading research universities in the United States with world-class research in fields including infectious disease, cancer research, atmospheric science, clean energy technologies, water resources, veterinary medicine, and environmental science.
Last year, CSU awarded degrees to more than 5,000 graduates, and in 2021 it has attracted over $407 million in research funding. Colorado State is a land-grant institution and a Carnegie Doctoral/Research University-Extensive. It is considered the "university of choice" for Colorado residents – attracting 30% of all the state's science, math, engineering, and technology majors pursuing degrees.