By Thiwari Werayasobprasong
The true value of water is the topic for exchange of views on the World Water Day, held every year on March 22nd since 1993. This year, it was jointly organized by AIT, UNESCO and Chulalongkorn University to raise awareness on the importance of freshwater and it's sustainable management with the launch of several initiatives and products to further Sustainable Development Goal 6: Water and Sanitation for All by 2030.
With 2.2 billion people still lacking access to safe water today, it is estimated that if no action is taken now to ensure water security and access for all, by 2030, 40% of the water demand will not be met.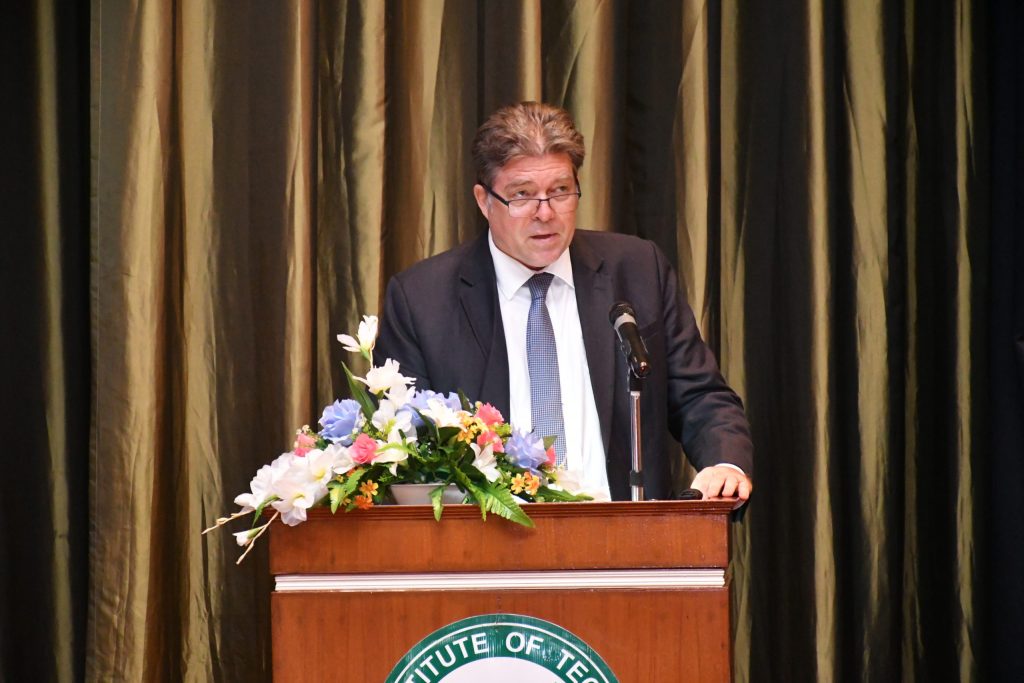 "The difficulty of water access can also be measured in time wasted, and thus in educational and economic losses. The burden of fetching water is an unequal one, mostly borne by women and girls. They are 200 million hours which could have been spent learning, reading or work. Ensuring universal access to clean water is, thus, crucial, particularly since reserves are limited and needs are growing," said Ms. Audrey Azoulay, Director General of UNESCO, in a message delivered by Dr. Benno Boer, Chief of Natural Sciences, UNESCO Bangkok Office.
The World Water Development Report 2021, published by UNESCO on behalf of UN-Water, titled 'Valuing Water,' outlines various aspects of water beyond its cost as we turn on the tap, to include its economic, social, cultural, and environmental values – bringing to the fore the reasons we should stop wasting and misusing water. It also provides an insight into the current state, use and management of freshwater and sanitation as well as best practice examples, collected and analyzed by UN-Water members and partners, to equip decision makers with knowledge and tools for policy making. To achieve Sustainable Development Goal 6: Water and Sanitation for All by 2030, a closer global cooperation will be vital.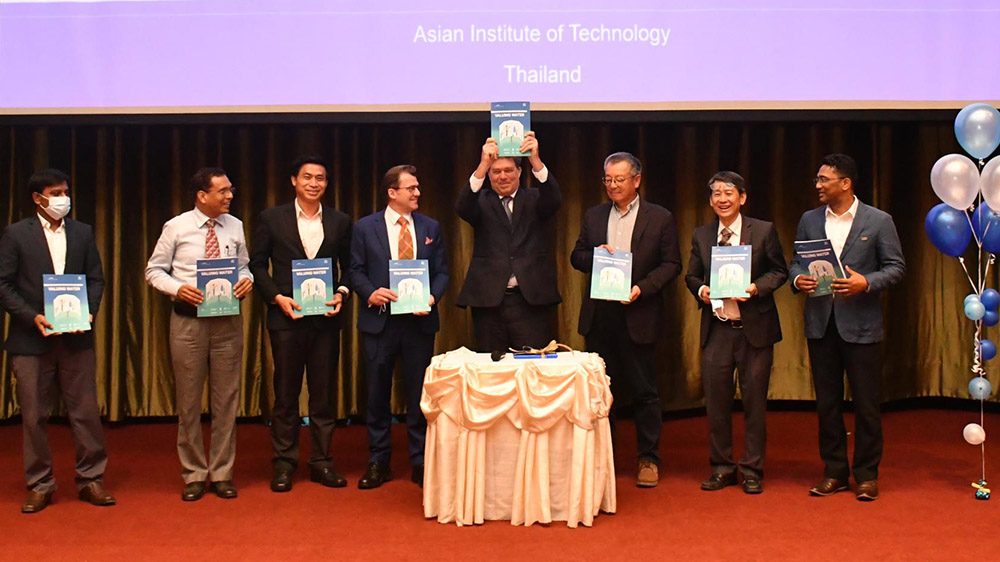 Speaking of cooperation, Dr. Boer also highlighted projects in collaboration with Chulalongkorn University and AIT – where currently there is an internship program between UNESCO and AIT, in addition to 'The Plastic Initiative' where AIT joined UNESCO as a member in 2020 to support sustainable waste management. And when it comes to water issues, AIT is more than ready to play an integral role in the collaboration, as water is one of the institute's five thematic focus areas – which include Climate Change; Smart Communities; Infrastructure; Food-Energy-Water; and Technology, Society and Policy. As highlighted in the opening remarks by the President of AIT, Dr. Eden Woon: "It gives me a great pleasure to be opening this celebration today because water is, frankly speaking, one of the strengths of AIT's research, education and outreach."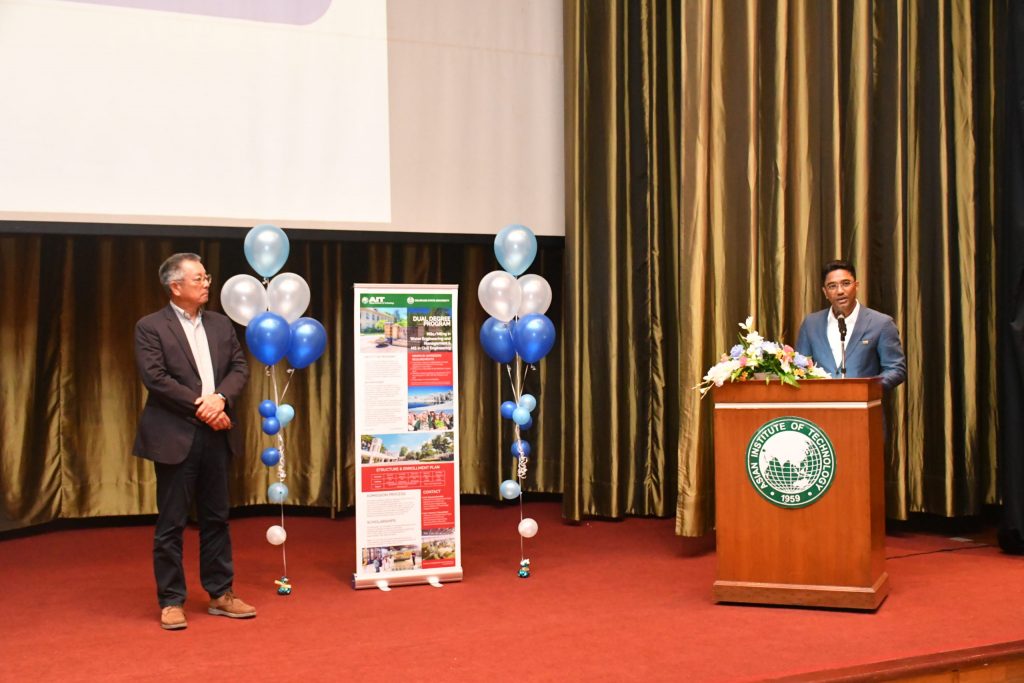 Truly one of its strengths, AIT's Water Engineering and Management program also launched four new water initiatives, joining global forces to secure water for all. Announced by President Woon and Prof. Sangam Shrestha, Professor and Department Head of the Department of Civil and Infrastructure Engineering, AIT, the four new initiatives are:
Real-time Weather and Hydrologic Monitoring System
The 'Real-time Weather and Hydrologic Monitoring System' is one of the outputs of the project 'Water Resources Management in the Mekong River Basin' supported by the US Department of the Interior (DOI) and USAID and jointly implemented by Water Engineering and Management and HII, Thailand. Under this project, 10 Automated Telemetry Stations have been installed in 10 major tributaries of the Mekong River in the North and Northeast of Thailand. The Automated Telemetry Station is developed by Hydro-Informatics Institute (HII), and will measure different hydrological and meteorological parameters (such as temperature, relative humidity, atmospheric pressure, precipitation, and river water level). The Real-time Weather and Hydrologic Monitoring System provides the real time weather and water level data of 11 monitoring stations of AIT and north and northeast of Thailand.
Website: https://wemweather.ait.ac.th/
Dual Degree Master's Program with Colorado State University (CSU), USA
The aim of this dual degree program is to prepare students for careers in hydrology, hydraulics, water quality and water resources, and environmental management, by providing a strong theoretical and applied foundation, and a broad-based academic background necessary for innovation and career in engineering design, research, consulting and academia. Students are awarded two degrees in two years from prestigious and world-renowned universities. A degree of MEng/MSc in Water Engineering and Management from Asian Institute of Technology, Thailand, and MS in Civil Engineering from Colorado State University, USA. Admissions is open for fall semester 2021.
Website: https://set.ait.ac.th/programs/special-degree-programs/dual-degree-masters-program-colorado-state-university
New Degree Program 'Water Security and Global Change'
The 'Water Security and Global Change' is an interdisciplinary program and aims to develop professionals who are prepared to address complex water problems, with training in science and engineering, economics and governance and policy analysis enabling them to ensure a water secure world for all. The program offers a balanced curriculum consisting of: a) core courses, b) elective courses, c) research study or thesis and d) internship and/or exchanges. The core courses establish the necessary foundation and a common competence in water science and engineering, economics, policy, and governance. The elective courses enable the students to explore their area of interest in greater depth. Admissions is open for Masters and PhD degrees for fall semester 2021.
Water Security Assessment Tool (WATSATv1.0):
WATSAT is a simple tool to help evaluate the water security of a city. The tool uses an indicator-based approach resulting in a Water Security Index (WSI) that is measured on a scale of 1 to 5. Higher values of the WSI indicate better water security. The WSI comprises five dimensions that consider various facets of water security. These include Water Supply and Sanitation, Water Productivity, Water Environment, Water-related Disasters, and Water Governance. We intend to make this Tool available in public domain for use by city planners and managers in due course.
The Tool is developed at the Water Engineering and Management program with financial support from the Asia-Pacific Network for Global Change Research (APN).
For technical details of the tool, please visit: https://www.sciencedirect.com/science/article/abs/pii/S0013935120302930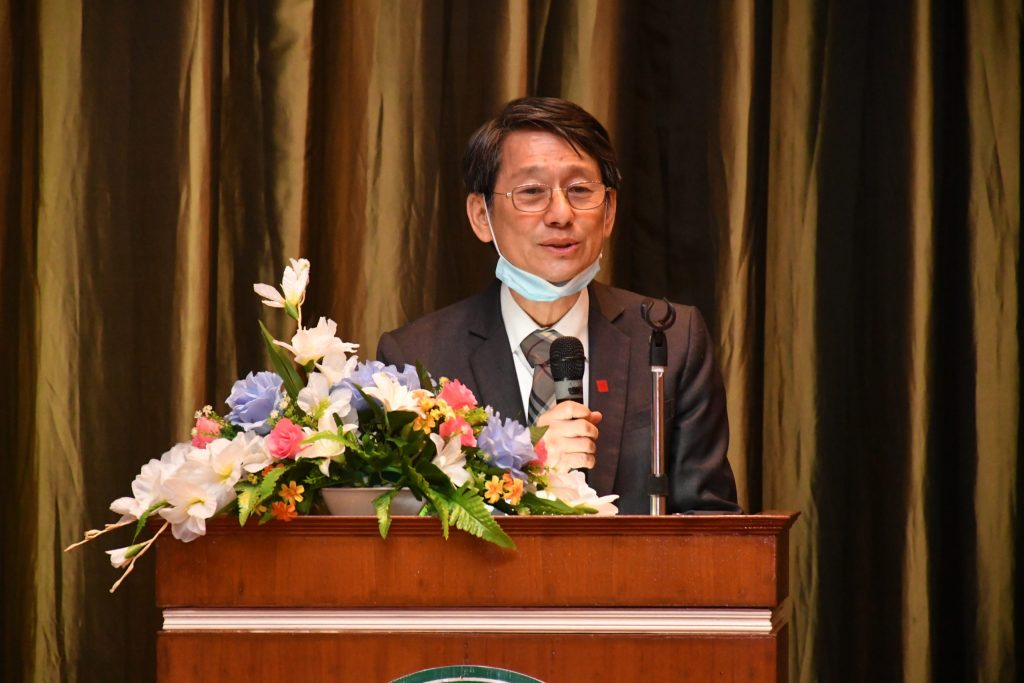 In addition to the launches, the value of water was also highlighted by a keynote speech on 'Water Issues in Thailand and Mekong Countries,' delivered by Dr. Sucharit Koontanakulvong, Associate Professor of the Department of Water Resources Engineering, Chulalongkorn University, to address the importance of water management and value-added creation for water use to water policy formulation.
The keynote speech titled 'Towards Water Secured World' by Professor Mukand Babel, Professor of Water Engineering and Management at AIT, that followed, shed light on different ways that water means to humankind, current situation of water where rapid urbanization and increase of global population are putting stress on water management, research done by AIT, and topics of research proposed to be covered in the future to address the issue of Water Security.
Moreover, to drive home the value of water, there were World Water Day Messages delivered by Mr. Niall O'Connor, Director of Stockholm Environment Institute, Asia Center, Dr. Jesper Dørge, Executive Director of DHI Denmark, Dr. Ancha Srinivasan, Principal Climate Change Specialist, ADB Southeast Asia Department, Dr. Sutat Weesakul, Director of Hydro-Informatics Institute, and Mr. Raunak Shrestha, AIT Student of Water Engineering and Management.
The celebration of World Water Day 2021 ended with the announcement of three winners of WWD 2021 Photo competition. The winners and their photo captions are:
First Prize winner – Ms. Nguyen Thi Thu Huong, for her photo with a caption: "Collecting water from Sprepok river"
Second Prize winner – Ms. Surabhi Upahdyay, for her photo with a caption: "A long wait: A woman sits patiently near a stone spout as a small stream of water fills her buckets."
And the third prize winner – Ms. Priyanka Pandey, for her photo with a caption: "Water: A vein that connects life, culture and livelihood"
Having put 'value' of water into perspective, the future where the water can be secured for all is more positive than ever.
Watch the event recording below