By Kanda Yaemboonruang and Thiwari Werayasobprasong
Having helped develop 'AirBKK,' a mobile phone application adopted by Bangkok Metropolitan Administration (BMA), an AIT PhD student is now aiming to forecast air quality on a much larger scale – the whole of Thailand and the Lower Mekong Region.
Launched in October last year by BMA ahead of the dry season, where air pollution is usually worsened due to the weather, 'AirBKK' provides real-time accurate information with 3 days forecast of air quality in all Bangkok's 50 districts. By having this kind of information, people who live in or travel to Bangkok can assess their health risks and seek advice to protect themselves against air pollution caused by deadly particulate matter 2.5, aka, PM2.5.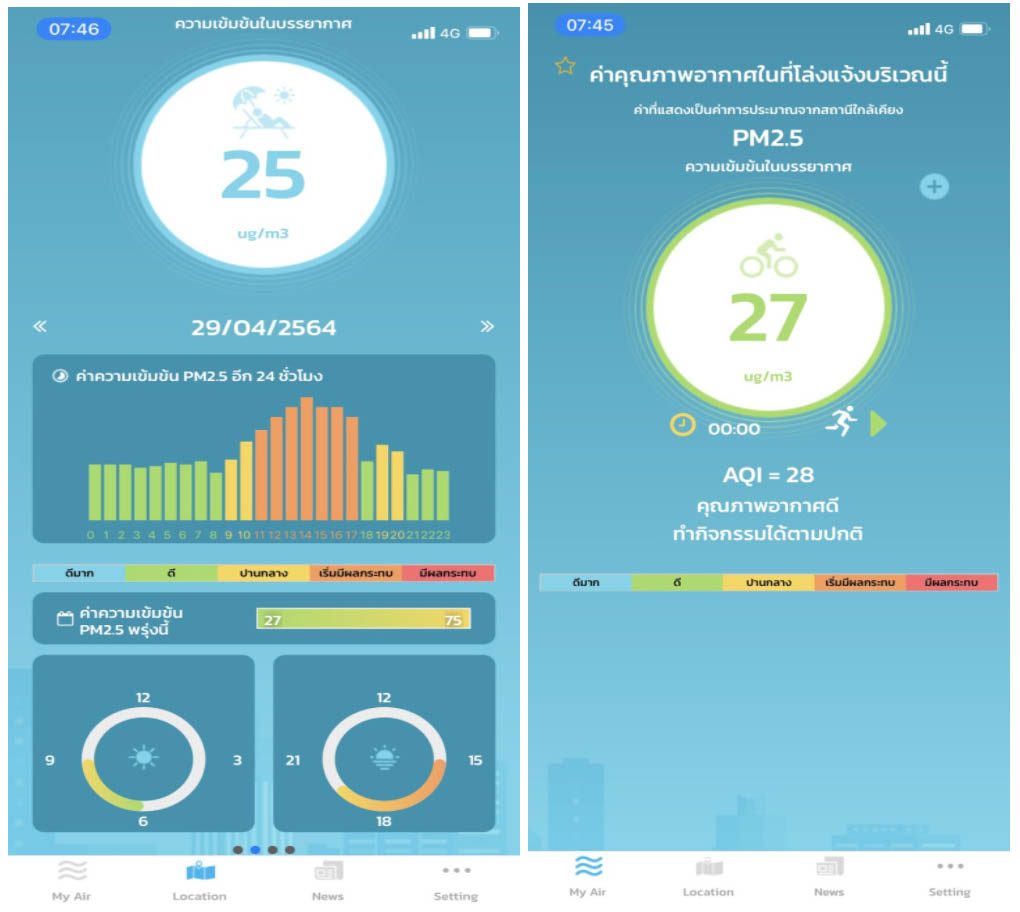 The application makes use of machine learning technology and air quality data, to imitate the weather forecast model adopted by the Thai Meteorological Department, in order to forecast the air quality that can be expected in the next 3 days. Mr. Sompoke Kingkaew, one of the team developers of air quality modeling system for 'AirBKK', is AIT's doctoral student in Environmental Engineering and Management Program, School of Environment, Resources and Development (SERD). In explaining how the application works, Sompoke said:
"The air quality data management system receives data on PM2.5 pollution levels around Bangkok, which is being reported real time from the Pollution Control Department's and BMA's air quality monitoring stations. The data is also used for spatial analysis of a place, where the monitoring station is not available, to determine estimated average concentration of air pollution in each area. The accuracy varies from one location to the next, depending on the number of air quality monitoring stations being installed. For example, in some district where the number of air quality monitoring stations is high, the more accurate the air quality reading of that district will be. Nonetheless, the overall accuracy is over 70 percent everywhere."

Making use of Sompoke's air quality modelling system, the application offers high accuracy despite the absence of the air quality monitoring stations, with 3-day air quality forecast.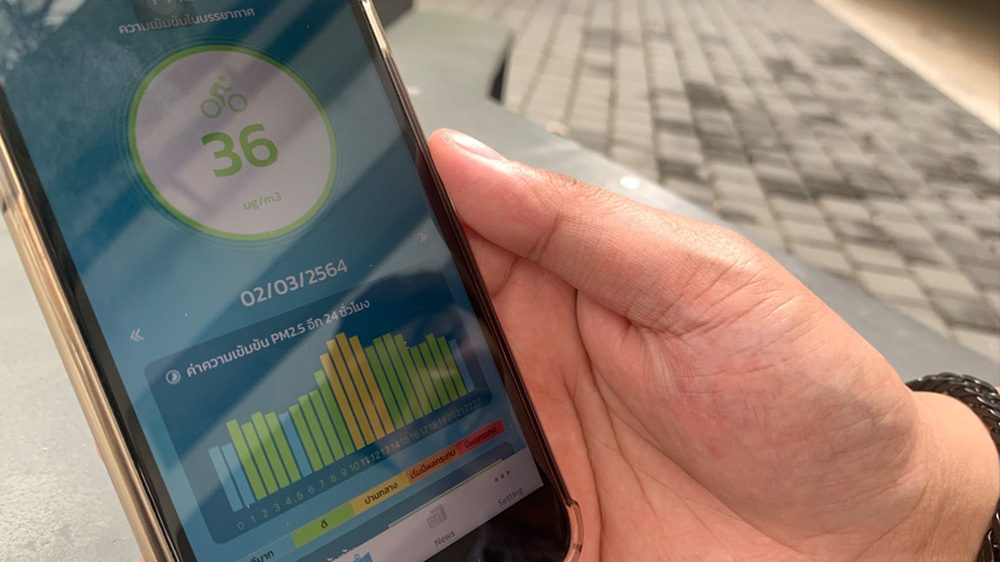 With the success of 'AirBKK,' Sompoke is now scaling social impact of his innovation by developing advanced mathematic modeling systems integrating with machine learning technology to monitor PM2.5 air pollution at near real time and to forecast air quality with high accuracy -- for the whole country of Thailand and the Lower Mekong Region. The mockup of this project can be found at www.airsompoke.com.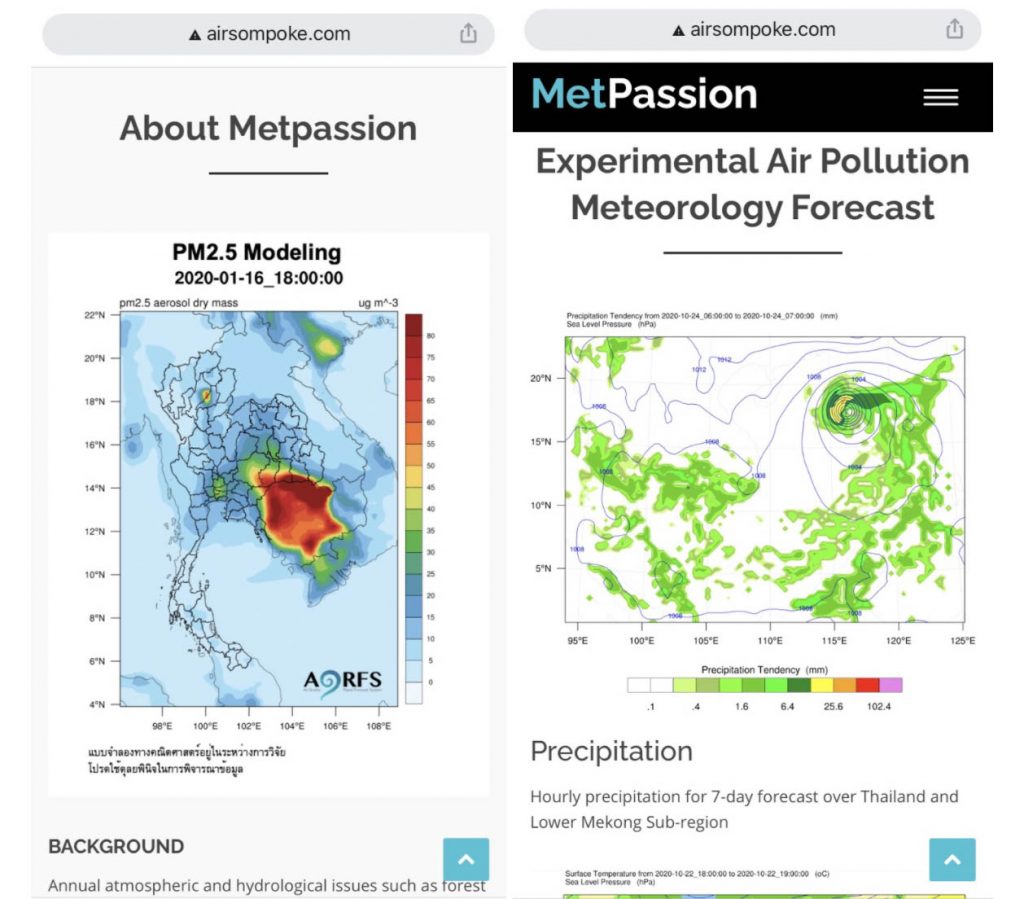 In addition, Sompoke is currently developing a project concept with BMA on an integrated air quality data management center for Bangkok that will report near real-time PM2.5 emission and concentration forecasting through various applications of advanced air quality modeling, AI, IoT and remote sensing technology for Bangkok. He has invited AIT research partners such as AI Center and IntERLab to help the development of the system. This project will strengthen Bangkok to better cope with the haze pollution and reach the goal of safety and healthy city.
According to the World Health Organization (WHO), every year, 6 million people in the world die untimely deaths caused by air pollution. Of that number, there are approximately 600,000 deaths of children aged under 5. Moreover, it is found that serious air pollution, where PM 2.5 plays a key role, affects severe health conditions which lead to an increase of the number of heart failure, stroke, and asthma cases. Thus, by knowing the air quality in advance, we can choose to breathe smarter to prevent many health risks.