By Dheerusha Tiwari
AIT welcomed new students from around the world amidst the pandemic at the Orientation Ceremony held virtually on August 9th, 2021. The Fall 2021 Semester has officially begun with high number of students and high level of engagement – all set for the academic excellence and fun times to continue without missing a beat.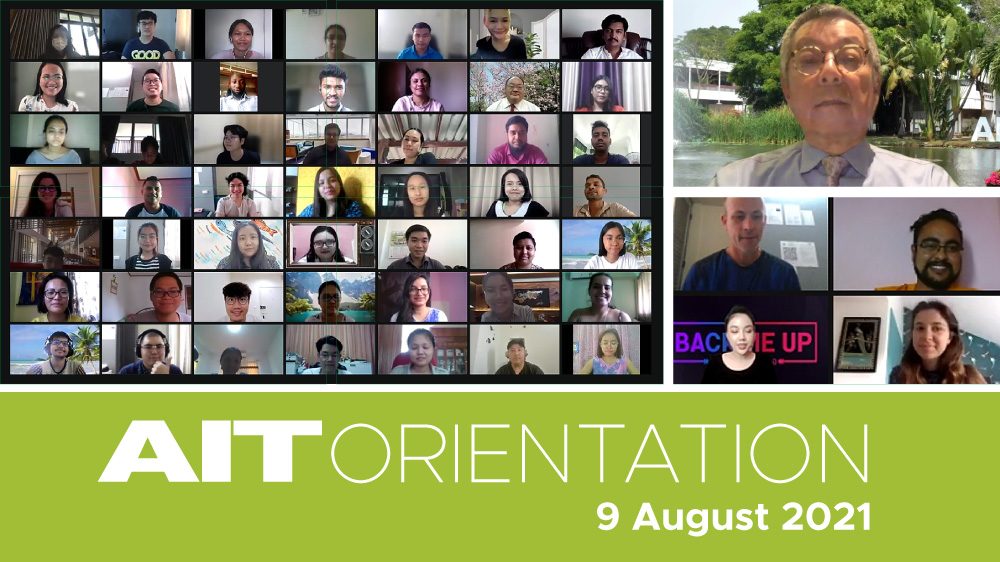 Of the 470 new intake this semester from 34 countries across the globe, 47% of them are women. New members of the AIT family dynamically participated in both the morning and afternoon sessions where welcoming remarks, useful information, and fun games were shared.
Despite the pandemic, "This August, AIT actually welcomes more new students than last August," said AIT President Eden Woon as he greeted many who had already arrived on campus and many who are still waiting to join in person. "I assure you that your education at AIT continues Without Missing a Beat whether you are studying online, or in Hybrid Instruction where part of the students will be in person in class, or completely in-person."
Ensuring that the provision of education continues uninterrupted is important, as there is no better time than now to pursue higher education in Asia.
"You join at a particularly important time in the history of AIT— when Asia Pacific is expected to lead the world in this 21st century," said Vice President for Academic Affairs (VPAA), Prof. Shobakar Dhaka, as he welcomed new students, adding that, "Asia's need for professionals with knowledge, vision, skills, and the capacity to lead is of utmost priority. At AIT, we are here to help you to attain this."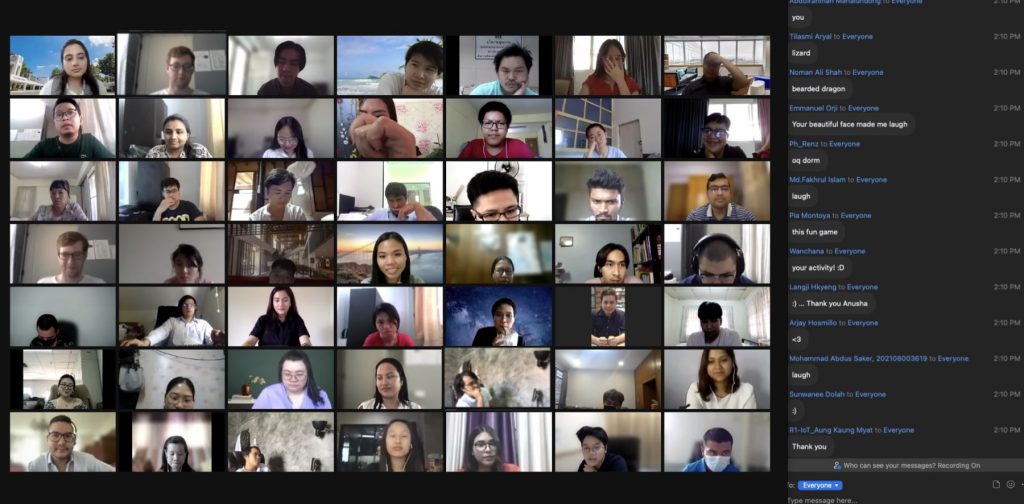 Making the orientation warm, speakers of the morning sessions included the President, Vice President for Academic Affairs, Vice President for Knowledge Transfer, Vice President for Administration, President of the Student Union, and Director of the Office of Academic Administration, followed by introductions to Harassment Policy and the Entrepreneurship Center. In the afternoon session, students were briefed about by Office of Student Affairs, Language Center, IT Services, and the Office of Asset Management, while the team from Student Union kept the newcomers entertained with intermission games.
Students from Water Engineering Management (WEM) program, School of Engineering and Technology, and Doctor of Business Administration (DBA) program, School of Management, attended the Orientation Ceremony and gave us an insight into why they chose to study at AIT amidst the pandemic.
Sharing with us are Mr. Junnosuke Kurachi, CEO of a risk consultancy company BizWings Thailand – joining as a new DBA student, Mrs. Shella Talampas and Mr. Wendell, a married couple and lecturers from the University of Science and Technology of Southern Philippines (USTP), both joining AIT Capacity-Building PhD Partnership Program as the PhD students in WEM.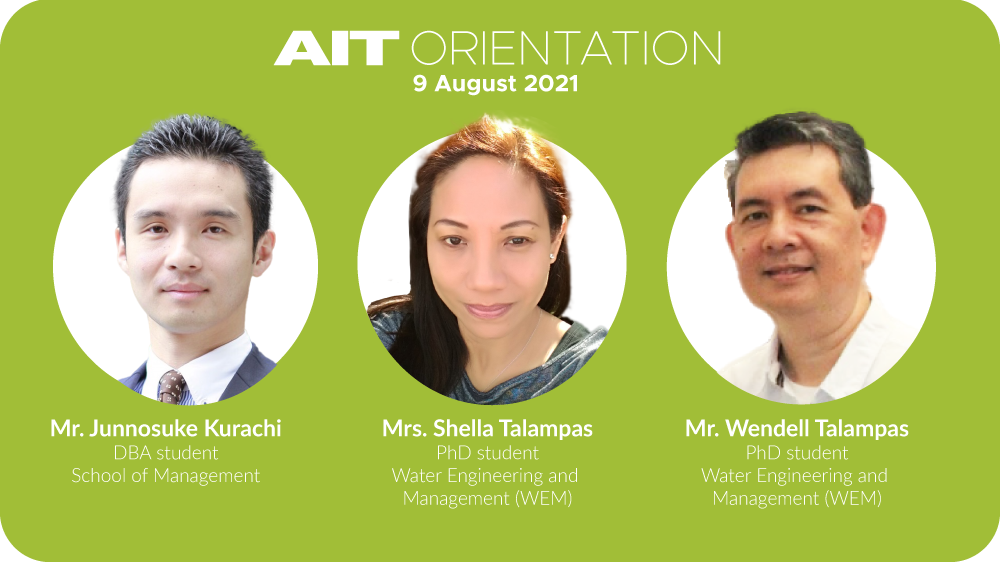 Reputation and Resources
Originally from Japan, Mr. Kurachi is currently working and living in Thailand. It's been nine years since he graduated with an MBA and 17 years since he has been working in accounting and finance. Realizing how technology is not only disrupting many industries, but also providing opportunities, he decided to further his studies in DBA. He chose AIT because, "AIT has a very strong reputation regarding its academic rigor, this is a very well-known institute," adding that, "there aren't many institutes that provide DBA program with such a strong academic sense."
In addition to its academic strengths, the institute is well-known for its support to the students. Mr. and Mrs. Talampas have been working in education and are aware of AIT's reputation in this regard.
Mr. Talampas explains, "We chose AIT as it is a globally recognized institute with the resources that will meet our learning needs in the field of water engineering." To this point, Mrs. Talampas further explains, "The caliber and dedication of AIT professors have positioned the institute among the internationally recognized universities. While I was choosing where to study, many people had recommended AIT because of its faculty and its networks."
International Networks
AIT's extensive network of international partners stands to benefit its students in myriad of ways. For Mrs. and Mr. Talampas who enroll at AIT through its Capacity-Building PhD Partnership Program, the MOU signed between USTP and AIT has made the admission process easier. In addition, Mrs. Talampas says, "What's more exciting is that many people from our previous institute had recommended AIT for our PhD because of its true cultural diversity experience."
With its students, faculty members, and staff hailing from different corners of the world, AIT has been recognized for being truly international, making it very attractive to prospective students.
"AIT is a global institute with a wide variety of nationalities, which I'm really looking forward to be involved," said the DBA student. As Mr. Kurachi is looking to expand his business globally, he explains that "AIT brings me a certain opportunity to be connected with the global businesspeople, which is amazing."
Best Time to Study
"We didn't expect to come here because of the travel restrictions," said Mr. Talampas as he reflected on his journey, "We actually had some hesitation when we arrived, about how we would go about attending classes or working in the laboratory."
Studying during the pandemic is not easy, especially for international students. The new WEM students from the Philippines are currently staying on campus in the Organizational Quarantine facility. Having attended the virtual orientation and some of the classes online, the Talampas no longer has any hesitation about studying in times like these.
"We are very confident that AIT is well prepared for this. We're glad that we are here," said Mr. Talampas.
As the pandemic has restricted many activities, including meeting in person. The CEO Mr. Kurachi has found himself having more time to focus on future and long-term plants for his company. "In a situation like this, it means that the opportunity cost is at the lowest. if you're busy and have a lot of opportunities to do business, you'll need to allocate your resource very wisely," reflected Mr. Karuchi, adding that "for me, this is simply the best time."
---
Capacity-Building PhD Partnership Program:
The Capacity-Building PhD Partnership Program provides human resource capacity development for non-PhD faculty and staff of other partner higher education institutions, enhancing institutional capacities and strengthening academic communities globally. Students can pursue a regular in-person Doctoral program or a program combining residence education with flexible online delivery, through innovative Hybrid Modes of Instruction.
DBA
The Doctor of Business Administration (DBA) is intended to provide further preparation and skills for working professionals to reenter industry upon graduation. Both educational qualifications and work experience are taken into consideration for admission to the DBA program. The DBA is a flexible program. Students can complete their study within 3 to 5 years, depending on their study plan.