By Olubummi T. Thomas
AIT Yunus Center launches the Yunus Professional Master's in Social Business and Entrepreneurship — AIT's latest master's degree program — set to build social business leaders for impact economy through experiential learning model.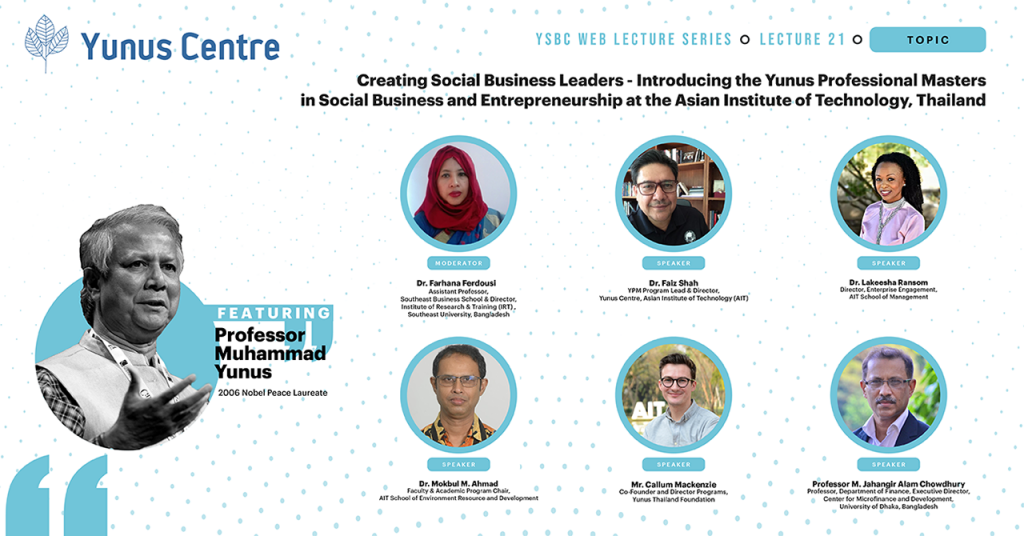 The discussion of the Yunus Professional Master's (YPM) in Social Business and Entrepreneurship program was held on August 3rd, 2021, via Zoom as the 21st session of the YSBC Web Lecture Series, which is held twice monthly. Unlike previous YSBC Web Lectures, this episode featured speakers credited in the making of the YPM program, including Prof. Muhammad Yunus, the Nobel Laureate and YPM visionary, and YPM Steering Committee.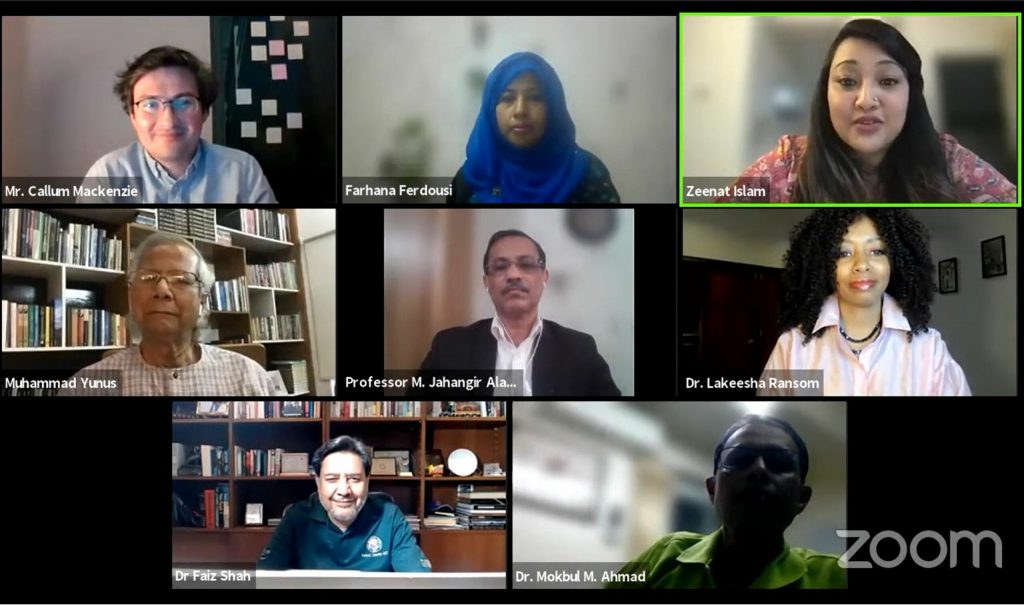 The YPM Steering Committee members joining the discussion were YPM Program Lead & Director of AIT Yunus Centre Dr. Faiz Shah; Director of Enterprise Engagement, AIT School of Management Dr. Lakeesha Ransom; Faculty & Academic Program Chair at AIT School of Environment Resources and Development Dr. Mokbul M. Ahmad; Co-Founder and Director Programs of Yunus Thailand Foundation Mr. Callum Mackenzie; and Professor at Department of Finance, and Executive Director of Center for Microfinance and Development from University of Dhaka, Bangladesh, Professor M. Jahangir Alam Chowdhury. The event was moderated by Dr. Farhana Ferdousi, Assistant Professor of Southeast Business School & Director of the Institute of Research and Training (IRT), Southeast University, Bangladesh.
Speaking of the unique program, Prof. Yunus emphasized, "It's not a classroom, it's not just ground experience, we mixed everything -- classroom experience, theoretical, management, and finance issues so that you can see from every single angle how social business can be done."
Despite being a new degree program with a new concept, there is a variety of features in the practicum that are budding with opportunities, especially for the students who are interested in pursuing business as a career.
Students will start off with sustainability courses, along with MBA and Business courses for the first 2 semesters. Then they will move on to a bi-weekly mixture of infield workshops, varying from visiting communities and central businesses in Bangkok and working with partners of AIT to get the hands-on experience.
The coursework also includes case studies that integrate sustainability with business to enhance the focus of social business and a sandbox experience of working with business experts on what it takes to run a successful business.
In addition to work experience, the students will receive an opportunity to travel to Dhaka, Bangladesh, to attend the Masterclass with Prof. Yunus himself, and seminars from Yunus Centre experts and partners.
With the aim to provide flexibility, the YPM program allows students to study at their own pace. The time of completion for the YPM program is 4 years rather than 2 in the traditional master's degree programs. The students can also pay per the number of courses enrolled, with the minimum of two courses per semester. The gives the flexibility for the students to work and study, or to co-manage their business while learning about social business strategies at the same time.
Another unique quality of the YPM program, as explained by Dr. Faiz Shah, is how it has been structured to offer courses from all three AIT schools: School of Engineering & Technology (SET); School of Environment, Resources, & Development (SERD); and School of Management (SOM). In this way, the program is truly interdisciplinary.
Speaking of how the students can benefit from the program, Dr. Faiz reiterated that, "They also need to know how to ask the right questions on what kind of world that we want to create."
Given how Yunus Professional Master's Program has been designed, there is no limit of options and opportunities for students to enter the business world. This course has been set up to teach social business, build social business leaders, and inspire students to make an impact in the world through any possible venues that they see fit.
"I encourage young people to become social business entrepreneurs and to take a role in changing the world. Changing the world is a lot more fun," concluded Professor Muhammad Yunus.
---
For more information on the Yunus Professional Master's and Yunus Center, please visit: