By Mae Thiwari
September 13, 2021 --- It has been one year since the Asian Institute of Technology (AIT) welcomed its first group of students to the first universtiy Organizational Quarantine (OQ) facility in Thailand on its campus. Here is a look into how AIT OQ has made it possible for students from around the world to study in Thailand to achieve their goals amidst the pandemic.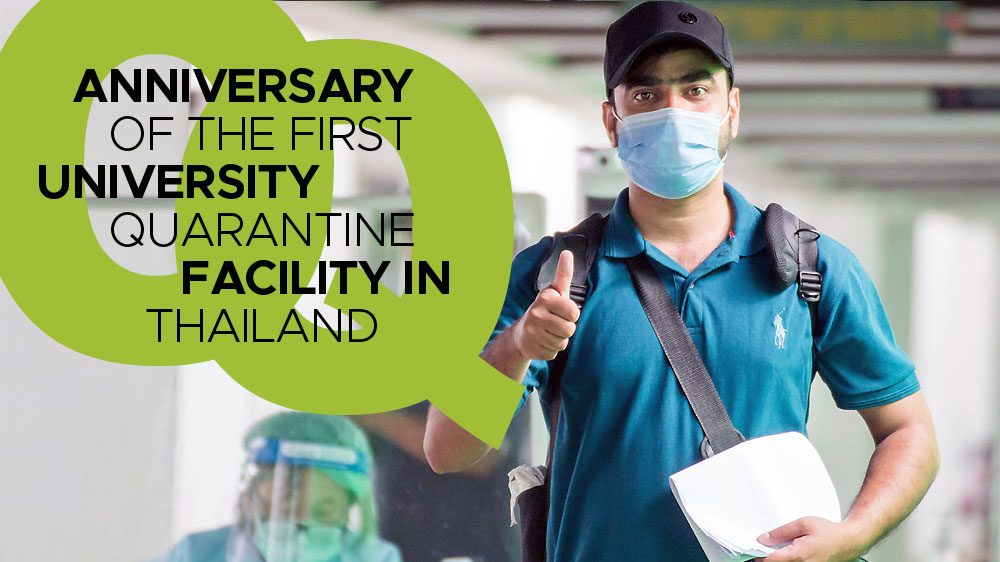 Three students from Pakistan were the first guests of AIT OQ, checking in on September 13, 2020. As of September 13, 2021, one year anniversary date of the OQ, there are 298 students across the globe who have resided in the safe and affordable quarantine facility on AIT campus.
As an international postgraduate institution, AIT annually welcomes almost 70% of its student body from countries outside of Thailand. The ongoing COVID-19 pandemic worldwide forces travel restrictions and 14-day requirement to remain in place in many countries, including Thailand. There are three types of quarantine facilities available in the country: State Quarantine (SQ) for Thai nationals, Alternative State Quarantine (ASQ) which are private hotels open to all nationals at cost, and Organizational Quarantine (OQ) which requires a medical partner. After a rigorous process, AIT received an approval from the Thai Ministry of Public Health to operate its OQ facility in late August 2020.
AIT has partnered with Thammasat University Hospital to provide testing and treatment for its students who are required to undergo quarantine, at its three special dormitory buildings safely barricaded as the OQ. Since its inception, a small number of students did test positive in the OQ, but they immediately received medical treatment and then fully recovered.  Sadly, one OQ staff member passed away when she was infected by the coronavirus off-campus, and all the OQ students remember her and thank her.
Throughout the year, AIT OQ staff have been working both in the frontline and behind the scenes to keep the quarantine facility running for AIT community. The frontline staff consists of 12 members: 2 escorts, 2 drivers, 4 cleaners, and 4 guards. Behind the scenes are 6 administrative and support staff of the OQ.
On the anniversary of AIT OQ, September 13th, 2021, the President of AIT Dr. Eden Woon donated 100,000 baht total as one-year anniversary bonus to all the frontline and behind the scenes staff in appreciation of their service to the OQ.  On September 16, 2021, the AIT Christian Fellowship (AITCF) community made contribution of 50,000 baht towards the OQ facility operations.  In December 2020, generous donors also gifted the 12-frontline staff with a year-end bonus in appreciation of their good work.
In addition to support received by OQ staff, the OQ facility itself has been receiving support to keep it running for many more students of AIT.
On June 28, 2021, Mr. Umer H. Al-Qureshi, an AIT alumnus from Masters in Structural Engineering class of 1999 and a Senior Software Developer at Computer & Structures, Inc., U.S.A., provides in-kind donation of 50 Rapid Antigen test kits to track and trace potential cases and to keep AIT community safe from COVID-19.
On June 24, 2021, Ratch Cogeneration Co. Ltd., represented by Managing Director Mr. Thanabodee Pratumrat, signed an agreement with AIT President Dr. Eden Woon to support 100,000 baht towards the OQ facility operations.
It appears that COVID-19 will be with us for a while, thus the quarantine requirement.  Until the quarantine is no longer needed, AIT will keep its Organizational Quarantine facility running to accommodate overseas student during this challenging pandemic time.
Below, five students from five different countries share their AIT OQ experience on its anniversary.
Edin Duc, Vietnam, Master of Business Administration program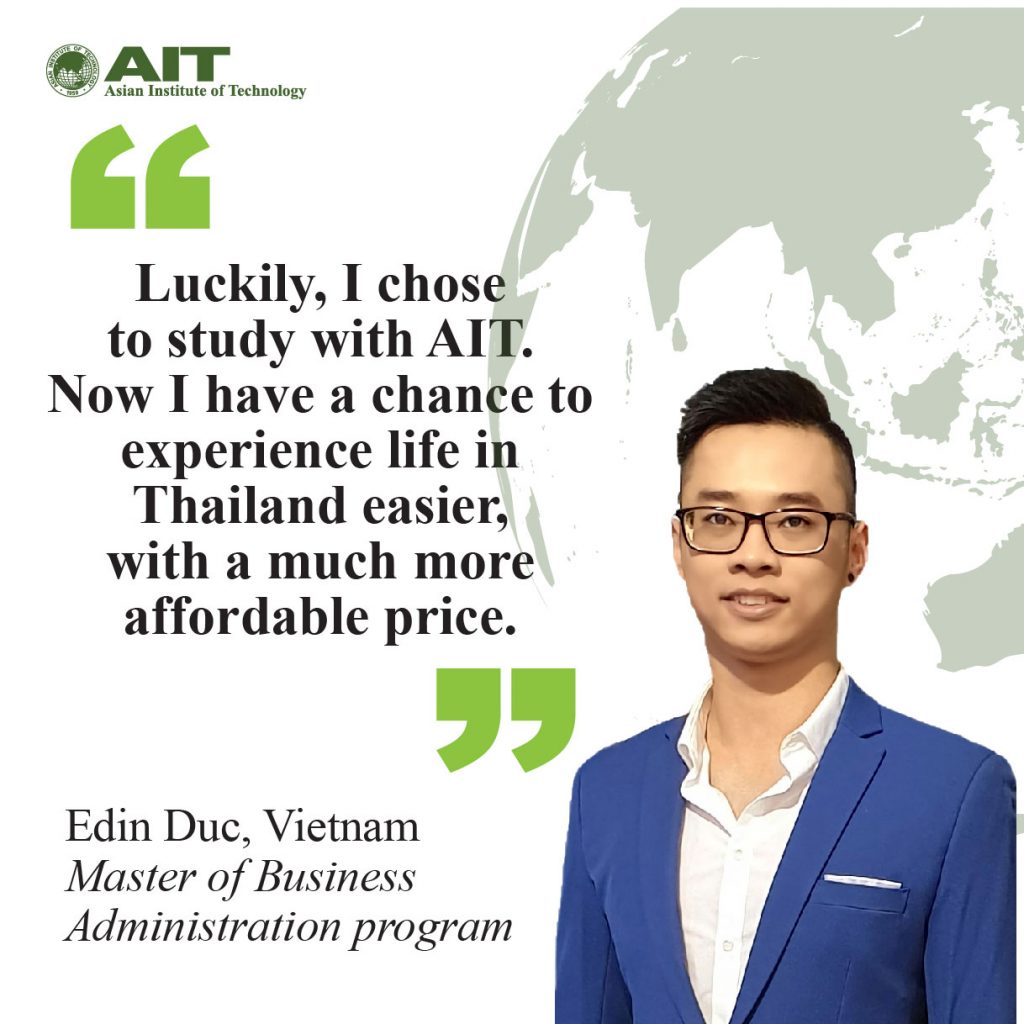 When the Fall semester started in August 2020, Duc wasn't sure how he could travel to attend his class in person at AIT. With the requirement for 14-day quarantine, Duc found the price of the Alternative State Quarantine hotel to be out of reach for him as a student. When the news came in early September that AIT started to offer the Organizational Quarantine, he was among the first students from Vietnam to sign up. Noting that AIT OQ offers health safety, affordability, and credibility, "I would say that the announcement about the OQ was the key to open my journey in Thailand with AIT," said the MBA student.
Jaynos Cortes, the Philippines, Aquaculture and Aquatic Resources Management program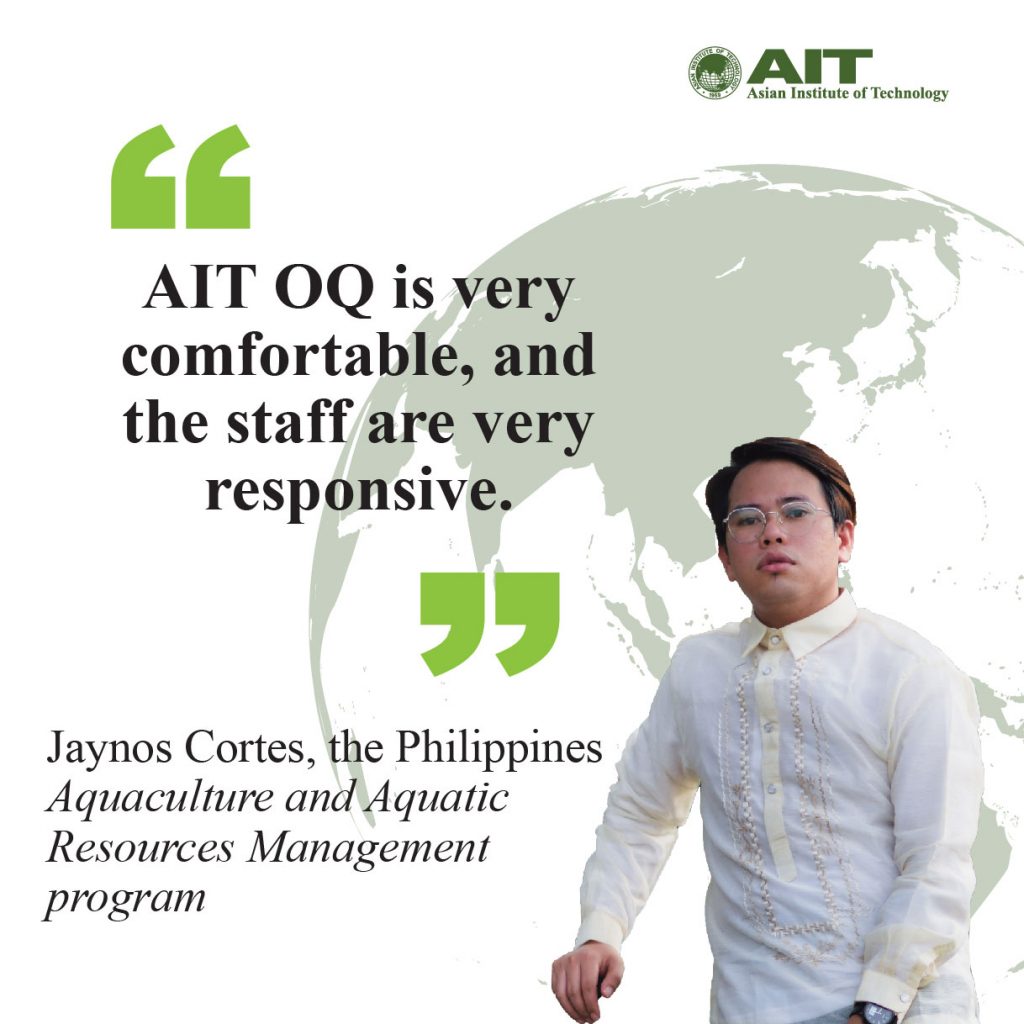 Jaynos is a PhD student who joined AIT in the Spring 2021 semester, arriving in Thailand in February. As a coffee person, he drinks 4 – 5 cups a day and had to request extra coffee through the OQ staff during his quarantine – this is how he found them to be responsive. Speaking of the benefit of the AIT OQ, Jaynos explains about the support he received from the student community in AIT. Even before he arrived in Thailand, his friends who were already living on campus had been offering him tips. Once he arrived at the OQ and needed anything extra, he would ask his friends to pass things to the OQ staff to deliver to him. "I am not being biased or sugar coating it – I would highly recommend AIT OQ to anyone," Jaynos concluded. The PhD student also made some fun TikTok videos while staying in the OQ, such as '
Day 2: Quarantine 💕Good morning, Sunshine⛅#f ypシ
' and '
Good morning, Friday 
'
Ms. Aimi Sugihara, Japan, Gender and Development Studies program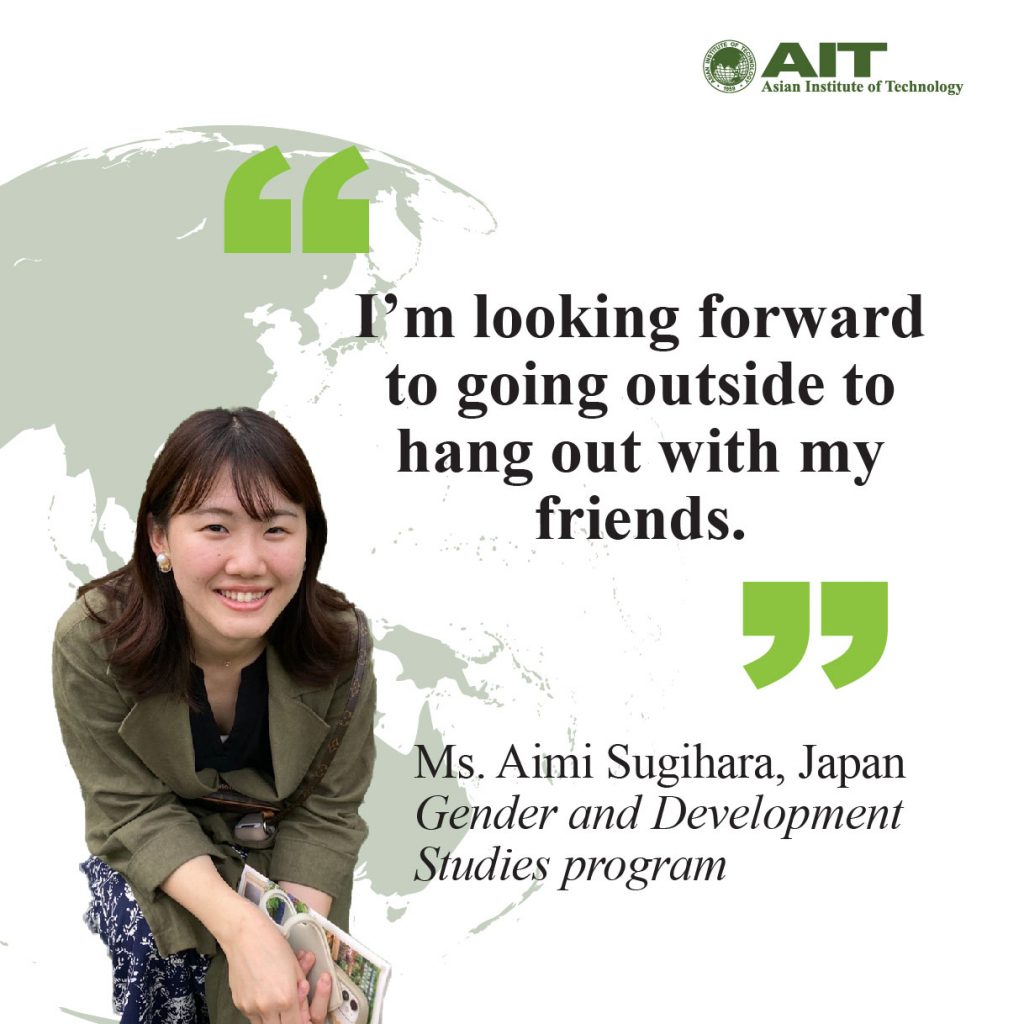 Sugihara started her first semester in Fall 2021 and arrived at AIT in September. Many of her friends from the course have already completed their 14-day quarantine and 7-day self-isolation phases and told her about their trips to the 7-11 convenient store on campus together, making her feel jealous. In addition to passing her time in the quarantine by studying online, doing some exercise, and watching k-drama, Sugihara is also looking forward to meeting her friends in person. "This is my first semester and I want to make a lot of friends," said the Gender and Development Studies student. Soon, she will be seen hanging out with friends around 7-11 on campus!
Raphael Wing, Indonesia, Master of Business Administration program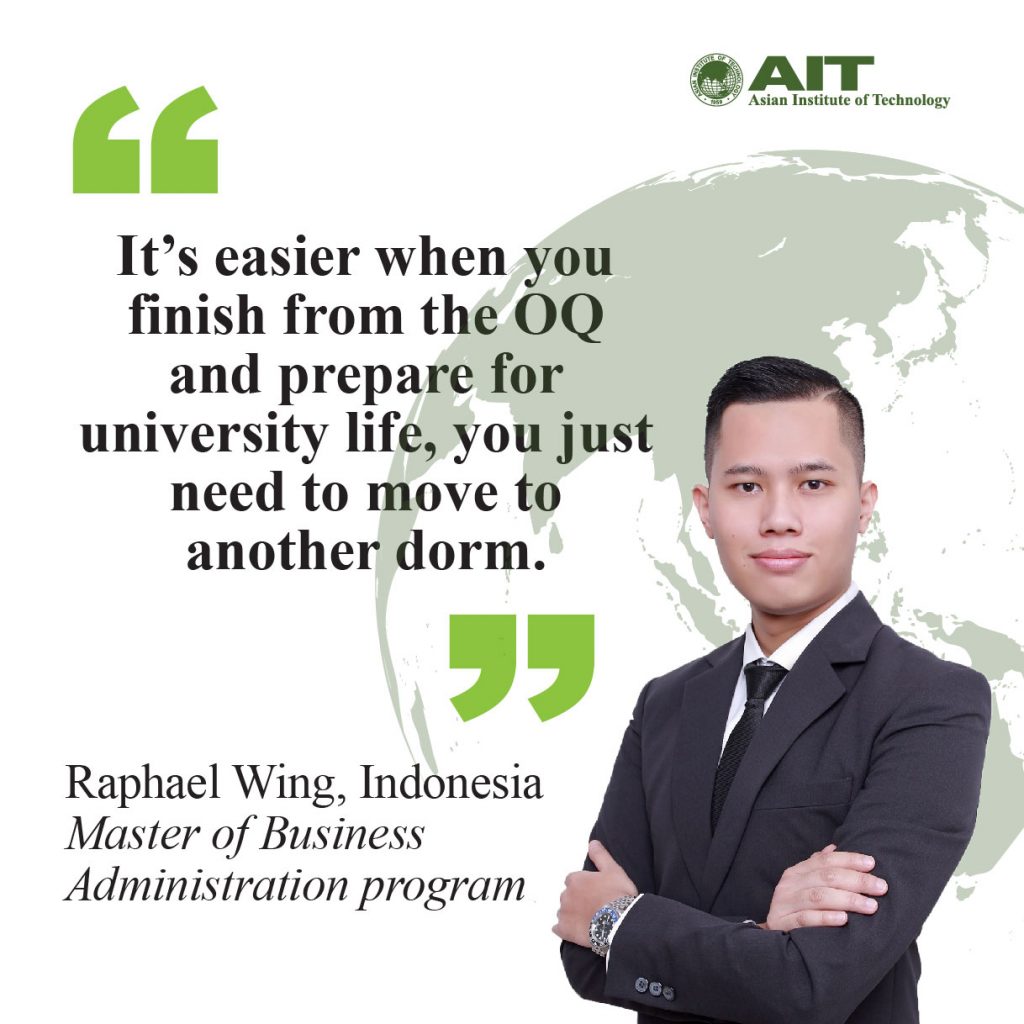 Wing joined AIT in Fall 2020 semester. He prefers AIT OQ over ASQ due to its cost effectiveness and convenience. While meeting his classmates online during the quarantine, it gave him a comforting feeling that everyone was already on campus and there were many activities they could do together once the quarantine was over. And once it was over, he could easily just move to another dorm. "It just makes everything easier when you stay inside AIT," said the MBA student.
Khouloud Jaffel, Tunisia, Marine Plastic Abatement program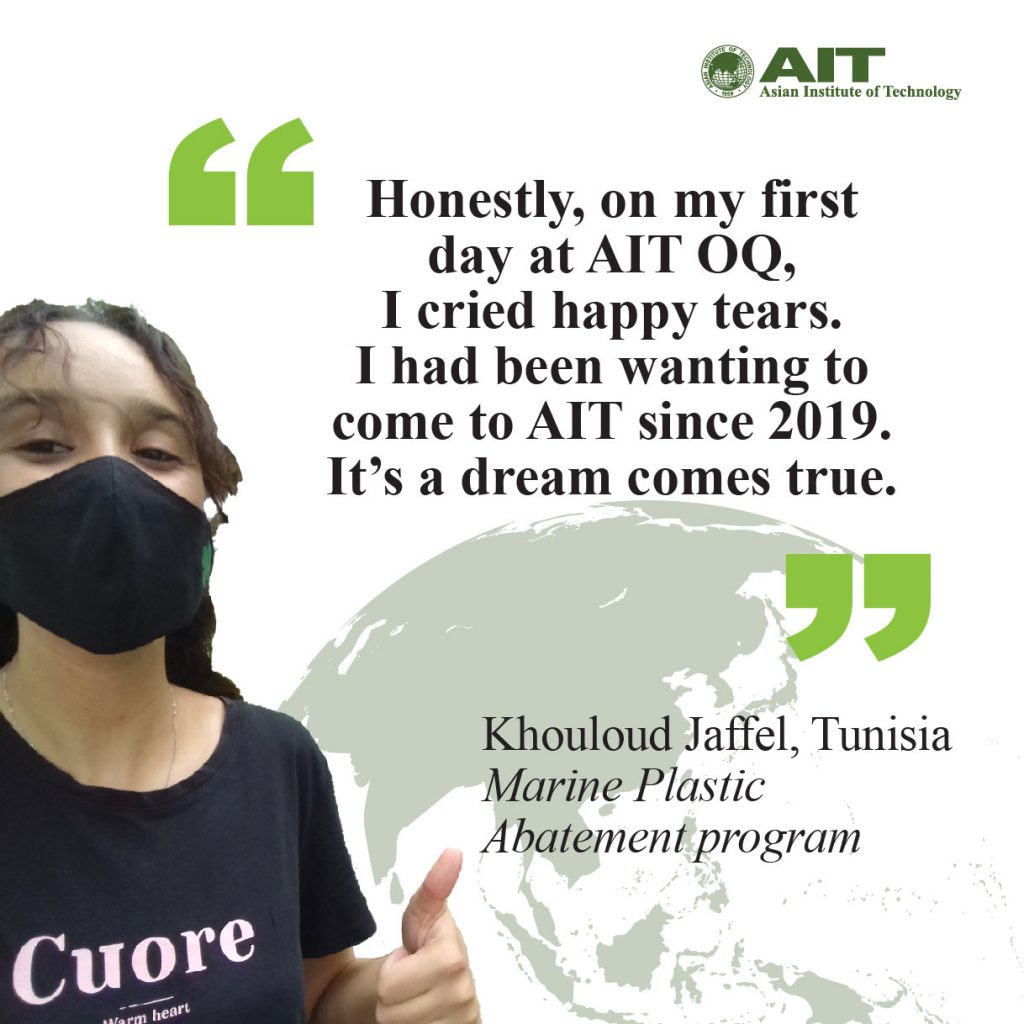 Jaffel first came to Thailand in 2019 when she first learned about AIT through the Global Entrepreneurship Bootcamp that she attended. Since then, she had been wanting to study in Thailand with AIT. In 2021, when she finally received the offer, she had to travel to Morocco to apply for a Thai visa, as the Thai embassy in Tunisia was temporarily closed. Once there, she found that not only was the embassy in Morocco was temporarily closed too, but also that she had contracted COVID-19. Jaffel spent one month in Morocco to recover and had to postpone her arrival to AIT several times due to her mishaps. Finally, she is here on AIT campus, and she wants to give a shout out to AIT staff, "I want to send my greetings to all of them, they helped me a lot to guide me step by step and they're super fast by the way. When I sent them an email, I remember they sent a reply even when it was 11PM in Thailand!"
---