By Mae Thiwari
October 11, 2021 -- Ahead of the world's annual Climate Change Conference COP26 in the United Kingdom, the Asian Institute of Technology and partners organized a five-day training for countries in the Asia Pacific committed to the Paris Agreement – to turn words into action.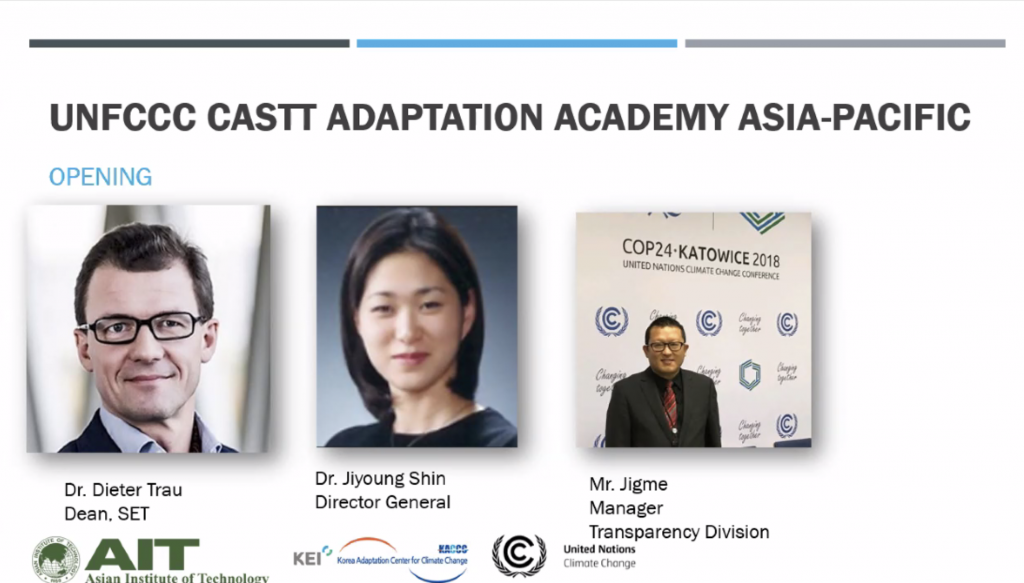 As 197 countries around the world have vowed to keep the global temperature rise below 2 degrees Celsius within this century, action matters more than words as more frequent and more severe natural hazards occur. The Climate Action and Support Transparency Training (CASTT) Adaption Academy, designed by the United Nations Framework Convention on Climate Change (UNFCCC), aims to enable a systematic and significant change in capacity to meet the ambitions of the Paris Agreement. Climate change adaptation is the process of adjusting to current or expected climate change and its effects. It is one of the ways to respond to climate change, along with mitigation. 
The five-day virtual training workshop for 32 participants from countries in Asia Pacific region focused on building capacity to implement actions to adapt to global warming, and to deliver Nationally Determined Contributions (NDC) as part of the Agreement. Participants were professionals from public and government sectors in 12 countries across the region.
"The training clearly provided an example of how climate adaptation can be planned at the national level and implemented at the local level, and how to monitor and track activities according to the plans. In this way, national adaptation goals can be achieved," said Ms. Usatip Kunsit, a training participant and an analyst from Petroleum Institute of Thailand. 
From general information on the Paris Agreement, the training workshop drilled down to cover the specifics of how to plan, implement, and report annual progress on climate adaptation. The course helped improve the understanding of climate change and adaptation, climate impacts and resilience, and conducting climate change risk and vulnerability assessments. It also specifically covered climate change impacts and adaptation in water sector as climate change first affects hydrological cycle -- the training provided a design for national adaptation plan that is linked with water management. 
"Water-centric adaptation is key to address the climate change challenges for water secured, sustainable and resilient development," said Prof. Mukand Babel, lead expert from the Asian Institute of Technology. 
The virtual training was provided from October 11 – 15, 2021 by the Asian Institute of Technology (AIT), in collaboration with Korea Institute of Environment (KEI) and the United Nations Framework Convention on Climate Change (UNFCC). The training was conducted in a virtual manner this year because of Covid-19 restrictions, hopefully, from next year, more detailed and intense training could be conducted in a face-to-face setting. 
About CASTT Adaptation Academy 
Climate Action and Support Transparency Training, or CASTT Adaptation Academy, is initiated by the United Nations Framework Convention on Climate Change (UNFCC), in collaboration with five research and educational institutions, namely the Asian Institute of Technology (AIT), Alliance for Global Water Adaptation (AGWA), IHE Delft Institute for Water Education, Korea Environment Institute (KEI), and Oregon State University. It aims to strengthen technical capacity for adaptation assessments, planning, reporting policy frameworks and coordination across ministries and governance levels to act on climate change.