By Nitipol Kiravanich
15th October 2021 — The Asian Institute of Technology commemorated 'World Food Day' through an online webinar titled 'Precision Irrigation for Food Security and Agricultural Sustainability,' showcasing a study on precision agriculture that employs the latest technologies to enable smart farming for food security and agricultural sustainability – by two AIT assistant professors from the Department of Food, Agriculture and Bioresources, School of Environment, Resource and Development (SERD), Dr. Sushil K. Himanshu and Dr. Farhad Zulfiqar.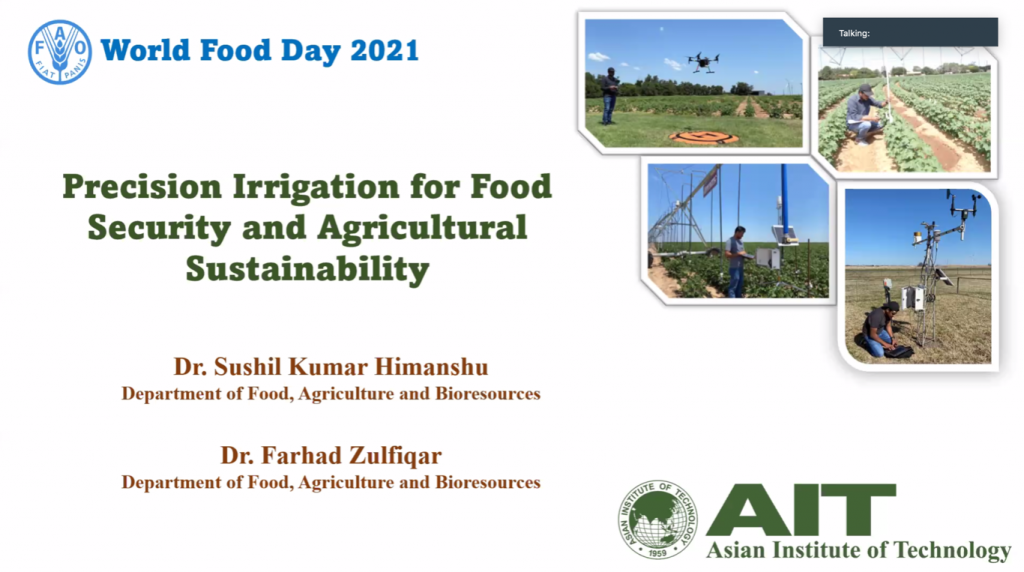 Every year on October 16th marks World Food Day, to commemorate the establishment in 1945 by the Food and Agriculture Organization (FAO) of the United Nations (UN) to promote worldwide awareness and action for those who suffer from hunger and for the need to ensure food security.
The FAO estimates that farmers will have to produce 70% more food by 2050 to meet the needs of the world's expected 10-billion population. Current estimates are that nearly 690 million or 8.9% of the global population is hungry and expected to be up by nearly 60 million in five years. The FAO estimates that at current rates of soil loss, driven largely by faulty agricultural practices, we have just 60 years of harvests left. On average, the agricultural sector accounts for 70 percent of all global freshwater withdrawals. As the global population increases, agriculture will exert growing pressure on water resources and half of the world could consequently face severe water stress by 2030.  At the same time, studies on climate change predict major changes in precipitation patterns and an increase in temperature in the future, which could further intensify the existing water shortages and adversely affect crop production.
To alleviate the foreseeable scenario, the Food, Agriculture and Bioresources researchers from AIT conducted studies on precision irrigation, to propose smart farming as a solution to achieve sustainable development.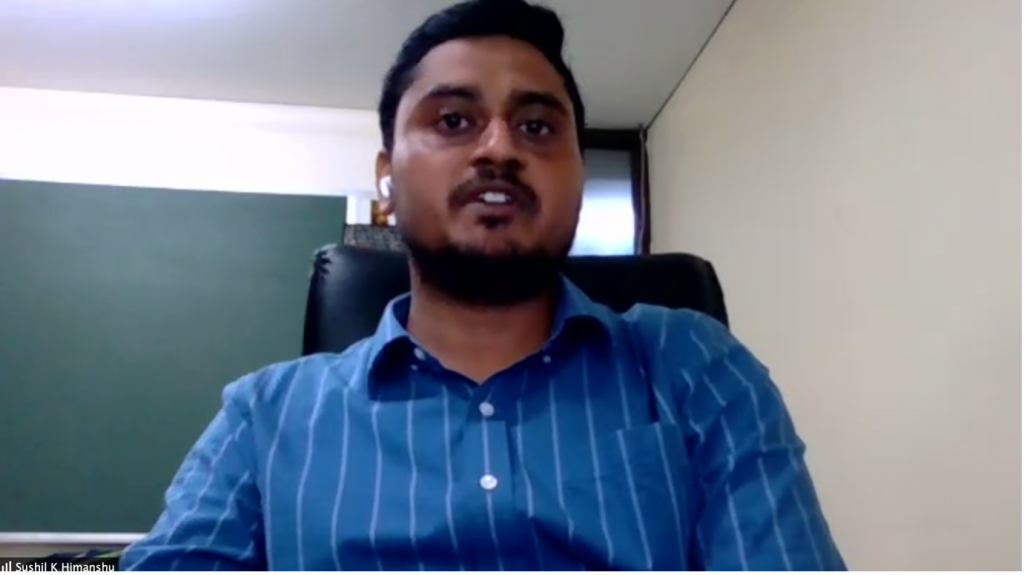 Dr. Himanshu underscored the impact on water and soil quality as a result of increased agricultural production to feed increased population --- over the last five decades, the global population increased from 3.1 to 7.7 billion and our cereal production also increased from 880 to 2,900 million tons.This agricultural intensification was driven by a global increase in the use of fertilizers, irrigated land area, and water withdrawal, along with the horizontal expansion of cropland area.
"We have to use minimum fertilizer because our soil is degrading day-by-day and agriculture will be not sustainable," said Himanshu, adding that "agriculture has reached a crossroads between meeting the needs of an ever-growing population and protecting our environment, it is time to drive sustainable agriculture and adopt precision irrigation as a means of advancing the Sustainable Development Goals."
'Precision Irrigation' is a solution for irrigation management, building on data collected through a system of soil-plant-atmosphere monitoring, and data interpretation which prescribes information for actions as to where; when; and how much water the crop needs for the automation system to water the crop. The framework allows for water to be irrigated with precision and for farmers to measure resources and finance needed – all of which can be managed remotely on a mobile phone.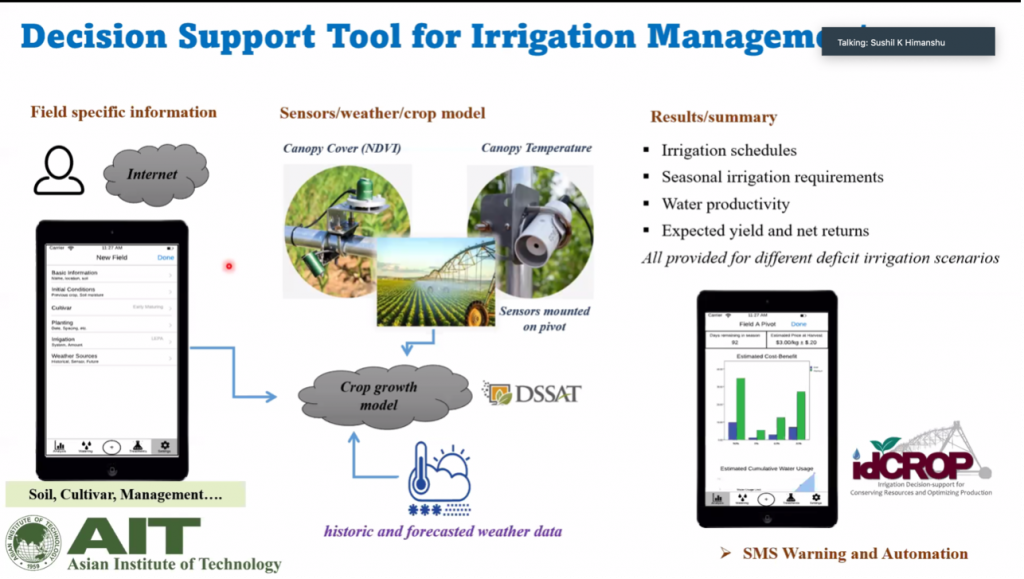 Dr. Himanshu also conducted field experimentation for on-farm and remote data collection and designed irrigation systems utilizing various technologies, such as sensors mounted on a pivot, data logger, solar panel, canopy cover, canopy temperature, weather sensor, and drones. In addition, the system measures temperature; conducts trials for different climate conditions; models calibration with on-farm sensors and UAVs based remote sensing data to execute small, medium and high irrigation levels.
"The objective is to develop a mobile app that collects real-time crop data combining with historical and forecasted weather data to generate relevant irrigation schedules and estimate crop yield, irrigation water usage and economic outcomes," Dr. Himanshu explained.
The AIT Assistant Professor concluded precision irrigation will contribute to the savings of water, energy, resources, finance, and labor; increase in production; healthier and higher yield quality; soil degradation control and remote monitoring and automation.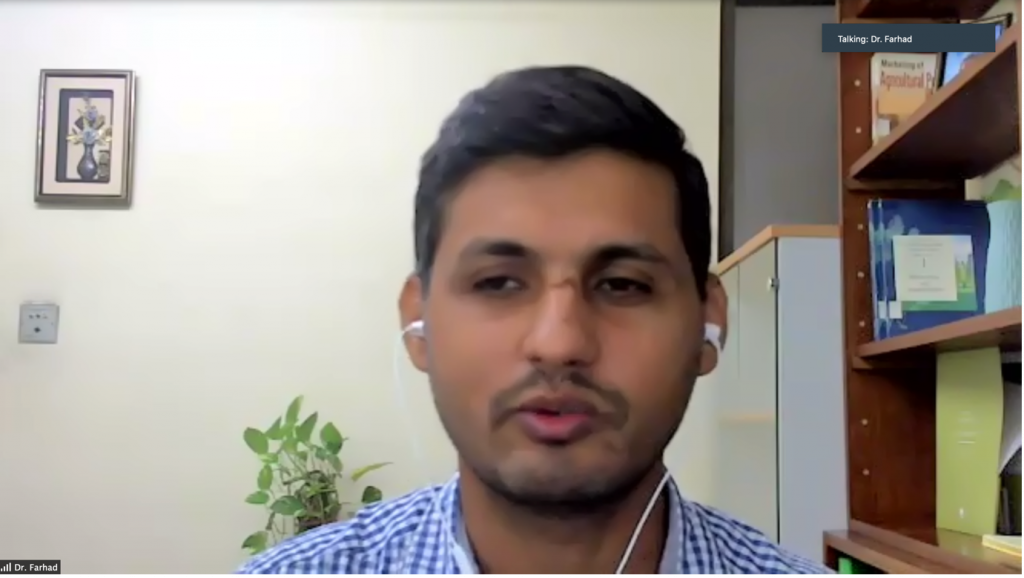 Meanwhile, another Food, Agriculture and Bioresources researcher Dr. Farhad Zulfiqar proposed a systematic approach for water management that he terms an 'integrative precision irrigation management system,' highlighting the abilityto ensure integrative management and efficient water allocation --- not only at the farm level but at the level of food and agricultural sustainability.
Due to climate change, droughts and rainfall are increasingly unpredictable, making it difficult to manage water for agricultural productivity. With the management of existing surface irrigation systems being centralized by the national government – as in the case of Pakistan where his study focuses on, the management risks are inefficient due to location-specific floods and droughts problems driven by climate change. To effectively irrigate and not waste precious agricultural water, Dr. Zulfiqar proposes a flexible irrigation system -- "We need a flexible system where farmers can quickly make their decision, change their farming practices to an efficiency-oriented system such as precision irrigation," Dr. Farhad explained.
---