Training Program on Practical Aspects of Reinsurance

Training Program on Practical Aspects of Reinsurance
September 25, 2019 @ 8:00 am

-

September 27, 2019 @ 5:00 pm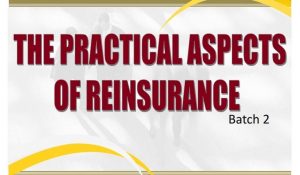 A training program on "The Practical Aspects of Reinsurance Batch 2" will be organized from 25-27 September 2019.
TItle: Insurance Professional Training Program - International Series NON-LIFE INSURANCE FOCUS: The Practical Aspects of Reinsurance Batch 2
Duration: 25-27 September 2019
Venue: The Ambassador Hotel Bangkok
This 3-day program will examine the fundamentals and practical aspects of treaty and facultative reinsurance. In addition to the nuts and bolts of reinsurance, you will learn from a practicing treaty reinsurer on ways to assess a reinsurer's financial security and how a reinsurer would evaluate your treaty program and price them.
PROGRAM OUTLINE:
Assessing Reinsurers' Financial Security
Factors Influencing Reinsurers' Evaluation and Pricing of Treaty Program
Type of Reinsurances
Proportional Treaty
Non Proportional Treaty
Strategies
Setting Retentions and Concept of Graded Retention.
Facultative Reinsurance
Treaty Accounting and Statistics
Key Learning Objectives:
Know how to assess reinsurers and how they evaluate and price your reinsurance;
Differentiate the different types of reinsurance;
Explain the features of each type and how and when to use them;
Understand how to set net retention;
Highlight the main parts of a facultative contract and a treaty contract and key clauses;
Appreciate the importance of proper and efficient accounting, claims statistics and treaty portfolio management.
PROGRAM INFORMATION
Fees:THB 34,700 (Local) (Included VAT7%)
USD 1,500 (Overseas)*
*This price includes 4 nights' accommodation cost; check-in: 24 September 2019 and check-out: 28 September 2019, breakfast, lunch and course materials.
Early Bird Pricing Ends 23 August
THB 31,200 (Local)(Included VAT7%)
USD 1,300 (Overseas)*
Application Deadline on 6 September 2019
Registration link is https://joo.gl/IVw3Q
For more information about the training, you can download the attached brochure and course outline or visit us at https://extension.ait.ac.th/course/965
Any assistance you may need pls. contact the program coordinator at
Ms. Worawan Sumroetrum
Senior Program Coordinator
AIT Extension
Tel: +662 5245237 M:+66 81 8018575 Email: worawan@ait.ac.th
Or
Mr. Songpon Saengpun
Program Coordinator
AIT Extension
Tel: +662 5246100 M:+66 87 8898305 Email: songpon@ait.ac.th